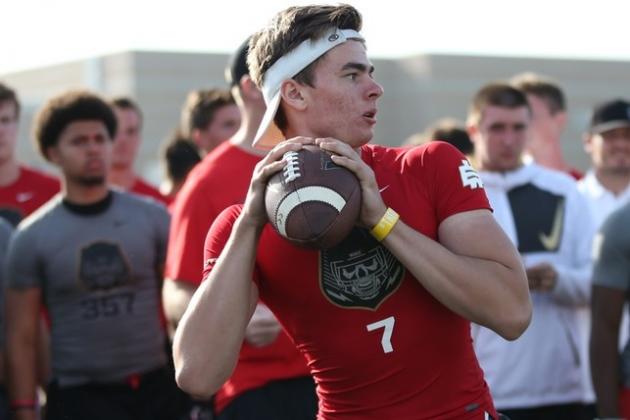 Credit: Student Sports
QB JT Daniels continued a sensational sophomore season at Southern California powerhouse Mater Dei High School.
The 2016 high school football season continues to approach its conclusion across America, as playoff fortunes dictate how far programs will advance toward winter. Developments in November set up some squads to challenge for state championships, while plenty of prep careers came to an end when seniors suffered defeat.
This final full month of the season cast a large spotlight on lauded recruits, especially those who rose above mounting pressure to deliver dynamic performances. We've placed the focus on several athletes who enjoyed a successful November while faced with do-or-die scenarios.
From prolific passing efforts to defensive dominance, here's a glimpse as some of November's elite.
Credit: Student Sports
Class: 2017
High School: St. Louis (Honolulu)
Scout.com Ranking: No. 4 quarterback; No. 36 overall
Recruitment Status: Committed to Alabama
Thousands of miles away from his future collegiate home in Tuscaloosa, Crimson Tide commit Tua Tagovailoa is now the man to chase for high school quarterbacks throughout Hawaii. He surpassed fellow St. Louis High School legend Timmy Chang atop the state's all-time passing yardage leaderboard, establishing a new career record (8,158 yards) while delivering his team a championship.
Tagovailoa tossed a 52-yard touchdown and rushed for a 30-yard score during St. Louis' 30-14 state title game victory over Kahuku High School, according to Billy Hull of the Honolulu Star-Advertiser. The face of a powerhouse program that previously produced Chang and Heisman Trophy winner Marcus Mariota, he has solidified his place as a marquee figure in Hawaiian football history.
His postseason performance featured a 13-of-15 passing performance in the semifinal round, per Stacy Kaneshiro of ScoringLive.com, resulting in three touchdown throws and an 80-yard rushing score. It was a storybook senior year for Tagovailoa, who earned Elite 11 MVP honors this summer and will next form one of college football's most compelling quarterback tandems with Alabama freshman Jalen Hurts.
"If you wanna be the best you wanna compete against the best. … So 'Bama it is," he tweeted earlier this week.
Credit: Student Sports
Class: 2017
High School: Clinton (Clinton, Mississippi)
Scout.com Ranking: No. 2 running back; No. 4 overall
Recruitment Status: Uncommitted; options include Florida State, Georgia, LSU, Ole Miss, Ohio State and Tennessee
There was a time we expected Cam Akers to join Tua Tagovailoa in the Alabama Crimson Tide backfield, but this 5-star standout backed off his verbal pledge to the program as a junior. Now arguably the most coveted uncommitted recruit in this class, he is on the verge of completing a monstrous campaign at Clinton High School.
Akers, a U.S. Army All-American Player of the Year finalist, spearheads a squad that is just one win away from claiming state championship glory. He accounted for 334 offensive yards and three touchdowns in a semifinal victory over Madison Central High School, per MaxPreps.
Though Akers warrants widespread attention as a running back recruit, he currently inflicts damage while lined up at quarterback. During four November matchups, his impact included 689 passing yards, 771 rushing yards and 10 touchdowns.
"I truly believe that Cam has the ability to be in the Heisman Trophy discussion in the next four years," Erik Richards, the U.S. Army All-American Bowl national recruiting director, told Bleacher Report. "It's been hard for some college coaches to imagine how deadly he can be once he makes the transition to placing his hands on his thigh pads."
Credit: Damon Sayles/Bleacher Report
Class: 2017
High School: Redlands East Valley (Redlands, California)
Scout.com Ranking: No. 1 defensive end; No. 7 overall
Recruitment Status: Committed to UCLA
Unlike multiple members of this list, Jaelan Phillips' high school football journey won't end with a state championship. Redlands East Valley High School suffered a second-round playoff loss to La Habra High School on Nov. 18, but its celebrated defensive stud dominated through the end.
Phillips recorded 14 tackles and two sacks in the defeat, per MaxPreps, repeatedly bullying opposing blockers just as he did all season. This performance was preceded by a pair of November matchups that featured 21 total tackles and eight sacks.
He simply owned the field Nov. 4 against Citrus Valley High School, according to Dennis Pope of Inland Fieldhouse. Phillips secured seven sacks, forced a fumble and blocked a field goal.
The lone lineman listed among six U.S. Army All-American Player of the Year finalists, Phillips tallied 21 sacks during the final nine games of his high school career. This monstrous campaign also included eight double-digit tackle efforts.
Credit: Scout.com
Class: 2017
High School: Foster (Richmond, Texas)
Scout.com Ranking: No. 31 receiver; No. 222 overall
Recruitment Status: Committed to Oklahoma
The Oklahoma Sooners already showcase one of college football's most explosive offensive attacks, so Lone Star State receiver CeeDee Lamb should help ensure the scoreboard operator stays busy in Norman for years to come. He is the catalyst of an undefeated season at Foster High School, which competes in state quarterfinal action this weekend.
Lamb, who established career-high statistics long ago this season, continues to give defenses fits late. He has at least one touchdown reception in each playoff game, including a pair of scores in both first- and second-round victories.
His November is highlighted by 18 receptions for 284 yards and six touchdowns in four games, per MaxPreps, and Lamb registered his third punt return score of the season during a Nov. 11 win against Brackenridge High School. He has 30 total touchdowns through 13 games, along with 81 catches for 1,685 yards.
Credit: Tyler Donohue/Bleacher Report
Class: 2019
High School: Mater Dei (Santa Ana, California)
Scout.com Ranking: Rankings are unavailable for 2019 recruiting class.
Recruitment Status: Uncommitted; options include Arizona State, Cal, Michigan, Notre Dame, UCLA and USC
Just midway through his prep career at Southern California powerhouse Mater Dei High School, sophomore quarterback JT Daniels has set an astronomically high bar for passing success. That's quite an achievement at a school that once boasted Heisman Trophy winners Matt Leinart and John Huarte, along with top-tier recruits Max Wittek and Matt Barkley.
"I think he could become the best quarterback out of Mater Dei," Tommy Brown, a 4-star 2018 offensive tackle and Mater Dei teammate, told B/R before the season.
Daniels has shown no signs of ducking away from lofty praise, delivering the team into December without a loss. He completed 66 percent of pass attempts during four games in November, per MaxPreps, collecting 1,458 yards, 18 touchdowns and just one interception.
Daniels will lead the Monarchs into California's Southern Section title game clash against St. John Bosco High School this weekend, presenting an opportunity for him to claim yet another remarkable early accomplishment. His 2016 totals (4,560 passing yards and 65 touchdown tosses) are already single-season records in QB-loaded Orange County, home to past non-Mater Dei stars such as Mark Sanchez, Todd Marinovich and Carson Palmer.
Credit: Scout.com
Class: 2017
High School: Salem (Salem, New Jersey)
Scout.com Ranking: No. 58 running back; overall ranking unavailable
Recruitment Status: Committed to Wisconsin
Wisconsin Badgers fans have certainly grown familiar with leading rusher Corey Clement during a highly productive career in Madison. His successor could be a fellow native of southern New Jersey, as former Rutgers Scarlet Knights pledge Jonathan Taylor brought a promising blend of size and speed into Wisconsin's class with a Nov. 1 commitment.
The 5'11", 212-pound rusher actually eclipsed Clement atop the region's all-time single-season rushing yardage leaderboard this month. He delivered four consecutive games with at least 230 yards on the ground, moving beyond Clement's mark (2,510 yards in 2011), per MaxPreps.
"I actually talked to Corey when I went to Wisconsin, but I wasn't anywhere near his record at the time," Taylor told Matt Cosentino of NJ.com. "I don't think he'll mind being that I'm going to his school."
He rushed for 1,115 yards (17.4 per carry) this month, including a 385-yard, five-touchdown effort against Woodbury High School during playoff quarterfinals. He leads Salem into the title game this Saturday with a chance to further pad his record-setting rushing total (2,635 yards and 33 scores).
Class: 2017
High School: Antioch High School (Antioch, California)
Scout.com Ranking: No. 1 running back; No. 1 overall
Recruitment Status: Committed to Alabama
Antioch High School heads into its first sectional title game since 1977 this weekend, according to Allen Payton of the Antioch Herald, boosted by the brilliance of scintillating senior Najee Harris. Committed to the Crimson Tide since his sophomore year, this 6'2″, 221-pound phenom shows no signs of slowing despite a prep career defined by bell-cow duties.
He logged 63 rushing attempts during the past two playoff victories, rumbling for 569 yards and six scores, per MaxPreps. Harris added four receptions for 62 yards during a quarterfinal victory over San Ramon Valley High School.
"[Minnesota Vikings star] Adrian Peterson and [2015 Heisman Trophy winner] Derrick Henry are two that come to mind that I have scouted that I can compare him too," Erik Richards, the U.S. Army All-American Bowl national recruiting director, told B/R. "Najee is better out of the backfield than both of those U.S. Army Bowl alumni."
This is Harris' third consecutive season with at least 2,000 rushing yards. Through 12 games, he's tallied 2,596 yards and 33 scores.
Credit: Student Sports
Class: 2017
High School: Bishop Gorman (Las Vegas)
Scout.com Ranking: No. 2 quarterback; No. 26 overall
Recruitment Status: Committed to Ohio State
With just one game remaining in his legendary career at perennial national title contender Bishop Gorman High School, take a moment to appreciate what Tate Martell has accomplished. He is 44-0 as the starting quarterback with 9,600 offensive yards, 143 touchdowns and just nine interceptions, per MaxPreps.
A win this weekend would give him three straight state titles and essentially ensure a third consecutive No. 1 overall prep team ranking dependent on which publication is handing out the label. Martell is the only quarterback who made the cut as a U.S. Army All-American Player of the Year finalist.
His final postseason push has been par for the course, as he collected 14 total touchdowns during three victories. Martell's ability to create fireworks as both a passer (269 yards and five scores through the air in third round) and runner (220 yards and three scores on the ground in first round) have many intrigued about his potential fit in Columbus.
"It's a great program, and everyone understands how successful Urban Meyer has been, especially with his offense," he told B/R.
Tyler Donohue is a National Recruiting Analyst for Bleacher Report. Quotes and observations obtained firsthand unless otherwise noted. Prospect ratings and information courtesy of Scout.

Follow Tyler via Twitter: @TDsTake.