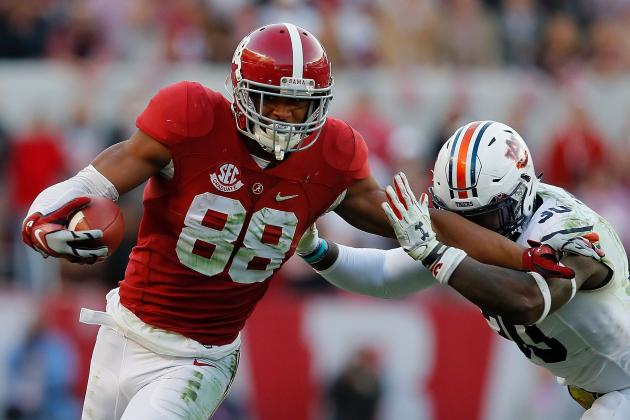 Kevin C. Cox/Getty Images
Alabama remains atop the final College Football Playoff rankings prior to championship weekend, but they weren't without a shakeup, as a new team positioned itself to take part in the CFP.
Michigan fell out of the top four by virtue of its loss to Ohio State, which elevated Washington into the No. 4 spot and may have put it in a win-and-in situation against Colorado in the Pac-12 Championship Game.
Ahead of the conference championship slate, here is a look at the current CFP standings and projections for how the top four will shake out at the conclusion of the weekend.
College Football Playoff Rankings
Week 13 CFP Rankings

| | | |
| --- | --- | --- |
| Rank | Team | Record |
| 1 | Alabama | 12-0 |
| 2 | Ohio State | 11-1 |
| 3 | Clemson | 11-1 |
| 4 | Washington | 11-1 |
| 5 | Michigan | 10-2 |
| 6 | Wisconsin | 10-2 |
| 7 | Penn State | 10-2 |
| 8 | Colorado | 10-2 |
| 9 | Oklahoma | 9-2 |
| 10 | Oklahoma State | 9-2 |
| 11 | USC | 9-3 |
| 12 | Florida State | 9-3 |
| 13 | Louisville | 9-3 |
| 14 | Auburn | 8-4 |
| 15 | Florida | 8-3 |
| 16 | West Virginia | 9-2 |
| 17 | Western Michigan | 12-0 |
| 18 | Stanford | 9-3 |
| 19 | Navy | 9-2 |
| 20 | Utah | 8-4 |
| 21 | LSU | 7-4 |
| 22 | Tennessee | 8-4 |
| 23 | Virginia Tech | 9-3 |
| 24 | Houston | 9-3 |
| 25 | Pittsburgh | 8-4 |
ESPN.com
CFP Predictions
(1) Alabama
While the CFP rankings are largely fluid, Alabama is the one team that appears locked into its spot. Even if the Crimson Tide suffer a shocking loss to Florida in the SEC Championship Game, it seems likely they will remain at No. 1.
Bama has been at the top of the totem pole all year long with an undefeated record, and considering Western Michigan is the only other FBS team without a loss, one defeat doesn't figure to change the committee's view of the Tide significantly.
Despite that, head coach Nick Saban has stressed the importance of winning the SEC title and leaving absolutely no doubt about where the team stands, according to Kevin Scarbinsky of AL.com:
Y'all [the media] put everything about the playoffs. That's all you care about. You don't care about any bowl games. You don't care about any teams in the country that aren't in the playoffs. I don't know. If we don't win this game, maybe we throw a stink bomb out there, maybe we don't get in the playoffs. I don't know. You guys have got all the answers to all that, but I don't. All I know is if we play and we play well we control our own destiny in terms of what we do.

So I'd really rather not have any more questions about 'Is it OK to lose this game?' It's never OK to lose a game.
Considering Alabama has won all but one game by two or more scores this season, it is tough to imagine a Gators team with a struggling offense upending the No. 1 team in the nation.
In addition to having the most dominant defense in college football, dual-threat quarterback Jalen Hurts is seemingly getting better as the season goes on.
Alabama is truly hitting its stride during a season it has owned since an opening decimation of USC, and that will land it the top seed in the playoff.
(2) Clemson
The 2016 season hasn't been a cakewalk for Clemson, as it lost to Pittsburgh and scored tight wins over Auburn, Louisville and Florida State, but it has put itself in position to seize the No. 2 spot in the CFP rankings.
Clemson sits at No. 3 this week, but since Ohio State is idle, it seems likely that the Tigers would leapfrog them with a win over Virginia Tech in the ACC Championship Game.
That would put Clemson in position for a potential national-championship-game rematch with Alabama, provided both teams manage to win their semifinal contests.
Quarterback Deshaun Watson hasn't been perfect this season, as highlighted by his 14 interceptions, but he is coming into his own as of late and has made himself a true Heisman Trophy contender with 3,626 passing yards, 34 passing touchdowns and four rushing scores.
Above all else, Watson has done much of his damage against power-conference teams, as pointed out by Clemson sports information director Tim Bourret:
Vs. Power 5 conf. teams Deshaun Watson has completed 69.4 % for 318 yards/g and 28 TDS. Only FBS QB to reach all 3 of those levels.

— Tim Bourret (@TimBourret) November 29, 2016
Clemson's defense has been hit-and-miss at times after losing a ton of talent to the NFL, but the offense is firing on all cylinders.
With Watson leading the way and Wayne Gallman, Mike Williams, Deon Cain, Jordan Leggett and others providing perhaps the best supporting cast in the country, Clemson has enough offensive firepower to go all the way.
(3) Ohio State
Ohio State presents an interesting dilemma for the CFP committee. Although it is a one-loss team from college football's best conference, it will not play for the Big Ten championship due to a loss to Penn State.
That could conceivably convince the committee to put the winner of Penn State versus Wisconsin in ahead of the Buckeyes, but that is a tough sell considering OSU has beaten Oklahoma, Wisconsin, Nebraska and Michigan.
If not for a blocked field goal by the Nittany Lions, Ohio State would be undefeated and in the conversation to be ranked ahead of Alabama.
OSU has its flaws, and it didn't look great for much of its victory over the Wolverines, but it finds ways to win and is undoubtedly among the four best teams in the nation.
Quarterback J.T. Barrett is both a big reason for the Buckeyes' successes and failures. The Michigan game was a microcosm, as he completed just 15 of his 32 passing attempts for 124 yards, but also rushed for 125 yards and a touchdown on 30 carries.
Despite his shortcomings, head coach Urban Meyer trusts Barrett with the game on the line, according to Ohio State athletics:
??@OSUCoachMeyer on JT: He's one of the best I have ever been around. It is good to have the ball in his hands in at the end of the game.

— Ohio State Buckeyes (@OhioStAthletics) November 26, 2016
Barrett came through late in the Michigan game, especially in overtime, and his experience in close games with high stakes bodes well for Ohio State's chances in the playoff.
The Buckeyes are far from perfect, but based on their resume, there is no question that they deserve a chance to play for the national title.
(4) Washington
It is fair to wonder how good Washington really is and whether it has a legitimate chance to beat Alabama in the College Football Playoff, but if the Huskies beat Colorado to win the Pac-12 championship, keeping them out of the CFP will be a tough sell.
With the exception of a 13-point loss to a red-hot USC team, Washington has been dominant all season long and blown out the majority of its opponents, including a 45-17 housing of rival Washington State to reach the Pac-12 Championship Game.
Quarterback Jake Browning has been the driving force behind Washington's return to the top of college football, as he has thrown for 3,162 yards and 40 touchdowns with just seven interceptions.
The Huskies still have at least two games left to play this season, and Browning is already in elite company with regard to touchdown passes by Pac-12 quarterbacks, per ESPN Stats & Info:
Jake Browning is third Pac-12 player with 40 passing TD in a season, joining Jared Goff in 2015 (43) and Marcus Mariota in 2014 (42).

— ESPN Stats & Info (@ESPNStatsInfo) November 25, 2016
Washington is far from a lock to beat a strong Colorado team, and a loss to the Buffaloes could open the door for Michigan or the winner of the Big Ten Championship Game.
The Huskies have defied naysayers all season long, though, and remained in the thick of the playoff hunt. They will do so again with a win over Colorado, which should be enough to cement its place in the top four.
Follow @MikeChiari on Twitter.