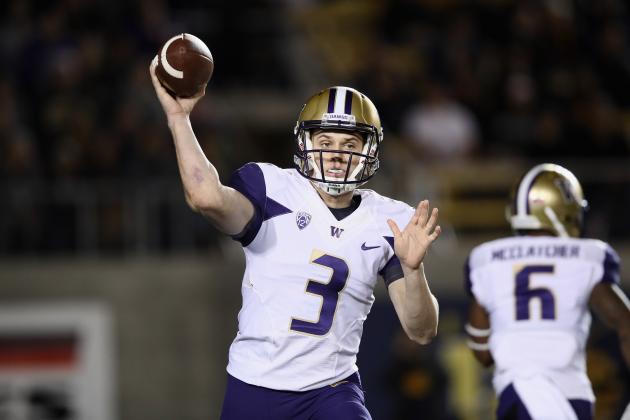 Ezra Shaw/Getty Images
If the initial College Football Playoff rankings carried some surprises and perhaps rankled a few fans from the Pacific Northwest, then the one rolled out heading into Week 11 must feel something like justice.
The Top Four teams are all undefeated, with Washington ascending to a playoff spot to join the likes of Alabama, Clemson and Michigan. Texas A&M grabbed the fourth spot in the initial rankings despite already having one loss, but it couldn't hold on to it and added a second defeat to its ledger with a loss to unranked Mississippi State in Week 10.
Meanwhile, the Huskies obliterated California 66-27 behind 378 passing yards and six touchdowns from quarterback Jake Browning. The dominant win and still-unblemished record left the committee no choice, and it bumped up Washington one very important spot.
The results have made the season's second set of rankings a bit more clear cut and harder to dispute, at least at the very top. Here's what the all-important CFP rankings look like heading into a jam-packed Saturday in Week 11.
Alabama remains at the top of the rankings after winning a 10-0 slugfest against LSU that didn't see points on the board until the fourth quarter. Despite a lackluster offensive showing, the Crimson Tide defense deserves plaudits for shutting down Leonard Fournette, a task few teams are capable of completing.
Though Alabama's win was perhaps the least impressive among the top teams in Week 10, there's no reason to move Nick Saban's juggernaut down a notch. The Crimson Tide will have to be careful in Week 11, as they take on Mississippi State fresh off the aforementioned upset of the Aggies.
A second scalp would be huge for the Bulldogs and would throw the CFP into chaos. Ultimately, it's unlikely to happen, as Alabama has been far too disciplined this year and has always risen to the occasion.
Clemson and Michigan registered dominant wins over Syracuse and Maryland, respectively, in Week 10, cementing their status as potential playoff teams. The Tigers do have a bit of concern heading into a game against Pittsburgh, as star quarterback Deshaun Watson left the 54-0 win over Syracuse in the second quarter with a shoulder injury and did not return to action.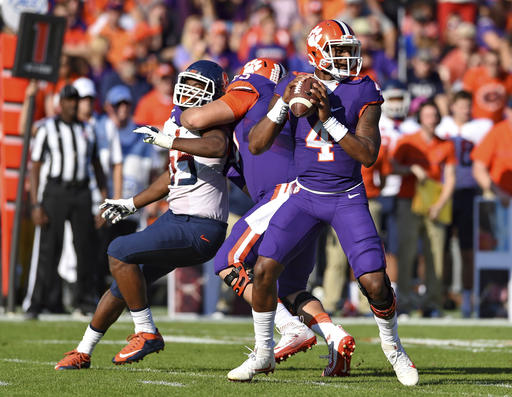 Richard Shiro/Associated Press
However, Clemson head coach DaboSwinney expects him to be ready to go against Pitt, per ESPN.com's Andrea Adelson.
Michigan is on the road against Iowa in Week 11. The Hawkeyes have lost two straight and don't figure to be much of a challenge. The Wolverines figure to be in good shape until Nov. 26, when they have a massive showdown against No. 5 Ohio State. One has to imagine that game will decide a playoff spot.
The Buckeyes already have one loss, but it was to Penn State, which has ascended to No. 10 in the CFP rankings, making the imperfect record a little bit easier to swallow.
Washington has a huge test this week against No. 20 Southern California. The Trojans rank as one of the Huskies' toughest opponents to date, and a win against this Pac-12 rival would go a long way toward cementing Washington's status as a bona fide playoff team.
Browning could be in for a quarterback duel in this one. USC has coaxed excellent play out of Sam Darnold over the course of its five-game win streak. The freshman has 20 touchdowns and four interceptions on the year, and he is playing with plenty of poise.
"It's hard to tell if he's excited, or nervous, or anything," USC head coach Clay Helton said, per the Orange County Register's Joey Kaufman. "It's a sign of a good quarterback."
The Huskies' weak early schedule kept them out of the Top Four in the initial CFP, so a win over USC would go a long way toward solidifying their credibility. A loss to USC could spell doom for Washington considering the lack of power in the Pac-12 this season.
No. 6 Louisville is hanging around with one loss, but it plays lowly Wake Forest in Week 11, a game it should win and one that is unlikely to boost its stock much. The Cardinals have the most exciting player in college football in quarterback Lamar Jackson, who would be a dream participant in the College Football Playoff, but they will need a team or two to stumble in the coming weeks to rise in the rankings.
As for teams hanging around on the fringes, Sports Illustrated's Andrew Vailliencourt noted No. 9 Auburn has a chance to shake things up with a road win over Georgia:
Auburn won't have the ability to move up a whole lot this weekend, but it could jump Texas A&M with a convincing road win against Georgia. The Aggies host to a struggling Ole Miss team that will be without starting quarterback Chad Kelly, so a Tigers road win over a slightly better foe should bump up Gus Malzahn's team in next week's rankings.

A bad showing could see No. 10 Penn State, which travels to Indiana, leapfrog Auburn and create a larger shakeup throughout the top 10. Texas A&M and No. 2 Clemson both boast early-season wins at Auburn, so a third Tigers loss would certainly alter some strength of schedule considerations.
Of the current Top Four, which team is most likely to miss out on the College Football Playoff?
Of the current Top Four, which team is most likely to miss out on the College Football Playoff?

Alabama

Clemson

Michigan

Washington
Wisconsin, Texas A&M, Penn State and Oklahoma are all hanging around with two losses and some excellent wins under their belts, but it will take quite a bit of chaos and unexpected results for them to usurp the teams with better records ahead of them.
The Badgers have probably the best case if they can win out, as their two losses came to Michigan and Ohio State in back-to-back weeks.