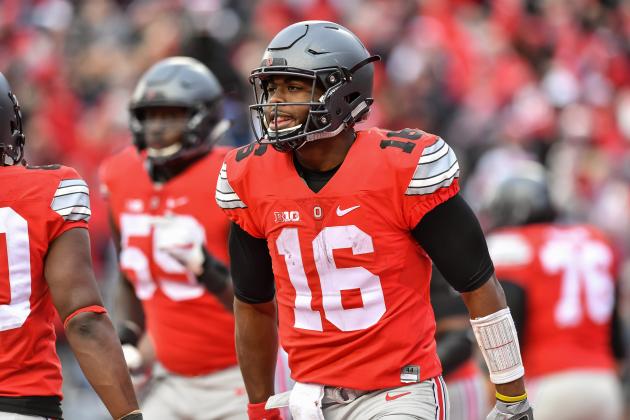 Jamie Sabau/Getty Images
J.T. Barrett and the Buckeyes are all but cemented their spot in the CFP with a win over Michigan to remain at No. 2.
On the final Tuesday before Selection Sunday, the selection committee for the College Football Playoff rankings had a few more tricks up its sleeve.
Florida looked terrible in a loss to Florida State and didn't move a single spot, remaining at No. 15 in advance of the SEC championship game. Utah lost to Colorado and actually moved up two spots to No. 20.
Granted, seven of the nine teams ranked Nos. 15-23 suffered losses this past week, so there weren't many teams chomping at the bit to leapfrog Florida and Utah. Still, it was curious to see them basically get rewarded for losses.
But in the Top 10, there weren't any big shockers.
Michigan dropped from No. 3 to No. 5 after a double overtime loss at Ohio State. We'll get into this debate more in a bit, but it's possible the Wolverines still get in, even without a Clemson loss in the ACC championship game.
The only other change in the Top 10 was Colorado's jumping ahead of idle Oklahoma to No. 8 for beating Utah. The Buffaloes are still more than a stone's throw away from the Top 4, but they have a much better shot than the Big 12 does. Even if Clemson and Washington both lose, it's impossible to envision a scenario where either Oklahoma or Oklahoma State gets into the national semifinals.
But what are all the possible scenarios remaining? Who will play in the other New Year's Six games? And wouldn't it be a hoot if 5-7 Texas gets invited to a bowl game after all the coaching drama it has endured in the past three months?
With just a handful of games remaining, here are your projections for all 40 bowl games, starting with the big ones.
College Football Playoff Projection

| | | |
| --- | --- | --- |
| Game | Date | Matchup |
| Peach Bowl | Dec. 31 | No. 1 Alabama vs. No. 4 Penn State |
| Fiesta Bowl | Dec. 31 | No. 2 Clemson vs. No. 3 Ohio State |
Bleacher Report
As long as Clemson doesn't lose to Virginia Tech in the ACC championship game, you can just about lock up those top three seeds and throw away the key.
Even if Alabama somehow loses to Florida by four touchdowns, the Crimson Tide should remain the No. 1 team in the College Football Playoff. Despite an ugly year for the rest of the SEC, Alabama still holds nine wins over bowl teams, including a season-opening blowout of seemingly every analyst's new favorite team: USC.
Clemson also has nine wins over bowl teams and would get to 10 by beating Virginia Tech. Granted, their only win over a projected New Year's Six team was a nail-biter against Florida State. However, putting Clemson at No. 2 and Ohio State at No. 3 would be a dastardly way for the CFP selection committee to say that winning a conference championship does actually matter, even though the only difference in this case would be jersey color.
Speaking of the Buckeyes, their regular season is over, but wins over Michigan, Wisconsin and Oklahoma all but guarantee they'll be in the national semifinals. Maybe the committee will even get a little cute and put Ohio State at No. 4 behind either Penn State or Washington, but only if it's really adamant about delivering a message on the importance of winning a conference championship. Either way, this team will be in the playoff.
The fourth and final spot is where all the uncertainty lies, but let's clear that up by listing the three possible scenarios: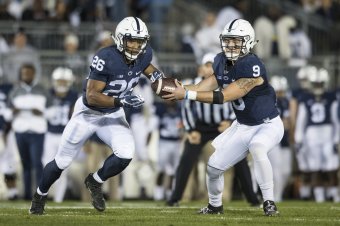 Brett Carlsen/Getty Images
1) If Penn State beats Wisconsin, it gets the fourth and final spot.
Washington fans will have a hard time swallowing this pill if the Huskies improve to 12-1 with a win over Colorado in the Pac-12 championship game, but that win would merely nullify Penn State's win over the Badgers. Washington doesn't have a win that even remotely compares to Penn State's upset of Ohio State. In fact, Washington's only victory thus far over a team with at least nine wins was a home game against Stanford in which Christian McCaffrey was injured.
Moreover, winning the Big Ten title is much more impressive than winning the Pac-12 title, as the former has 10 bowl-eligible teams to the latter's six—and Washington didn't even beat either the second- or third-best team in the Pac-12 (USC and Colorado) during the regular season.
Michigan fans will also have a tough time coming to grips with this one since the Wolverines beat the Nittany Lions 49-10 back in September, but that was a lifetime ago. Penn State hasn't lost since. Michigan has lost two of its last three games and didn't win a game away from home against a team that finished the season with more than three wins. U of M's wins over Colorado, Wisconsin and Penn State are great, but they don't help them here.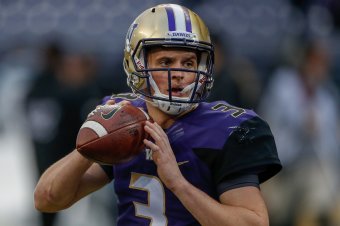 Otto Greule Jr/Getty Images
2) If Washington beats Colorado and Wisconsin beats Penn State, the Huskies get in.
That win over Ohio State that serves as an effective tiebreaker between Penn State and Washington? Wisconsin doesn't have it. In fact, the Badgers don't have any wins over teams currently in the AP Top 20.
Wisconsin's resume was irreparably damaged by things completely out of its control in recent weeks. Akron finished the season on a four-game losing streak and failed to become bowl-eligible, so that Week 2 blowout of the Zips doesn't look as good as it could have. LSU lost to Florida and temporarily fell out of the CFP Top 25. In the end, the Tigers only won two games this season against teams over .500, which means Wisconsin's Week 1 victory doesn't smell quite as sweet as it once did either.
The big blow, though, was Nebraska's getting blown out by Iowa this week. No one ever fully bought in on the Cornhuskers as a CFP contender, but they were sitting at 9-2 with the only blemishes coming on the road against Wisconsin and Ohio State. But the Hawkeyes exposed them as a paper tiger and devalued Wisconsin's overtime win over them.
Two weeks ago, Wisconsin's chances of getting in over a one-loss Washington looked good. Not so much now.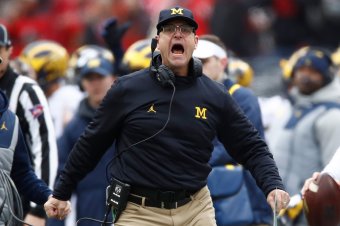 Gregory Shamus/Getty Images
3) If Colorado beats Washington and Wisconsin beats Penn State, Michigan gets in.
Sorry, Colorado, Wisconsin, Oklahoma and Oklahoma State, but unless a Clemson loss opens the door for two more teams to get in, the College Football Playoff isn't in the cards for you. Feel free to start your campaigning for an expansion to a six- or eight-team playoff whenever you're ready.
The Buffaloes do have wins over Utah, Washington State and Stanford, but they don't hold a candle to Michigan's wins over Penn State, Wisconsin and Colorado. Even if we add in a win over Washington and compare their top four wins to Michigan's top three, it's not that close. The Buffaloes would have a conference championship in their back pocket, but it's unlikely that would trump Michigan's beating them head-to-head earlier this season.
As far as Wisconsin vs. Michigan is concerned, it's a similar argument. Even if the Badgers beat Penn State, that would only negate one of Michigan's top wins and would do nothing to undo Wisconsin's head-to-head loss to Michigan. All three of Michigan's non-conference wins (Hawaii, UCF and Colorado) were blowouts against bowl teams, while Wisconsin only has that close win over LSU to boast.
In the first two years of the College Football Playoff, we saw nothing but conference champions. Thus, it's maybe a little crazy to suggest that both Ohio State and Michigan will get in without the Big Ten title. However, in both of those years, those four conference champions were either undefeated or one-loss teams with a decent stockpile of quality wins.
In this scenario, though, we're talking about Colorado and Wisconsin, who each have two losses and who wouldn't score a marquee win until these championship games. The Wolverines are by no means a lock to get in ahead of those resumes, but with head-to-head wins over both, it's hard not to like their chances.
We're projecting a Penn State win and scenario No. 1, but tune in for the Big Ten and Pac-12 championship games to see which one of these combinations comes to fruition. (Also, keep an eye on the ACC game in case Clemson decides to throw a wrench into everything with a loss.)
Non-Playoff New Year's Six Bowls

| | | |
| --- | --- | --- |
| Game | Date | Matchup |
| Orange Bowl | Dec. 30 | Florida State (9-3) vs. Wisconsin (10-2) |
| Rose Bowl | Jan. 2 | Michigan (10-2) vs. Washington (11-1) |
| Sugar Bowl | Jan. 2 | Auburn (8-4) vs. Oklahoma (9-2) |
| Cotton Bowl | Jan. 2 | Western Michigan (12-0) vs. USC (9-3) |
Bleacher Report
For the sake of argument and bowl projections, here are the noteworthy Week 14 outcomes that we're expecting: Alabama beats Florida, Clemson beats Virginia Tech, Penn State beats Wisconsin, Washington beats Colorado, Oklahoma beats Oklahoma State and Western Michigan beats Ohio.
According to OddsShark, five of those six games have a spread of at least one touchdown while the Big Ten championship game is effectively a pick'em. We're not exactly going out on a limb with those assumptions. Although, the safest assumption in this sport is probably that at least one of the big favorites ends up wearing an L.
But if those six games play out as expected, these should be your New Year's Six pairings.
Even if the Week 14 crystal ball is correct, the toughest spots to figure out are the ACC representative in the Orange Bowl and the SEC representative in the Sugar Bowl.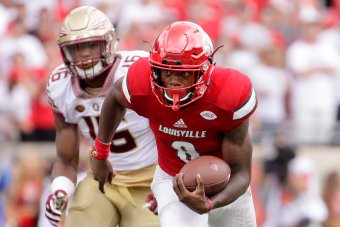 Andy Lyons/Getty Images
Louisville beat the snot out of Florida State back in mid-September, but would you believe the Cardinals are 0-3 against all other teams that finished the season above .500? Meanwhile, the Seminoles have scored wins over South Florida (10-2), Florida (8-3) and Miami (8-4). They also beat 7-4 FCS school Charleston Southern and beat Ole Miss back before anyone could have possibly known that team was going to go 5-7.
At what point does the head-to-head blowout disappear to give way to the better overall resume? The AP voters have Florida State at No. 12 and Louisville at No. 16, so it's clear who they think is more deserving for the Orange Bowl.
But at least the ACC is just a two-horse race. After Alabama, the SEC is one big cluster of four- and five-loss teams.
As the only three-loss team in the conference, Florida would likely get the spot in the Sugar Bowl if its season ended today. But the Gators only have one quality win all season (at LSU) and are staring down the barrel of a multiple-touchdown loss to the Crimson Tide on Saturday. Unless they shock us with a win or a very competitive loss, they'll be out of the picture by Selection Sunday.
That leaves Tennessee, Auburn, Texas A&M and LSU. Given how poorly Tennessee and Texas A&M played down the stretch, though, we can probably rule them both out and just focus on the two sets of Tigers. And at that point, Auburn's head-to-head win over an LSU team with only two wins against teams above .500 would seem to be enough to break any sort of tie.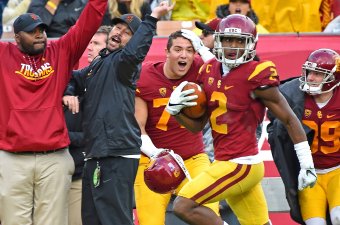 Jayne Kamin-Oncea/Getty Images
Lastly, if you're a fan of USC or you simply want to see one of the best teams in the country play in a New Year's Six game, you're pulling for Washington in the Pac-12 title game. If the Huskies win, it would almost certainly leave USC ahead of the Buffaloes in the CFP rankings, at which point the Trojans would be in prime position to claim the at-large spot in the Cotton Bowl.
In fact, a Washington win may even push the Huskies into the College Football Playoff, leaving USC as the Pac-12's representative in the Rose Bowl. And who doesn't want to see a Michigan vs. USC game right about now?
However, if Colorado beats Washington, it's possible the Trojans remain third in the Pac-12 pecking order and get left out of the New Year's games altogether—which is bad news for all of us. It would mean an insufferable number of days and weeks of talking heads complaining about the selection process for marquee bowl games, since all of the analysts have decided that USC is the second-best team in the country behind Alabama.
Other Bowl Games

| | | |
| --- | --- | --- |
| Game | Date | Matchup |
| Camellia Bowl | Dec. 17 | Troy (9-2) vs. Toledo (9-3) |
| Cure Bowl | Dec. 17 | Appalachian State (9-3) vs. Memphis (8-4) |
| Las Vegas Bowl | Dec. 17 | Wyoming (8-4) vs. Mississippi State (5-7) |
| New Mexico Bowl | Dec. 17 | New Mexico (8-4) vs. North Texas (5-7) |
| New Orleans Bowl | Dec. 17 | Arkansas State (6-5) vs. Southern Miss (6-6) |
| Miami Beach Bowl | Dec. 19 | Louisiana Tech (8-4) vs. UCF (6-6) |
| Boca Raton Bowl | Dec. 20 | Tulsa (9-3) vs. Ohio (8-4) |
| Poinsettia Bowl | Dec. 21 | San Diego State (9-3) vs. BYU (8-4) |
| Famous Idaho Potato Bowl | Dec. 22 | Colorado State (7-5) vs. Miami OH (6-6) |
| Armed Forces Bowl | Dec. 23 | Navy (9-2) vs. Texas (5-7) |
| Bahamas Bowl | Dec. 23 | Old Dominion (9-3) vs. E. Michigan (7-5) |
| Dollar General Bowl | Dec. 23 | C. Michigan (6-6) vs. South Alabama (5-6) |
| Hawaii Bowl | Dec. 24 | Western Kentucky (9-3) vs. Hawaii (6-7) |
| Independence Bowl | Dec. 26 | Georgia Tech (8-4) vs. South Carolina (6-6) |
| Quick Lane Bowl | Dec. 26 | Middle Tennessee (8-4) vs. N.C. State (6-6) |
| St. Petersburg Bowl | Dec. 26 | South Florida (10-2) vs. Wake Forest (6-6) |
| Cactus Bowl | Dec. 27 | Air Force (9-3) vs. TCU (6-5) |
| Heart of Dallas Bowl | Dec. 27 | Army (6-5) vs. UTSA (6-6) |
| Holiday Bowl | Dec. 27 | Stanford (9-3) vs. Minnesota (8-4) |
| Military Bowl | Dec. 27 | Temple (9-3) vs. Boston College (6-6) |
| Foster Farms Bowl | Dec. 28 | Utah (8-4) vs. Northwestern (6-6) |
| Pinstripe Bowl | Dec. 28 | Pitt (8-4) vs. Maryland (6-6) |
| Russell Athletic Bowl | Dec. 28 | West Virginia (9-2) vs. Louisville (9-3) |
| Texas Bowl | Dec. 28 | Texas A&M (8-4) vs. Baylor (6-5) |
| Alamo Bowl | Dec. 29 | Colorado (10-2) vs. Oklahoma State (9-2) |
| Belk Bowl | Dec. 29 | North Carolina (8-4) vs. Arkansas (7-5) |
| Birmingham Bowl | Dec. 29 | Houston (9-3) vs. Vanderbilt (6-6) |
| Arizona Bowl | Dec. 30 | Boise State (10-2) vs. Idaho (7-4) |
| Liberty Bowl | Dec. 30 | Kansas State (7-4) vs. Georgia (7-5) |
| Music City Bowl | Dec. 30 | LSU (7-4) vs. Indiana (6-6) |
| Sun Bowl | Dec. 30 | Virginia Tech (9-3) vs. Wash. State (8-4) |
| Citrus Bowl | Dec. 31 | Tennessee (8-4) vs. Iowa (8-4) |
| TaxSlayer Bowl | Dec. 31 | Miami (8-4) vs. Kentucky (7-5) |
| Outback Bowl | Jan. 2 | Nebraska (9-3) vs. Florida (8-3) |
Bleacher Report
The conference championship games are going to get all of the attention this weekend, but the best story line to watch might be in the Sun Belt and, by proxy, the Big 12.
There are 76 teams with at least six wins and two more with a chance to get there: South Alabama hosts 3-8 New Mexico State and Louisiana-Lafayette travels to Louisiana-Monroe. Either way, there will be at least two 5-7 teams invited to a bowl game with the possibility of as many as four.
With an APR score of 984, North Texas has the right of first refusal. The next two schools on the list are Texas and Mississippi State at 971, though Mississippi State holds the tiebreaker because of an edge in most recent single-year APR score (970 vs. 968). And if a fourth team is necessary, Northern Illinois has dibs at 970.
The first big question is whether South Alabama and Louisiana-Lafayette will even give Texas and Northern Illinois the chance to dance at 5-7. Both are heavy favorites, but they're 5-6 for a reason.
Next, would Texas accept a bowl invitation anyway? The Longhorns have already fired Charlie Strong and will probably get rid of the rest of his staff to clean house for new head coach Tom Herman. They would have a couple of weeks to practice, but would that be enough to get prepared? Would they accept the bid regardless as a service to their 17 seniors?
Here's the other kicker in play: If Louisiana-Monroe beats Louisiana-Lafayette to improve to 5-7, it would be fifth in the APR pecking order with a score of 967. If South Alabama and ULL both lose and Texas declines a bowl invite, ULM would get to go bowling without a single win over a FBS team that finished the season .500 or better.
So, who's ready for some Fun Belt?