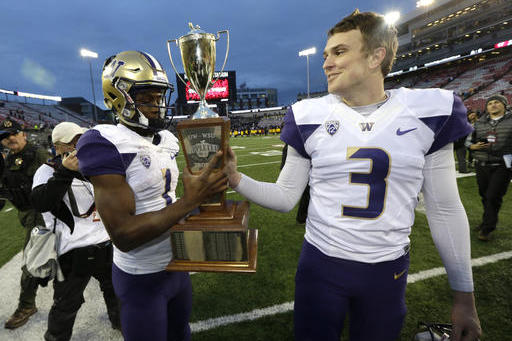 Ted S. Warren/Associated Press
The College Football Playoff selection committee has released its penultimate Top 25 rankings for this season with Alabama, Ohio State, Clemson and Washington making up the Top Four.
In case you were wondering what the playoff odds would look like if these four teams end up comprising the field when the final rankings are released on Sunday, ESPN Stats & Info has you covered:
If the playoff were today, FPI would give Alabama a 39% chance to win, followed by Ohio State (27%), Clemson (21%) and Washington (13%)

— ESPN Stats & Info (@ESPNStatsInfo) November 30, 2016
It's not shocking Alabama is the favorite, but there's nearly as large of a gap between the Crimson Tide and Ohio State (12 points) as there is between Ohio State and Washington (16 points). The level of dominance displayed by Alabama this season is unparalleled, which is something we often say.
There were no surprises among the first four in the rankings, with ESPN Stats & Info showing that quartet comprises the nation's top four teams in strength of record and football power index:
4 teams rank in the top 5 in both Strength of Record & FPI:@AlabamaFTBL@OhioStateFB@ClemsonFB@UW_Football

CFP Rankings, 7 ET, ESPN pic.twitter.com/BjhG2GzokD

— ESPN Stats & Info (@ESPNStatsInfo) November 29, 2016
The real intrigue began with what the selection committee would do with Michigan following its loss against Ohio State and how it relates to the Big Ten Championship Game between Wisconsin and Penn State.
Mark Snyder of the Detroit Free Press tried to make the playoff case for Michigan using the committee's own rankings:
Michigan has beaten No. 6, 7, 8. Pushed No. 2 on the road to double OT.

— Mark Snyder (@Mark__Snyder) November 30, 2016
FS1's Skip Bayless didn't even try to beat around the bush in his praise for the Wolverines:
Michigan is a better team than Clemson or Washington.

— Skip Bayless (@RealSkipBayless) November 30, 2016
In college football, it's more about when you lose than who you lose to. Michigan has lost twice in the last three weeks, including in its regular-season finale. Even though it was a close double-overtime road loss against Ohio State, that's the last image the committee has to judge the Wolverines by in 2016.
Bill Rabinowitz of the Columbus Dispatch did provide a small glimmer of hope for Michigan fans heading into conference championship weekend:
Michigan is No. 5. Wolverines needed to be ahead of both Wisconsin and Penn State to have any chance at the CFP. They are.

— Bill Rabinowitz (@brdispatch) November 30, 2016
The best thing that could happen to strengthen Michigan's case is Penn State beats Wisconsin, which would make Michigan's 49-10 win over a Penn State team that won the Big Ten look even better in retrospect.
Despite not playing in the Big Ten title game, Ohio State's spot in the playoff seems to be secure. Playoff selection committee chairman Kirby Hocutt offered this assessment regarding the Buckeyes and the one team that beat them during the regular season, per Land-Grant Holy Land:
Playoff selection committee chair Kirby Hocutt on Ohio State and Penn State "They're not close in the eyes of the committee"

— Land-Grant Holy Land (@Landgrant33) November 30, 2016
Moving to the Pac-12, FS1's Stewart Mandel noted the rankings this week are going to help out the two teams in the conference title game:
Utah, which fell out of the AP poll, still No. 20 in CFP. Good news for Washington & Colorado.

— Stewart Mandel (@slmandel) November 30, 2016
Washington and Colorado each own wins over Stanford and Utah this season, with both holding a loss against USC.
This is an important distinction because Hocutt said the gap between Washington and Michigan is "extremely small," per Land-Grant Holy Land.
Since Michigan holds a win over Colorado earlier this season, if Washington loses the Pac-12 championship, there is yet another way in which Jim Harbaugh's team can get in the Final Four.
While the Big Ten and Pac-12 are keeping a close eye on their potential representatives in the playoff, ShehanJeyarajah of SEC Country noted there is one Top 10 matchup this weekend that may have lost some luster because of the rankings:
Bedlam is a top 10 matchup, but both teams are probably too far away for the Big 12 to have a shot.
9. Oklahoma
10. Oklahoma State

— Shehan Jeyarajah (@ShehanJeyarajah) November 30, 2016
The Big 12 has never really done anything to stand out this season. Oklahoma has gotten hot in conference play, but it failed its two biggest nonconference tests of the year (Houston, Ohio State). Oklahoma State has the controversial loss against Central Michigan, but its best win so far is over a solid, but unspectacular West Virginia team.
Lower in the rankings, Jeyarajah found a silver lining for Auburn's season if things play out in the SEC championship as expected with Alabama beating Florida:
Florida at 15, Auburn at 14. That means, short of an upset, Auburn is probably headed to the Sugar Bowl.

— Shehan Jeyarajah (@ShehanJeyarajah) November 30, 2016
Considering Auburn is the only team in the Top 15 with four losses, this has to be considered a huge win for the program and conference.
The rankings left open a lot of intrigue for what will happen during the conference title games. The path is clear for each of the Top Four teams to just win and get in. Alabama's spot in the playoff seems set, regardless of what happens on Saturday, by virtue of being the only undefeated Power Five team.
Ohio State is held in regard by the committee, even without a conference title to show for it. Clemson and Washington are the two teams teetering on the edge of throwing everything into oblivion. One loss by either team opens the door for each of the three Big Ten teams or Colorado to jump in to the mix.
There likely won't be a lot of changes atop the final rankings on Sunday, but there are few things set in stone with five days to change the selection committee's mind.