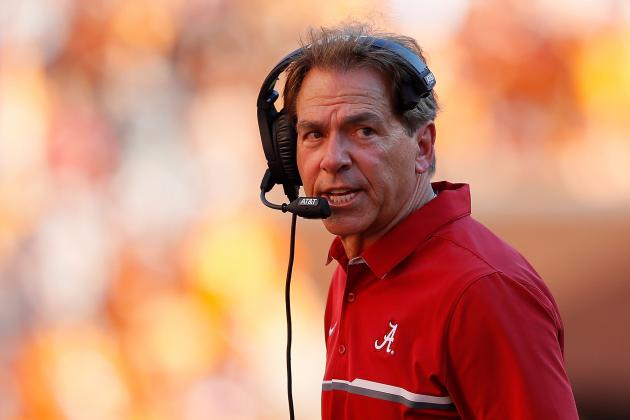 Kevin C. Cox/Getty Images
The latest College Football Playoff rankings provide little clarity heading into the final few weeks of the 2016 season.
Alabama remains the unquestioned No. 1 team in the country, still undefeated with a strong resume of impressive wins. Ohio State, Michigan and Clemson follow in the next three spots, which would represent the semifinals if the year ended today. Of course, Michigan and Ohio State will play each other Saturday, with the loser likely falling down the polls.
This makes it important to follow the next few spots as teams continue to jockey for position in the coming weeks. Here are the latest rankings as decided by the committee:
Reaction
The big discussion after Tuesday's release might be the presence of the Big Ten, which should be pretty happy about the way the rankings came out, as noted by Nicole Auerbach of USA Today:
Four Big Ten teams in the top seven of this week's @CFBPlayoff rankings.

— Nicole Auerbach (@NicoleAuerbach) November 23, 2016
It remains to be seen if this will turn in to one or two teams in the final Top Four.
Brady Frederickson of the Ledger noted the scenarios for the conference:
Wisconsin can win-out and make the playoff. Penn State can and I'm not sure they would. And we still have OSU and Michigan floating around.

— Brady Fredericksen (@Brady_Fred) November 23, 2016
Meanwhile, Stewart Mandel of Fox Sports 1 noted the problem with ranking Wisconsin so high:
Notice that LSU dropped out of the Top 25 completely. That was Wisconsin's signature win.

— Stewart Mandel (@slmandel) November 23, 2016
There will be a lot of discussion about Ohio State against Penn State if the Nittany Lions are able to win the conference title with a victory over the Buckeyes on their resume. However, Jared Shanker of ESPN.com doesn't believe that is guaranteed:
If Ohio State wins against Michigan, Bucks should be in. If Penn State wins B1G they have a argument but should be compared with Pac12 champ

— Jared Shanker (@JShankerESPN) November 23, 2016
The fact Washington is sitting at No. 5 will make a big difference, though, especially if the Huskies are able to win their final two games.
Interestingly, FiveThirtyEight lists Oklahoma as the most likely to sneak into the playoff, per ESPN Stats and Info:
No. 8 Oklahoma: per @FiveThirtyEight projections, they are the team most likely to end the season ranked 4th https://t.co/9rUcjAGgWw

— ESPN Stats & Info (@ESPNStatsInfo) November 23, 2016
Committee chair Kirby Hocutt discussed the closeness at that point of the rankings, per Derek Levarse of the Times Leader:
CFP chair Kirby Hocutt: "Small separation between teams 7-10. Penn State's done what no one else has been able to do, beat Ohio State."

— Derek Levarse (@TLdlevarse) November 23, 2016
He added another team that has been impressive lately, per Ted Miller of ESPN:
"Colorado is a team a lot of the committee members are impressed with," Kirby Hocutt.

Buffs! You may now swoon…

— Ted Miller (@TedMillerRK) November 23, 2016
USC stays outside the Top 10 thanks to three losses, although Joel Klatt of Fox Sports believes it should be higher based on level of recent play:
The Committee is not using the eye test at all…#USC at 12

— Joel Klatt (@joelklatt) November 23, 2016
Western Michigan remains far down the list at No. 21 despite its 11-0 record, battling Boise State (No. 19), Houston (No. 20) and Navy (No. 25) as the highest-ranked "Group of Five" team.
Shehan Jeyarajah of SEC Country isn't happy about the bottom of the rankings:
Houston jumps all the way up to No. 20. Now there are two teams ranked ahead of undefeated Western Michigan. The disrespect is strong.

— Shehan Jeyarajah (@ShehanJeyarajah) November 23, 2016
Meanwhile, Bruce Feldman of FoxSports.com wants to see Houston higher:
#Houston is only at 20.. Meh. Should be a lot higher. Beat a Top 10 OU team and CRUSHED #11 Louisville.

— Bruce Feldman (@BruceFeldmanCFB) November 23, 2016
In any case, fans should expect a lot of movement in the next two weeks. In addition to the high-profile battle between Michigan and Ohio State, just about every top contender has a tough matchup during rivalry week that could lead to upsets. These games will be followed by championship week, where anything can happen.
While you might not like the rankings now, remember a lot can change before the playoff matchups are set.
Follow Rob Goldberg on Twitter.