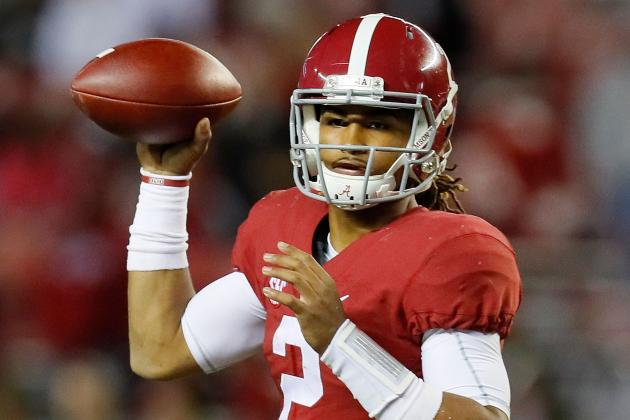 Kevin C. Cox/Getty Images
The College Football Playoff committee had it easy this week. In seven days' time, though, the landscape of the sport stands to be very different.
Alabama remains atop the sport as the nation's lone Power Five unbeaten and is followed by Ohio State, Michigan and Clemson for the second straight week. One-loss Washington is once again sitting on the outside looking in, while Wisconsin moves up a spot as the top-ranked two-loss team.
Here is a look at how the entire Top 25 played out:
The biggest loser of the last seven days was Louisville, which dropped to No. 11 after an embarrassing loss to Houston. The Cougars, once ranked sixth in the nation, returned to form in a big way in their 36-10 triumph. Louisville trailed 31-0 at halftime, and quarterback Lamar Jackson had the worst performance of his Heisman-worthy campaign.
Jackson completed only 20 of his 43 passes and was held to a season-low 33 rushing yards on 25 carries. It was the second straight game Jackson accounted for only one touchdown after having at least two in the season's first nine contests.
"Oh, yeah, there was frustration there," Louisville head coach Bobby Petrino told reporters after the loss. "There was frustration on the protection. There was frustration [with] himself [for] missing a few throws. That's one of the things there on the sideline: There definitely was frustration and it grew."
A week after suffering their own upsets, Michigan, Clemson and Washington each got back in the win column. The Wolverines looked the worst of the three while playing their first game without injured quarterback Wilton Speight. Replacement John O'Korn threw for just 59 yards against Indiana, and the Michigan offense accounted for a disappointing 284 total.
Indiana had as many first downs and did better on third down than Michigan.
"Winning this game feels like one of the best wins I've ever been involved with," head coach Jim Harbaugh nevertheless told reporters afterward. "We have a lot of respect for [Indiana]."
The college football world will have its eyes focused on Michigan's matchup with Ohio State this weekend. The game will have massive ramifications regardless of the victor, and each presents a series of intriguing options.
Should Ohio State hold home field and defeat Michigan, it would lay out the Big Ten's easiest path to getting two teams into the playoff. A Buckeyes win and Penn State win would vault the Nittany Lions into the Big Ten Championship Game against either Wisconsin or Nebraska. Already boasting a win over Ohio State (and an ugly loss to Michigan), Penn State could potentially play itself into the No. 4 seed depending on how other conference championships play out.
Wisconsin, with losses to Ohio State and Michigan, is likely out of playoff consideration even if it wins the conference. Its only realistic path to the CFP requires Michigan to defeat Ohio State and then lose to the Badgers in the title game. At that point, pandemonium would break out, as four Big Ten teams would have a claim to the Top Four.
Everyone else has a much more straightforward path. Alabama likely only needs to win one of its last two games to get in. The Tide could drop Saturday's contest with Auburn but beat Florida in the SEC Championship Game and still boast the strongest resume in the country.
Clemson has to play out the string. Rival South Carolina should pose no threat Saturday, and unbalanced divisional arrangements will give the Tigers a relatively easy matchup with Virginia Tech or North Carolina in the conference title game. Louisville and Florida State will be sitting at home.
Washington can make itself look a whole lot better in the next couple of weeks by going on the road to beat rival Washington State and defeating a likely Top 10 opponent in the Pac-12 Championship Game.
Should Clemson or Washington falter over the next two weeks, things could get chaotic enough that Oklahoma finds itself in serious consideration.
Follow Tyler Conway (@jtylerconway) on Twitter.