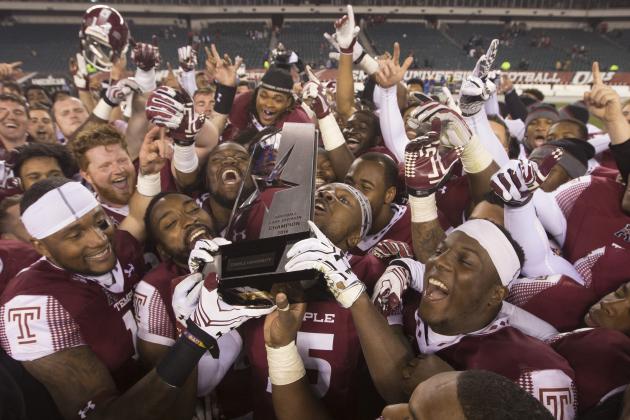 Mitchell Leff/Getty Images
Temple, AAC East Division winners for the second year in a row, plays at Navy as it seeks its first conference title since 1967.
It all comes down to this…
Well, not really. For the teams that qualify for the College Football Playoff, there's still those semifinals (and the title game) to worry about, not to mention 38 other bowl games of varying levels of importance. But until those playoff spots can be awarded and other bowl bids get handed out, we have one last batch of contests.
It's championship week, where 11 of the 16 games on tap Friday and Saturday will have an impact on conference titles. Eight of those are league championship matchups, and regular-season tilts in the Big 12 and Sun Belt will determine who wins those titles.
We've made a prediction for each game. As results go final over the weekend, we'll post those updates. Make your picks in the comments section and keep the discussion going.
Last week: 44-14 (.759)
Season: 600-214 (.737)
NOTE: All team rankings are from College Football Playoff standings.
Rey Del Rio/Getty Images
Ohio (8-4) vs. No. 17 Western Michigan (12-0)
When: Friday, 7 p.m. ET
Last meeting: Western Michigan won 49-14 at Ohio in October 2015.
Western Michigan's dream season won't have a happy ending unless it includes a trip to the Cotton Bowl, which is where the Broncos are likely headed if they beat Ohio, since they'd finish as the highest-ranked "Group of Five" team by the playoff selection committee.
Whether P.J. Fleck is there to coach them depends on how aggressively schools pursue him, but for now he remains committed, per Stephanie Funkhouser of Fox 17 in Michigan, to getting WMU its first conference title since 1988.
The Broncos have dominated the MAC, winning by an average of 26.9 points per game and never by fewer than 14. Quarterback Zach Terrell is the school's career passing leader, receiver Corey Davis is No. 1 all-time in FBS receiving yards and the rushing duo of Jamauri Bogan and Jarvion Franklin has combined for 2,053 yards and 20 touchdowns on the ground.
Ohio benefited from being on the weaker side of the league, where it tied for the East Division title with the only other team that had at least a .500 record (Miami, Ohio, which the Bobcats beat in October to break the tie). They had to switch QBs midway through the year, but neither Greg Windham nor Quinton Maxwell has been sharp, and Ohio lacks an explosive rusher.
Defense has been how Ohio has won most of its games, holding five teams to fewer than 300 total yards and limiting four league foes to 10 or fewer points. Western Michigan's worst offensive output was 22 points scored in the season-opening win at Northwestern.
Prediction: Western Michigan 34, Ohio 17
William Mancebo/Getty Images
No. 8 Colorado (10-2) vs. No. 4 Washington (11-1)
When: Friday, 9 p.m. ET
Last meeting: Washington won 38-23 at Colorado in November 2014.
The playoff committee was favorable to both Pac-12 title-game qualifiers, bumping each up one spot from a week ago. That improves the chances Washington gets a semifinal bid if it claims its first conference title since 2000. It also makes it slightly more possible Colorado can get in with a victory and sufficient chaos.
What would help matters is for either to win handily, but the defenses in this matchup might make that too difficult to achieve.
Colorado is 13th in the FBS in total defense and Washington is 17th, each allowing 4.67 yards per play. They've combined for 31 interceptions, and the Buffaloes' passing defense is holding opposing quarterbacks to a 97.65 passer rating. Each allows fewer than four yards per carry on the ground.
One way to separate these division champs is to look at common opponents, particularly the good ones. Both lost to USC, and each had a narrow victory over Utah, but Washington's 45-17 win at Washington State came a week after Colorado knocked off the Cougars by 14 at home.
Prediction: Washington 27, Colorado 21
Ronald Martinez/Getty Images
Temple (9-3) at No. 19 Navy (9-2)
When: Saturday, noon ET
Last meeting: Navy won 31-24 at Temple in September 2014.
Temple has owned the East Division in the AAC's brief history, winning it in both seasons. The Owls fell at Houston in last year's final and have to play on the road again, but at least the trip isn't nearly as far to Annapolis, Maryland. Though that probably doesn't make up for having to face Navy's incredibly efficient rushing offense.
The Midshipmen's triple option has produced 342 rushing yards per game, second-most in FBS, with 53 touchdowns. That includes 496 yards and nine scores in last week's 75-31 win at SMU, a game in which Navy scored on all 10 offensive possessions.
Quarterback Will Worth is the catalyst, picking up where Keenan Reynolds left off with 1,181 yards and 25 TDs, along with eight passing scores on 115 attempts. He's run for 1,008 yards in Navy's last seven games.
Temple isn't nearly as potent but doesn't need to be with how its defense has played of late. Since winning a 46-30 shootout over South Florida to get a leg up in the East, the Owls have allowed 23 points in four games. For the year, they rank third nationally in total defense. They did well overall against the run, too, though in the season-opening loss to Army and its option run game, they yielded 329 yards and four TDs.
Prediction: Navy 26, Temple 23
Michael Noble Jr/Associated Press
Louisiana Tech (8-4) at Western Kentucky (9-3)
When: Saturday, noon ET
Last meeting: Louisiana Tech beat Western Kentucky 55-52 on Oct. 6.
Conference USA wasn't too strong this year, with only six of 13 schools finishing with a .500 record (though 5-7 North Texas is looking good to grab a bowl bid thanks to the dearth of six-win teams). But the league still managed to produce the best possible title game matchup and one that threatens to break the scoreboard.
Louisiana Tech and Western Kentucky weren't just the two best offenses in C-USA; they were among the best in the country. The Bulldogs rank first nationally in yards per play, at 7.68, and Western Kentucky (7.51) is second. They each average 44 points per game, tied for fifth in FBS, and each has a solid running back to go with plenty of passing weapons.
Where Western Kentucky has a distinct edge, though, is on the defensive end. The Hilltoppers have allowed an average of 12.2 points and 261 yards during their last five games, while Louisiana Tech has given up 35 or more points five times, including when it beat Western Kentucky earlier this season.
There won't be much defense, but more of it will come from the home team's side.
Prediction: Western Kentucky 47, Louisiana Tech 41
Kevin C. Cox/Getty Images
No. 15 Florida (8-3) vs. No. 1 Alabama (12-0)
When: Saturday, 4 p.m. ET
Last meeting: Alabama beat Florida 29-15 in the 2015 SEC title game.
It's not likely there would be a better matchup produced by scrapping the division-winner format and letting the SEC pit its two best teams in the conference final, at least not this year. But the fact Alabama is a three-touchdown favorite, per OddsShark, says less about the Crimson Tide's dominance and more about how crummy the East Division was.
Florida lost its most important game against a division opponent (Tennessee) and was blown out by the West's fifth-place team (Arkansas) yet won the East by two games. And like last season, the Gators did so with the SEC's second-worst offense. Not that having a powerhouse on offense would matter against Alabama's stout defense, but at least it would give Florida a chance to stay close.
Alabama hasn't allowed a touchdown since mid-October. The Tide's defense and special teams have scored as many touchdowns as they've allowed (12).
Prediction: Alabama 33, Florida 13
Shannon Broderick/Associated Press
San Diego State (9-3) at Wyoming (8-4)
When: Saturday, 7:45 p.m. ET
Last meeting: Wyoming beat San Diego State 34-33 on Nov. 19.
Their meeting a few weeks back was a classic, with Wyoming taking the lead with 67 seconds left only to have SDSU connect on a Hail Mary as time expired. The Aztecs then went for two and came up short, moving the Cowboys closer to their first title of any kind since 1998.
That was SDSU's first Mountain West loss since 2014. Since it had already clinched a second straight West Division title, losing again on Saturday didn't matter. Giving up 63 points and 8.18 yards per play did, though, since the Aztecs only allow 20.7 points and 4.85 yards for the season.
Wyoming also got blitzed in its last game, losing 56-35 at New Mexico in a meaningless result since the Cowboys had already locked up the Mountain Division. More important was how they had handled SDSU runner Donnel Pumphrey the game before and managed to move the ball against the Aztecs, which they should be capable of repeating.
Prediction: Wyoming 31, San Diego State 28
Streeter Lecka/Getty Images
No. 23 Virginia Tech (9-3) vs. No. 3 Clemson (11-1)
When: Saturday, 8 p.m. ET
Last meeting: Virginia Tech won 38-17 at Clemson in October 2012.
The best thing that could have happened to Clemson was losing that game to Pittsburgh a few weeks back, since it seems to have woken up the Tigers and made them realize they can't just coast back to the playoffs. Runaway wins over bowl teams Wake Forest and South Carolina have included an extra level of focus and fire from coach Dabo Swinney's group, particularly quarterback Deshaun Watson.
The second-best thing for Clemson was having Virginia Tech jump into the latest playoff rankings, giving it an extra quality win to put on its resume. The Hokies won't be an easy out, though, as long as they don't suit up the team that laid eggs against Georgia Tech and Syracuse en route to winning the Coastal Division.
First-year coach Justin Fuente has improved the Hokies in his short time on the job, while longtime defensive coordinator Bud Foster again has that unit among the top 20 nationally. The Hokies are capable of slowing down Clemson somewhat and have some weapons to keep pace offensively, but not enough to derail a reinvigorated Tigers team.
Prediction: Clemson 31, Virginia Tech 23
Dylan Buell/Getty Images
Wisconsin, making its fourth Big Ten title game appearance in the game's six-year history, seeks its first title since 2012.
No. 7 Penn State (10-2) vs. No. 6 Wisconsin (10-2)
When: Saturday, 8 p.m. ET
Last meeting: Penn State won 31-24 at Wisconsin in November 2013.
Penn State has been playing better than anyone else in the Big Ten, and so much of that has to do with its offense's evolution. Coordinator Joe Moorhead has produced three games with 300-plus rushing yards. When Saquon Barkley has been hurt or ineffective, quarterback Trace McSorley has throw for 300 yards twice in the last three weeks.
Most of that damage has come against the league's worst defenses, though, and Wisconsin is in the upper tier. Only Ohio State scored more than 20 against the Badgers. Their 106.9 rushing yards allowed per game in Big Ten contests is tops in the league.
Wisconsin hasn't lost since those consecutive defeats to Michigan and Ohio State in October. While much of that run has been anchored by the defense, the run game has also returned to its old standard. Corey Clement is as healthy as he's been since he was Melvin Gordon's prolific backup, gaining 100-plus yards in six of seven games.
The playoff committee's latest rankings make it clear what Penn State or Wisconsin must do to jump into the Top Four: not just win, but do so convincingly, and even that might not be enough. A narrow victory, much like what Michigan State recorded last year against Iowa, probably won't cut it. That's the more plausible outcome, and Wisconsin has a slight edge because it faced the tougher league slate.
Prediction: Wisconsin 23, Penn State 19
Justin K. Aller/Getty Images
Oklahoma has won 15 consecutive Big 12 games.
Kansas State (7-4, 5-3) at TCU (6-5, 4-4), noon ET
Last meeting: TCU won 52-45 at Kansas State in October 2015.
Four wins in the last five games have been the product of Kansas State having the kind of offense Bill Snyder prefers: plenty of running from various sources but with enough passing to keep defenses honest. TCU has been among the more disappointing teams in the Big 12 with its last two wins on the road (by 40 at Baylor and 22 at Texas) and three of its last four losses coming at home.
Prediction: Kansas State 28, TCU 24
No. 10 Oklahoma State (9-2, 7-1) at No. 9 Oklahoma (9-2, 8-0), 12:30 p.m. ET
Last meeting: Oklahoma won 58-23 at Oklahoma State in November 2015.
Bedlam is the de facto Big 12 title game, and the league lucked out by having it fall on the same day as–that other conferences hold their official ones. That keeps alive the faint possibility that the winner could jump into the playoffs—assuming enough chaos happens atop the rankings—but at the least there's a Sugar Bowl bid at stake. That's where Oklahoma will be heading after its improved defense makes enough stops to slow down OK State's streaking attack.
Prediction: Oklahoma 41, Oklahoma State 31
Baylor (6-5, 3-5) at No. 16 West Virginia (9-2, 6-2), 3:30 p.m. ET
Last meeting: Baylor beat West Virginia 62-38 in October 2015.
Baylor is winless since becoming bowl-eligible on Oct. 15, the last time it scored more than 35 points and allowed fewer than that many. Losing quarterback Seth Russell to injury contributed to the former, but the defensive breakdowns are more responsible for the second-half slide. That doesn't bode well for the Bears as they play out the string against a West Virginia team that's second in the Big 12 in yards per play.
Prediction: West Virginia 45, Baylor 21
Rainier Ehrhardt/Associated Press
Troy has its most wins since moving to FBS in 2001.
Troy (9-2, 6-1) at Georgia Southern (4-7, 3-4), noon ET
Last meeting: Georgia Southern won 45-10 at Troy in November 2015.
Troy can clinch a share of the league title with a win, which would be the Trojans' first since 2010 and complete a major turnaround under second-year coach Neal Brown. They were 3-9 the season before he arrived and 4-8 in 2015. This fall, they have their most wins since moving to the FBS level in 2001. Georgia Southern is going in the other direction, with first-year coach Tyson Summers' move to a spread attack and the defensive struggles resulting in four straight losses.
Prediction: Troy 29, Georgia Southern 25
New Mexico State (3-8, 2-5) at South Alabama (5-6, 1-6), 1 p.m. ET
Last meeting: None
The best thing that could have happened to South Alabama was LSU having to postpone its October game at Florida, prompting a rescheduling on the date the Jaguars were to play LSU. Instead, they got a payout and a matchup with FCS Presbyterian, making bowl eligibility more possible. That gets secured by beating an NMSU team with four 30-point losses and six road defeats by an average of 29.2 points.
Prediction: South Alabama 33, New Mexico State 20
Louisiana-Lafayette (5-6, 4-3) at Louisiana-Monroe (4-7, 3-4), 3 p.m. ET
Last meeting: Louisiana-Lafayette beat Louisiana-Monroe 30-24 in October 2015.
The Battle on the Bayou has been around for 65 years, long before these schools switched their names from Southwestern Louisiana and Northeast Louisiana. On top of bragging rights this time is a bowl bid, with ULL locking one up with a win and ULM needing some help to be a 5-7 qualifier. Lafayette just knocked off defending Sun Belt champ Arkansas State, while Monroe's league wins (against three of the bottom four teams in the league) were only by a combined 27 points.
Prediction: Louisiana-Lafayette 26, Louisiana-Monroe 23
Georgia State (3-8, 2-5) at Idaho (7-4, 5-2), 5 p.m. ET
Last meeting: None
Idaho has won five of six and is headed to only its third bowl in program history, which will be the Vandals' eighth non-home game of the season. But first they'll get to eight wins for only the third time since 1998 by leaning on a run game that's produced 10 rushing touchdowns during a three-game win streak. Georgia State has allowed 25 rushing TDs with five opponents gaining at least 200 yards.
Prediction: Idaho 30, Georgia State 20
Arkansas State (6-5, 6-1) at Texas State (2-9, 0-7), 7:30 p.m. ET
Last meeting: Arkansas State beat Texas State 55-17 last December.
Arkansas State's 15-game Sun Belt winning streak ended last week at Louisiana-Lafayette, but the Red Wolves can clinch a second straight league crown with a victory against last-place Texas State. The Bobcats have been outscored 280-99 in league play, averaging 8.8 points in their last five.
Prediction: Arkansas State 41, Texas State 17
All statistics courtesy of CFBStats.com, unless otherwise noted. All series history information courtesy of CFBDataWarehouse.com, unless otherwise noted. Follow Brian J. Pedersen on Twitter at @realBJP.