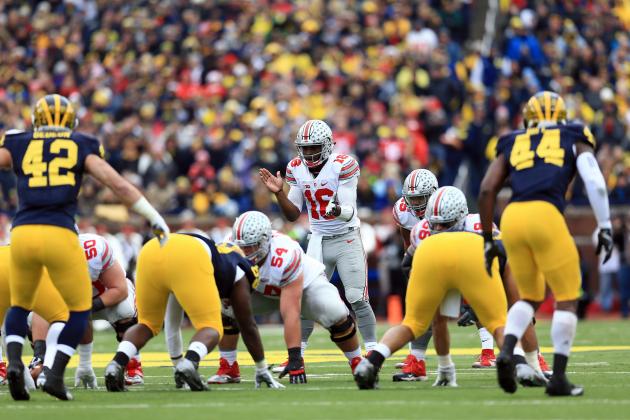 Andrew Weber/Getty Images
It will be an emotional roller coaster in college football this week.
For one, the majority of games on the schedule are of the rivalry variety, which means there will be a lot of hate spread around. And since it's the last full week of the regular season, a good number of players will be participating in their final college game, so the tears may be flowing.
And with so many schools vying for division and conference titles, battling for playoff position and hoping to become bowl-eligible, there will be copious amounts of elation and despair.
One thing fans won't have to worry about is who will win this week's games, because we've got that covered. We have made predictions for all 58 contests on the docket, and as they go final we'll update each capsule.
Check out our picks and make sure to give your own in the comments section.
Last week: 47-17 (.735)
Season: 556-200 (.735)
NOTE: All team rankings are from College Football Playoff standings.
Jonathan Bachman/Getty Images
LSU QB Danny Etling hasn't thrown a touchdown pass since an Oct. 22 win over Ole Miss.
LSU (6-4, 4-3 SEC) at Texas A&M (8-3, 4-3), 7:30 p.m. ET
Last meeting: LSU beat Texas A&M 19-7 last November.
Both teams were in the Top 10 at some point this season, but neither is anywhere close to that after a series of disappointing losses. LSU interim head coach Ed Orgeron might have missed his chance to grab the permanent gig when the Tigers scored a combined 10 points in their last two home games, while A&M's latest second-half slide has Kevin Sumlin's future looking uncertain.
The Aggies have never lost under Sumlin when rushing for 200 yards but have averaged only 3.46 yards per carry in their losses this season; LSU is 14th in the FBS in rushing defense. A&M is susceptible to the run—which bodes well for the Tigers even with Leonard Fournette reportedly not making the trip—and while it has 36 sacks, the results can be disastrous when it doesn't get to the quarterback.
A short week won't make either team's offense look good, though A&M getting Trevor Knight back will help its cause enough to get the Aggies the win.
Prediction: Texas A&M 21, LSU 19
Otto Greule Jr/Getty Images
Washington's Myles Gaskin is second in the Pac-12 in rushing.
No. 20 Houston (9-2, 5-2 AAC) at Memphis (7-4, 4-3), noon ET
Last meeting: Houston beat Memphis 35-34 last November.
Houston's blowout of Louisville jumped it back into the College Football Playoff rankings, but it was too little, too late, since the Cougars can't win the AAC West. Instead, they can focus on convincing head coach Tom Herman to stay. Memphis, near the bottom nationally in sack prevention (No. 105), has its hands full with a Houston defense that sacked Lamar Jackson 11 times.
Prediction: Houston 33, Memphis 21
No. 5 Washington (10-1, 7-1 Pac-12) at No. 23 Washington State (8-3, 7-1), 3:30 p.m. ET
Last meeting: Washington beat Washington State 45-10 last November.
The Apple Cup hasn't been this important outside of its state in 15 years, as it will decide the Pac-12 North for the first time and determine whether Washington can stay in the CFP hunt. The Huskies defense has suffered big injuries, but the secondary is still intact and is built to handle WSU's passing attack. The Cougars are vulnerable against the run, putting Myles Gaskin and Lavon Coleman in position for big games.
Prediction: Washington 30, Washington State 27
No. 16 Nebraska (9-2, 6-2 Big Ten) at Iowa (7-4, 5-3), 3:30 p.m. ET
Last meeting: Iowa won 28-20 at Nebraska last November.
Nebraska will win the Big Ten West with a victory and a Wisconsin loss Saturday, which is not the best scenario, but all the Cornhuskers can do is handle their business. Both starting quarterback Tommy Armstrong Jr. (hamstring) and backup Ryker Fyfe (broken wrist) are hurt, which may mean needing to run more. Iowa has allowed just 159 rushing yards on 59 carries the last two weeks, including in the upset of Michigan.
Prediction: Iowa 21, Nebraska 17
No. 19 Boise State (10-1, 6-1 MWC) at Air Force (8-3, 4-3), 3:30 p.m. ET
Last meeting: Air Force beat Boise State 37-30 last November.
Boise stayed ahead of Western Michigan in the CFP rankings but still needs help to get that Group of Five bid. Before worrying about whether New Mexico can knock off Wyoming for them, though, the Broncos have to stop Air Force's No. 4 rushing offense. They'll give up a lot of yards and points, but if turnovers don't pop up, they will survive.
Prediction: Boise State 37, Air Force 33
Toledo (9-2, 6-1 MAC) at No. 21 Western Michigan (11-0, 7-0), 5 p.m. ET
Last meeting: Western Michigan won 35-30 at Toledo last November.
For everything Western Michigan has accomplished this season, it hasn't achieved anything memorable. A win over Toledo is still needed to clinch the West and the Broncos' first MAC title bid since 2000, as well as to remain in the New Year's Six bowl race. Toledo hasn't been to the MAC final since 2004 but is the only team in the league that can match Western Michigan's offense. The Rockets can't hang defensively, though.
Prediction: Western Michigan 34, Toledo 24
Jeff Gammons/Getty Images
Ryan Switzer needs 194 yards to become UNC's all-time receiving leader.
North Carolina State (5-6, 2-5 ACC) at North Carolina (8-3, 5-2), noon ET
Last meeting: North Carolina won 45-34 at NC State last November.
NC State has scored more than 20 points once since early October, and not surprisingly the Wolfpack are 2-5 in that stretch. All but two of UNC's games have featured at least 48 combined points, and the Tar Heels are 10th in the FBS in yards per play at 6.81.
Prediction: North Carolina 37, North Carolina State 21
Northern Illinois (4-7, 4-3 MAC) at Kent State (3-8, 2-5), noon ET
Last meeting: Northern Illinois beat Kent State 17-14 in October 2014.
Northern Illinois has won three of four, including last week at Eastern Michigan, and its run game is pacing the turnaround with a 307.3-yard average in those wins. Kent State, which has dropped four of five and failed to score more than 14 points in three of those losses, has allowed 749 rushing yards the last two games.
Prediction: Northern Illinois 34, Kent State 20
Arkansas (7-4, 3-4 SEC) at Missouri (3-8, 1-6), 2:30 p.m. ET
Last meeting: Arkansas beat Missouri 28-3 last November.
Arkansas has been the most hard-to-predict team in the country, one for which momentum and trends don't apply. The Razorbacks haven't had consecutive wins since September but also haven't lost two straight, and their last two road games saw them first lose by 53 and then score 58 in a win.
Mizzou has averaged 228.6 more yards and 18.1 more points per game than a year ago but is abysmal on defense, which, combined with Arkansas' bipolar play, should translate into a high-scoring win.
Prediction: Missouri 45, Arkansas 42
Buffalo (2-9, 1-6 MAC) at Bowling Green (3-8, 2-5), 2:30 p.m. ET
Last meeting: Bowling Green won 28-22 at Buffalo in October 2015.
Buffalo has lost six straight on the road, getting outscored 145-34 away from home this season. Bowling Green has won two straight after a seven-game skid, and its defense has started to contribute.
Prediction: Bowling Green 44, Buffalo 13
TCU (5-5, 3-4 Big 12) at Texas (5-6, 3-5), 3:30 p.m. ET
Last meeting: TCU beat Texas 50-7 in October 2015.
Is this Charlie Strong's final regular-season contest as the Longhorns' coach or a last-ditch chance to save his job? It depends on which "report" you believe, but what isn't debatable is Strong's players love him and want him to stay. They'll give their full effort against a TCU squad that humbled them a year ago and which, outside of a 40-point win at Baylor, has been dismal on offense of late.
Prediction: Texas 34, TCU 24
Louisiana Tech (8-3, 6-1 C-USA) at Southern Mississippi (5-6, 3-4), 4 p.m. ET
Last meeting: Southern Miss won 58-24 at Louisiana Tech last November.
Louisiana Tech has won the West Division and will host the conference title game with a win, which would extend a seven-game run in which the Bulldogs have averaged 50.3 points. Defending West champ Southern Miss has dropped five of six, allowing at least 6.18 yards per play in each loss.
Prediction: Louisiana Tech 44, Southern Miss 20
Baylor (6-4, 3-4 Big 12) vs. Texas Tech (4-7, 2-6) at Arlington, Texas, 6 p.m. ET
Last meeting: Baylor beat Texas Tech 63-35 in October 2015.
Baylor has lost four straight and Texas Tech has lost six of seven, and crummy defense has been to blame for most of those setbacks. That's been a season-long thing for Tech, which is last nationally in total defense, while Baylor has allowed 46 points per game during its skid, and that's coincided with a drop in offensive production since QB Seth Russell was hurt. The last five meetings, all won by Baylor, have featured 494 total points.
Prediction: Texas Tech 50, Baylor 49
Cincinnati (4-7, 1-6 AAC) at Tulsa (8-3, 5-2), 8:30 p.m. ET
Last meeting: Cincinnati beat Tulsa 49-38 last November.
Cincinnati head coach Tommy Tuberville's tenure is trending toward its end with four straight losses, with the Bearcats scoring 26 points in that span. Tulsa, with its highest number of wins since 2012, has one of the most balanced offenses in the country with a 2,700-yard passer (Dane Evans) and two rushers (James Flanders and D'Angelo Brewer) with more than 1,200 yards on the ground each. The Golden Hurricane have scored at least 31 in nine straight.
Prediction: Tulsa 48, Cincinnati 16
Arizona State (5-6, 2-6 Pac-12) at Arizona (2-9, 0-8), 9:30 p.m. ET
Last meeting: Arizona State beat Arizona 52-37 last November.
ASU has lost five in a row and has the worst pass defense in the country, but Arizona hasn't thrown for more than 188 yards in a game since Oct. 8. The Wildcats haven't gone winless in league play since 1957, and their eight-game losing streak is their worst in 13 years. Being able to keep the Sun Devils from bowling will spark something in Arizona's listless offense.
Prediction: Arizona 30, Arizona State 27
Leon Halip/Getty Images
J.T. Barrett has gained 517 yards of total offense and accounted for five touchdowns in two previous meetings with Michigan.
No. 3 Michigan (10-1, 7-1 Big Ten) at No. 2 Ohio State (10-1, 7-1), noon ET
Last meeting: Ohio State won 42-13 at Michigan last November.
We still have a four-team tournament, but this is in effect a play-in game for the CFP. Michigan and Ohio State could both miss the Big Ten title game and would be at the mercy of the selection committee in such a scenario, thus putting extra emphasis on this result.
The Wolverines' chances depend on the health of quarterback Wilton Speight, who's been dealing with a left shoulder injury. But even if he plays, OSU has the advantage offensively. That strong Michigan defense hasn't had to deal with an attack as diverse as the Buckeyes', and some big plays will break this one open.
Prediction: Ohio State 27, Michigan 16
Virginia (2-9, 1-6 ACC) at Virginia Tech (8-3, 5-2), noon ET
Last meeting: Virginia Tech won 23-20 at Virginia last November.
A 13th straight Commonwealth Cup win would give Virginia Tech the ACC Coastal Division and its first ACC title game appearance since 2011 in head coach Justin Fuente's debut season. He deserves praise for the seamless transition from legendary Hokies coach Frank Beamer, but he also inherited a much better situation than what Bronco Mendenhall is dealing with at Virginia.
Prediction: Virginia Tech 37, Virginia 17
UCF (6-5, 4-3 AAC) at South Florida (9-2, 6-1), noon ET
Last meeting: South Florida won 44-3 at UCF last November.
The War on I-4 is among the newer rivalries in college football, but at least both teams agreed on it beforehand. UCF will gladly accept this trophy if it can prevent South Florida from claiming at least a share of the AAC East title, but that means finding a way to contain Quinton Flowers. The Bulls QB has six 100-yard rushing games, which is one fewer than Louisville quarterback Lamar Jackson.
Prediction: South Florida 43, UCF 33
Kentucky (6-5) at No. 11 Louisville (9-2), noon ET
Last meeting: Louisville won 38-24 at Kentucky last November.
Any drama this game might have had dissolved last week when Louisville's CFP hopes were crushed in Houston and Kentucky got that elusive sixth victory to clinch a bowl. That means neither team will hold anything back, so expect Jackson's final Heisman Trophy audition to run into the fourth quarter, regardless of the score.
Prediction: Louisville 64, Kentucky 40
Georgia Tech (7-4) at Georgia (7-4), noon ET
Last meeting: Georgia won 13-7 at Georgia Tech last November.
It's been a nice bounce-back season for Georgia Tech after losing nine games in 2015, and it would be even better with a second win over an SEC school after it thumped Vanderbilt in September. But this isn't a good matchup for the Yellow Jackets' option, since Georgia has handled the run well. The Bulldogs still haven't figured out their offensive identity but are capable of winning a low-scoring affair.
Prediction: Georgia 24, Georgia Tech 20
Ronald Martinez/Getty Images
Kansas State has won seven straight over in-state rival Kansas.
Kansas (2-9, 1-7 Big 12) at Kansas State (6-4, 4-3), noon ET
Last meeting: Kansas State won 45-14 at Kansas last November.
The Sunflower Showdown sounds more like a gardening competition than a football rivalry, let alone one featuring a team with an FBS-record 40 straight road losses. Kansas last won an away game in 2009 and last claimed victory on a Big 12 foe's field in 2008. K-State, not known as an offensive juggernaut, has scored 110 points in its last three games.
Prediction: Kansas State 40, Kansas 21
Rutgers (2-9, 0-8 Big Ten) at Maryland (5-6, 2-6), noon ET
Last meeting: Maryland won 46-41 at Rutgers last November.
Suggestion for the name of this manufactured rivalry between the Big Ten's most recent additions: the Cash Grab. Rutgers and Maryland are a combined 11-37 in league games since joining in 2014, and three of those wins are against each other. Maryland at least scored against East stalwarts Michigan, Ohio State and Penn State, each of whom shut out the Scarlet Knights.
Prediction: Maryland 33, Rutgers 21
Purdue (3-8, 1-7 Big Ten) at Indiana (5-6, 3-5), noon ET
Last meeting: Indiana won 54-36 at Purdue last November.
There's an Old Oaken Bucket up for grabs as well as bowl eligibility for Indiana, which hasn't gone bowling in consecutive seasons since 1990-91. Purdue has turned its attention to 2017, losing six straight by an average of 22.5 points. Even a rivalry game won't change that.
Prediction: Indiana 41, Purdue 21
Illinois (3-8, 2-6 Big Ten) at Northwestern (5-6, 4-4), noon ET
Last meeting: Northwestern beat Illinois 24-14 in Chicago last November.
Lovie Smith's first season as a college head coach has gone a lot like when he began with the Chicago Bears, when he went 5-11 in 2004. But two years later he was in the Super Bowl. Illinois is much further from competing for conference titles, though, and its shoddy run defense is just what Northwestern needs to solve its recent rushing woes.
Prediction: Northwestern 29, Illinois 16
Arkansas State (6-4, 6-0 Sun Belt) at Louisiana-Lafayette (4-6, 3-3), noon ET
Last meeting: Arkansas State beat Louisiana-Lafayette 37-27 in October 2015.
Arkansas State has a 15-game league win streak, and the Red Wolves' 35-3 win at Troy all but assured them another Sun Belt title. Lafayette, outscored 47-13 in its last two home games, hasn't gotten what it hoped for from LSU transfer QB Anthony Jennings.
Prediction: Arkansas State 27, Louisiana-Lafayette 19
Syracuse (4-7, 2-5 ACC) at Pittsburgh (7-4, 4-3), 12:30 p.m. ET
Last meeting: Pittsburgh won 23-20 at Syracuse in October 2015.
Syracuse made offensive inroads midway through the season, but all progress went away when QB Eric Dungey got hurt Nov. 5 vs. Clemson. Pitt's overcome poor pass defense because it doesn't waste offensive opportunities, as its 80.85 percent red-zone touchdown rate tops the FBS.
Prediction: Pittsburgh 42, Syracuse 23
Kevin C. Cox/Getty Images
Jalen Hurts' 803 rushing yards are the most in school history by an Alabama quarterback.
No. 13 Auburn (8-3, 5-2 SEC) at No. 1 Alabama (11-0, 7-0), 3:30 p.m. ET
Last meeting: Alabama won 29-13 at Auburn last November.
Can Auburn be the team to end Alabama's 23-game win streak, sending the Crimson Tide to the SEC title game with doubts? Sure, if the Tigers' run game is at full strength and manages to find a way to solve 'Bama's ironclad rushing defense. More likely, the Tide will take Auburn out of its comfort zone and force it to pass and become vulnerable to the rest of that defense.
Prediction: Alabama 27, Auburn 13
Minnesota (8-3, 5-3 Big Ten) at No. 6 Wisconsin (9-2, 6-2), 3:30 p.m. ET
Last meeting: Wisconsin won 31-21 at Minnesota last November.
Paul Bunyan's Axe takes a back seat to Wisconsin's chance at locking up the Big Ten West with a win. The Badgers have a healthy Corey Clement running well, and even though Minnesota's become strong against the rush, the Golden Gophers lack the weapons to score consistently and end a 12-game skid in the series.
Prediction: Wisconsin 26, Minnesota 10
Michigan State (3-8, 1-7 Big Ten) at No. 7 Penn State (9-2, 7-1), 3:30 p.m. ET
Last meeting: Michigan State beat Penn State 55-16 last November.
Penn State will win the Big Ten East with a victory and a Michigan loss to Ohio State, and it shouldn't have much trouble upholding its end of the deal. The Nittany Lions are 6-0 at home and have rushed for 237.4 yards per contest during a seven-game win streak. MSU has allowed 203 more rushing yards than last season in three fewer games.
Prediction: Penn State 42, Michigan State 16
Notre Dame (4-7) at No. 12 USC (8-3), 3:30 p.m. ET
Last meeting: Notre Dame beat USC 41-31 in October 2015.
Notre Dame is being forced to vacate wins from 2012 and 2013 because of academic misconduct, but it gets to keep the losses. The Fighting Irish might have preferred to forfeit this finale where they have nothing to play for and not enough talent on defense to slow down red-hot USC. The Trojans, still potentially in the CFP hunt if they can also get into the Pac-12 final and win it, will play as if they're preparing to be in action a week from now.
Prediction: USC 38, Notre Dame 21
No. 18 West Virginia (8-2, 5-2 Big 12) at Iowa State (3-8, 2-6), 3:30 p.m. ET
Last meeting: West Virginia beat Iowa State 30-6 last November.
West Virginia failed on the big stage (and in the snow) against Oklahoma but found a star in junior Justin Crawford. He ran for 331 yards after gaining 268 in the previous five games, and more of the former is doable against Iowa State's gracious rush defense.
Prediction: West Virginia 36, Iowa State 24
No. 25 Navy (8-2, 6-1 AAC) at SMU (5-6, 3-4), 3:30 p.m. ET
Last meeting: Navy beat SMU 55-14 last November.
Navy has clinched the AAC West, its first such title, as Will Worth leads the nation's No. 3 rushing offense with 1,074 yards and 22 touchdowns. That's 10 more rushing scores than SMU has as a team. Though head coach Chad Morris' squad has improved from 2015, it still turns the ball over too much. Wasted possessions are deadly in the face of Navy's ability to control the clock.
Prediction: Navy 38, SMU 22
Lance King/Getty Images
Miami QB Brad Kaaya is close to becoming the school's career passing leader.
Boston College (5-6, 1-6 ACC) at Wake Forest (6-5, 3-4), 3 p.m. ET
Last meeting: Wake Forest won 3-0 at Boston College in October 2015.
The over/under is hovering around 34 points, per Odds Shark, which tells you all you need to know about these teams' combined ability to score. BC has scored 79 points in its league games—21 coming in the lone win—while Wake's 18 points per game in ACC action isn't much better. The Demon Deacons defense has been been failing of late, too, while the Eagles allowed 121 yards in a shutout of Connecticut last week.
Prediction: Boston College 16, Wake Forest 13
Duke (4-7, 1-6 ACC) at Miami, Florida (7-4, 4-3), 3:30 p.m. ET
Last meeting: Miami won 30-27 at Duke in October 2015.
Thanks to a great APR score, Duke would be a top choice for a bowl bid if 5-7 teams are needed, but scoring only 14 against a soft Pittsburgh defense last week isn't a positive sign for the Blue Devils. Miami QB Brad Kaaya can become the school's career passing leader with 276 yards, a number he's managed in three of the Hurricanes' last four games.
Prediction: Miami 33, Duke 17
Mississippi State (4-7, 2-5 SEC) at Ole Miss (5-6, 2-5), 3:30 p.m. ET
Last meeting: Ole Miss won 38-27 at Mississippi State last November.
The Egg Bowl is a battle for last place in the SEC West, which it's been more often than not over the years. MSU's first post-Dak Prescott season was expected to be rough, but not because of defensive breakdowns that have led to four of its last five opponents scoring at least 40. Ole Miss' backslide is also defense-driven, though freshman QB Shea Patterson's play is promising.
Prediction: Ole Miss 34, Mississippi State 31
Florida International (4-7, 4-3 C-USA) at Old Dominion (8-3, 6-1), 3:30 p.m. ET
Last meeting: FIU beat Old Dominion 41-12 in October 2015.
Old Dominion's breakthrough season at the FBS level has benefited greatly from the overall weakness of Conference USA. The Monarchs' six league wins were all against losing teams that are a combined 23-43, and it lost by 35 at co-East Division leader Western Kentucky. While FIU is 4-3 since firing head coach Ron Turner, it's still part of the bottom half of the league.
Prediction: Old Dominion 34, FIU 20
San Jose State (3-8, 2-5 MWC) at Fresno State (1-10, 0-7), 3:30 p.m. ET
Last meeting: San Jose State beat Fresno State 49-23 in September 2015.
Former California head coach Jeff Tedford will take over Fresno State after this game, and San Jose might consider making its own change with Ron Caragher sporting an 18-30 record in four seasons. The Bulldogs will be able to move the ball against the Spartans' 102nd-ranked defense and end a nine-game skid.
Prediction: Fresno State 24, San Jose State 23
South Alabama (5-5, 1-5 Sun Belt) at Idaho (6-4, 4-2), 3:30 p.m. ET
Last meeting: South Alabama beat Idaho 52-45 last November.
The last two teams South Alabama has beaten (Georgia State and Presbyterian) have since parted ways with their coaches. Idaho's Paul Petrino has the Vandals bowl-eligible for the first time since 2009 despite playing seven of 10 on the road.
Prediction: Idaho 28, South Alabama 17
Oregon (4-7, 2-6 Pac-12) at Oregon State (3-8, 2-6), 4 p.m. ET
Last meeting: Oregon beat Oregon State 52-42 last November.
Oregon looked like the Ducks of old in upsetting Utah on the road last week, but that's been the exception compared to the rule provided by its listless defense. Oregon State's last four home games have included its two Pac-12 wins and tight losses to ranked Utah and Washington State teams by a combined nine points.
Prediction: Oregon State 40, Oregon 30
Tulane (3-8, 0-7 AAC) at Connecticut (3-8, 1-6), 4 p.m. ET
Last meeting: Connecticut won 7-3 at Tulane last November.
This game has "first team to score wins" written all over it. Both teams were shut out last week, with UConn's FBS-worst scoring offense failing to produce points in two straight and going 14 quarters without a touchdown. Tulane's hot-and-cold run game will be the difference.
Prediction: Tulane 20, Connecticut 14
North Texas (5-6, 3-4 C-USA) at UTEP (3-8, 1-6), 4 p.m. ET
Last meeting: UTEP won 20-17 at North Texas last November.
North Texas' win over Southern Miss last week and at Army in October are signs of how much the Mean Green have improved in head coach Seth Littrell's first season. UTEP has regressed since coach Sean Kugler got the Miners bowling in 2014.
Prediction: North Texas 28, UTEP 21
Nevada (4-7, 2-5 MWC) at UNLV (4-7, 3-4), 4 p.m. ET
Last meeting: UNLV won 23-17 at Nevada in October 2015.
Neither team is going bowling next month, but one of them will get to hold on to the Fremont Cannon, the largest rivalry trophy in college football. Nevada has lost seven in a row on the road, while UNLV's last home game produced 69 points and a triple-overtime win over Mountain Division co-leader Wyoming.
Prediction: UNLV 30, Nevada 26
Troy (8-2, 5-1 Sun Belt) at Texas State (2-8, 0-6), 4 p.m. ET
Last meeting: Troy beat Texas State 42-28 in November 2013.
Troy's shot at winning the Sun Belt for the first time since 2010 died with a blowout home loss to Arkansas State. Luckily for the Trojans, Texas State has served as the league's get-right opponent, losing by an average of 31 points.
Prediction: Troy 43, Texas State 14
Appalachian State (8-3, 6-1 Sun Belt) at New Mexico State (3-7, 2-4), 4 p.m. ET
Last meeting: None
Weird things happen when teams make the trip to Las Cruces, where NMSU is 3-1 with a three-point loss to Georgia Southern. Appalachian isn't scared, though, winning three times on the road in 2016 and taking Tennessee to overtime in Rocky Top.
Prediction: Appalachian State 31, New Mexico State 17
Florida Atlantic (3-8, 2-5 C-USA) at Middle Tennessee (7-4, 4-3), 5:30 p.m. ET
Last meeting: Middle Tennessee won 24-17 at Florida Atlantic last November.
Middle Tennessee has had to start over on offense since QB Brent Stockstill broke his collarbone in early November, though the plan against Florida Atlantic is simple: Let Ole Miss transfer I'Tavius Mathers (1,291 yards, 13 touchdowns) run against the Owls' conference-worst rushing defense.
Prediction: Middle Tennessee 37, Florida Atlantic 21
Dustin Bradford/Getty Images
Colorado, which went 5-40 in conference play in its first five Pac-12 seasons, wins the South Division with a victory Saturday against Utah.
South Carolina (6-5) at No. 4 Clemson (10-1), 7:30 p.m. ET
Last meeting: Clemson won 37-32 at South Carolina last November.
Clemson's hold on a playoff spot is tenuous, since its remaining opponents—including either North Carolina or Virginia Tech in the ACC title game—aren't ranked. That means the Tigers have to hope their resume to this point will suffice, but to help matters they'll need to win convincingly. South Carolina has improved immensely from the start of this season, but while the offense is growing, the defense is wearing down.
Prediction: Clemson 41, South Carolina 20
No. 22 Utah (8-3, 5-3 Pac-12) at No. 9 Colorado (9-2, 7-1), 7:30 p.m. ET
Last meeting: Utah beat Colorado 20-14 last November.
Colorado was 4-9 a year ago and now is in the CFP conversation, though it's an underdog to get in. The Buffaloes have dealt with injuries to QB Sefo Liufau by leaning on the run, while their defense has limited most opponents' best features. For Utah that's the run, and it comes in the form of un-retired senior Joe Williams and his 1,013 yards and nine touchdowns in the last five games. Colorado has only yielded 43 runs of 10-plus yards all season.
Prediction: Colorado 28, Utah 20
No. 17 Tennessee (8-3, 4-3 SEC) at Vanderbilt (5-6, 2-5), 7:30 p.m. ET
Last meeting: Tennessee beat Vanderbilt 53-28 last November.
This was supposed to be Tennessee's year to win the SEC East, but 1,375 yards and 73 points allowed to Kentucky and Missouri the last two weeks indicate the Volunteers didn't deserve the right to get blown out by Alabama for a second time. Vanderbilt is a top candidate to get a bowl bid at 5-7 but would rather erase all doubt, and its improving offense is ready to do that.
Prediction: Vanderbilt 30, Tennessee 28
East Carolina (3-8, 1-6 AAC) at Temple (8-3, 6-1), 7:30 p.m. ET
Last meeting: Temple won 24-14 at East Carolina in October 2015.
Temple will win a second straight East Division title with a victory, and the Owls figure to make that happen with defense. They've shut out two consecutive opponents and allowed three touchdowns in the last 12 quarters while averaging 31.6 points in a five-game win streak. East Carolina has allowed 166 points during a three-game skid and is winless on the road.
Prediction: Temple 39, East Carolina 14
No. 15 Florida (8-2) at No. 14 Florida State (8-3), 8 p.m. ET
Last meeting: Florida State won 27-2 at Florida last November.
Florida is resigned to the fact it has to win with defense and hope for a big play or two on offense, like Austin Appleby's 98-yard touchdown pass to Tyrie Cleveland in the win at LSU. The Gators aren't built to come from behind, and FSU has solved its early sluggishness. And Dalvin Cook, now the Seminoles' career rushing leader, has proved to be shutdown-proof.
Prediction: Florida State 24, Florida 13
Rice (3-8) at No. 24 Stanford (8-3), 8 p.m. ET
Last meeting: Stanford beat Rice 34-7 in October 1964.
Rather than football, why not have these academically renowned institutions of higher learning play chess, since this ill-placed nonconference game is meaningless? Better yet, Stanford's Christian McCaffrey can portray the queen and bulldoze through Rice's pawn-filled defense.
Prediction: Stanford 48, Rice 13
Kevin C. Cox/Getty Images
Western Kentucky is seeking its second consecutive Conference USA East Division title.
UCLA (4-7, 2-6 Pac-12) at California (4-7, 2-6), 7 p.m. ET
Last meeting: UCLA beat California 40-24 in October 2015.
One team hasn't been able to win because of its quarterback situation, and the other can't win in spite of it. Josh Rosen's season-ending shoulder injury doomed UCLA, which can't score consistently enough to support its underrated defense. Davis Webb's 363.1 passing yards per game is a fraction better than Jared Goff averaged a year ago (362.6), but Cal has no defense to speak of. A shootout favors the Golden Bears, though.
Prediction: California 46, UCLA 33
Western Kentucky (8-3, 6-1 C-USA) at Marshall (3-8, 2-5), 7 p.m. ET
Last meeting: Western Kentucky beat Marshall 49-28 last November.
Western Kentucky can wrap up a second straight East Division title with a win against the team that used to be its main competition in the division, but Marshall stopped being able to run the ball. The Hilltoppers run and pass well and have scored 44-plus in 10 straight league games.
Prediction: Western Kentucky 45, Marshall 25
Charlotte (4-7, 3-4 C-USA) at UTSA (5-6, 4-3), 7 p.m. ET
Last meeting: UTSA won 30-27 at Charlotte last November.
One of C-USA's newest members (Old Dominion) has clinched its first-ever bowl bid, and a second is on the cusp of doing so. Charlotte's three straight road wins are impressive, but UTSA held its own at Texas A&M last week and has a plus-10 turnover margin in its last four home games.
Prediction: UTSA 28, Charlotte 26
Colorado State (6-5, 4-3 MWC) at San Diego State (9-2, 6-1), 9 p.m. ET
Last meeting: San Diego State won 41-17 at Colorado State in October 2015.
SDSU's 17-game league win streak ended Saturday when it failed at going for two after a Hail Mary at Wyoming. The Aztecs are likely traveling for the league title game next week, so this is the last time the home crowd will get to see Donnel Pumphrey. He might not get all 271 rushing yards he needs to become the FBS career leader (sans bowl stats), but Colorado State's run defense is capable of giving up that much.
Prediction: San Diego State 31, Colorado State 17
Wyoming (8-3, 6-1 MWC) at New Mexico (7-4, 5-2), 10:15 p.m. ET
Last meeting: New Mexico won 38-28 at Wyoming in September 2015.
Wyoming will win the Mountain Division, its first title of any kind since 1993, with a victory. The Cowboys knocked off Boise State and San Diego State and contained SDSU's run game last week, but that's not the same as dealing with New Mexico's option. The Lobos lead the FBS at 342.1 yards per game, and that rises to 421.0 per game in Albuquerque.
Prediction: New Mexico 31, Wyoming 27
Utah State (3-8) at BYU (7-4), 10:15 p.m. ET
Last meeting: BYU won 51-28 at Utah State last November.
Utah State's first bowl-less season since 2010 has featured a 0-5 mark on the road, including last week's one-point loss at Nevada. BYU, winners in six of seven, has forced a national-best 27 turnovers.
Prediction: BYU 34, Utah State 20
Massachusetts (2-9) at Hawaii (5-7), 11:59 p.m. ET
Last meeting: None
UMass deserves a trip to Hawaii after having to play (and lose by 21.2 points per game) in Alabama, Florida, South Carolina, Utah and Virginia as an independent. The Minutemen's last home game was Oct. 29, and the road wear has shown this month. Hawaii has played better on the road than at home, but the likely dearth of eligible teams means the Rainbow Warriors could get to play a bowl on their own field with a victory.
Prediction: Hawaii 40, Massachusetts 27
All statistics courtesy of CFBStats.com, unless otherwise noted. All series history information courtesy of CFBDataWarehouse.com, unless otherwise noted. Follow Brian J. Pedersen on Twitter at @realBJP.