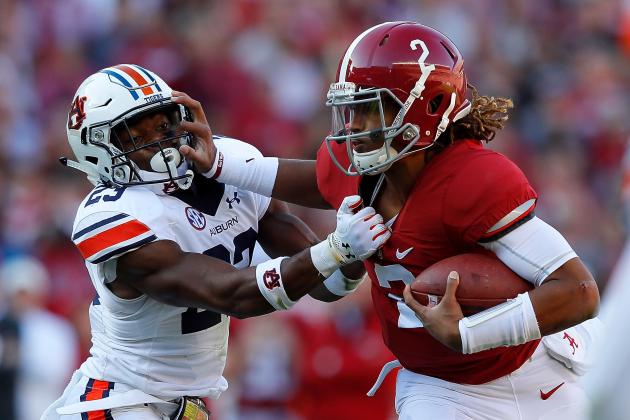 Kevin C. Cox/Getty Images
The Week 14 college football slate is small, but it is mighty.
There aren't a ton of games featuring the Top 25 teams, but the ones that will be played this weekend are extremely important in configuring the postseason landscape.
Obviously, sorting out the playoff is going to be the most important storyline. Heading into the weekend, three of the top four teams will be in action as well as some playoff hopefuls such as No. 9 Colorado, No. 6 Wisconsin and No. 8 Penn State.
Each will need to hope for some chaos, but we've seen the committee make major changes in the final poll before, so nothing should be counted out.
It's going to be an action-packed weekend of college football, even if many teams will be dormant. Here's a look at the complete schedule along with the latest odds from Odds Shark and predictions for each contest.
College Football Week 14 Top 25 Schedule, Odds and Predictions

| | | |
| --- | --- | --- |
| | Friday, Dec. 2 | |
| Time (ET) | Matchup | ATS Pick |
| 7 p.m. | No. 13 Western Michigan vs. Ohio | WMU -18.5 |
| 9 p.m. | No. 9 Colorado vs. No. 4 Washington | CU +7.5 |
| | Saturday, Dec. 3 | |
| 12 p.m. | Temple vs. No. 20 Navy | NAVY -3 |
| 12:30 p.m. | No. 11 Oklahoma State vs. No. 7 Oklahoma | OSU +11 |
| 3:30 p.m. | Baylor vs. No. 14 West Virginia | WVU -17 |
| 4 p.m. | No. 1 Alabama vs. No. 15 Florida | UF +24 |
| 8 p.m. | No. 3 Clemson vs. No. 19 Virginia Tech | VT +10 |
| 8 p.m. | No. 6 Wisconsin vs. No. 8 Penn State | PSU +2.5 |
Rankings via Associated Press; Spread info via Odds Shark
Pac-12 Championship Game: Colorado vs. Washington
Otto Greule Jr/Getty Images
No, you've not been transported to the early '90s. The Colorado Buffaloes and Washington Huskies will play in a conference championship game in 2016.
Both programs have had banner years under relatively new leadership. Both have taken advantage of an inconsistent Pac-12 to earn the right to play for a conference title—and possibly more.
In a conference that's more known for its explosive offense, both have gotten things done on the defensive side of the ball this year. Looking at the defensive S&P+ metrics from Football Outsiders, the Buffs are No. 10 in the nation while the Huskies finished right behind them at No. 12.
The difference between these teams is in the offense. Mike MacIntyre's team hasn't quite been elite this season, but they've been efficient enough to do what their defense asks them to do.
Washington—on the other hand—has been one of the most explosive offenses all season. Chris Petersen has proved his penchant for mentoring quarterbacks to becoming highly efficient passers has translated to the Pac-12. Jake Browning is among a rare fraternity of quarterbacks in the conference's history, as ESPN Stats and Info noted:
Jake Browning: 3rd player in Pac-12 history with 40 Passing TD in a single season. The other two were Jared Goff & Marcus Mariota

— ESPN Stats & Info (@ESPNStatsInfo) November 26, 2016
Colorado has a stud quarterback of its own in Sefo Liufau. The 6'4″, 216-pound quarterback can not only hurt teams through the air, but is a bear to bring down as part of their running game. Petersen addressed the unique challenge of slowing him down, per Adam Jude of the Seattle Times:
Unfortunately that thing seems like it's ancient history and we've been on to the next challenge, which is a big challenge for us. I think this is a unique team that plays tremendous defense and has a unique offense. We haven't seen anything like it this year with how they run the quarterback, how he carries the ball. He's a good passer but he's a power runner as well. We haven't seen that, so that'll be different for us.
Expect this game to be more defensive than most would think for the Pac-12 Championship Game. Neither offense is going to find it easy to consistently move the ball against the opposing defense, and big plays will be key.
That favors Browning and the Huskies. Browning is sixth in the nation in yards per pass attempt and his efficiency in the passing game should be the difference down the stretch, but the defense will be good enough for Colorado to barely cover.
Washington 24, Colorado 17
SEC Championship Game: Alabama vs. Florida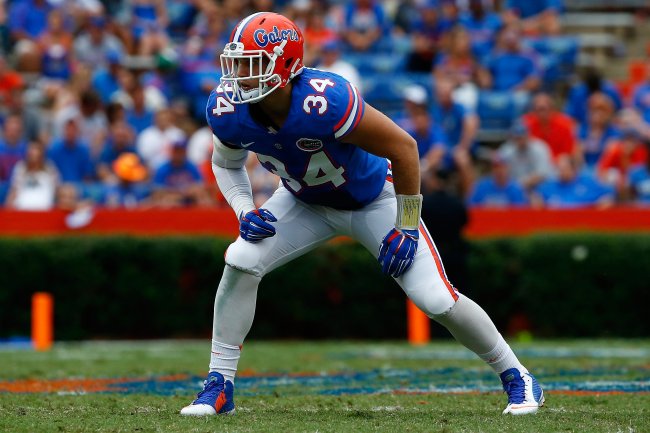 Sam Greenwood/Getty Images
At this point it's hard not to just take Alabama regardless of how many points they're giving to their opponent. They've almost reached "Alabama plus-whatever" territory.
But 24 points in a conference championship game against a Gators team that's seventh in the nation in yards allowed per play is a stretch. Even for the Tide.
The Gators still might not be the most aesthetically pleasing team on offense. They rank 102nd in the nation in yards per play and scored 20 points or fewer in each game in November. However, they do have enough defense to keep this one close, a la the 10-0 game that Alabama won against LSU.
The problem with taking Alabama and the spread is that Jalen Hurts, for all of his talents, still struggles when it comes to throwing the ball downfield and in tough passing situations, per CFB Film Room:
Jalen Hurts passing chart thru regular season pic.twitter.com/IR6EtOWvoR

— CFB Film Room (@CFBFilmRoom) November 30, 2016
Obviously, Hurts is going to have some help. Part of the reason Hurts' shortcomings as a passer haven't come up is because he has receivers like ArDarius Stewart who are good at gaining yardage on short passes.
Florida's putrid offense isn't likely to have much success against Alabama's defense, but it's also just as likely that Alabama won't run roughshod over the Gator's defense the entire day.
Scoring might be hard to come by in this one, and thus covering the spread might not be easy for Alabama. The Gators should make this one exciting for bettors while ushering in Alabama as the No. 1 seed in the playoffs.
Alabama 20, Florida 3
Big Ten Championship Game: Penn State vs. Wisconsin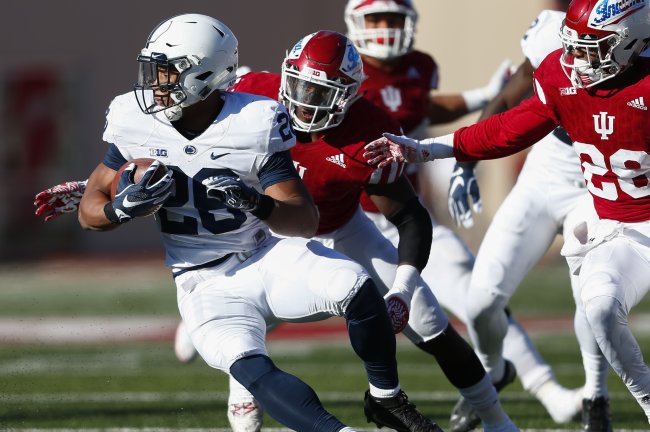 Michael Hickey/Getty Images
The Big Ten title game between the Penn State Nittany Lions and Wisconsin Badgers is the biggest game of the week that might not actually mean anything.
If Washington beats Colorado in the Pac-12 title game, Clemson takes care of business against Virginia Tech and Alabama holds serve against Florida, the committee is going to have a hard time putting the winner of this game into the playoff.
However, with a loss for any of those three teams, it's conceivable that the winner of this game is next in line.
There's a reason why the line for this game is so close. They are practically identical teams. Both play the typical rugged defense you'd expect from a Big Ten contender while relying on the running game to set up the pass on offense.
Here's a look at their rankings in the advanced metrics from Football Outsiders:
Penn State vs. Wisconsin by the Numbers

| | | |
| --- | --- | --- |
| Penn State | | Wisconsin |
| 10 | F/+ Combined | 7 |
| 11 | S&P+ Overall | 10 |
| 30 | S&P+ Offense | 54 |
| 11 | S&P+ Defense | 3 |
F/+ and S&P+ via Football Outsiders
The difference in this game might be health.
Specifically, Wisconsin, who already lost one of its top defenders this season in Jack Cichy, could be without quarterback Alex Hornibrook who is listed as questionable, per Brian Hamilton of Sports Illustrated.
Meanwhile, the Nittany Lions have received better news on the injury front with Big Ten Offensive Player of the Year Saquon Barkley planning to play in the game, per Bruce Feldman of Fox Sports.
In a game this evenly matched, those two injuries could be difference-makers. Penn State will look to ride Barkley long enough to make the Wisconsin defense stack the box so that Trace McSorley can make big plays.
McSorley leads the nation in yards per completion, and the Penn State vertical passing game could prove difficult for Wisconsin to handle.
Penn State 27, Wisconsin 23