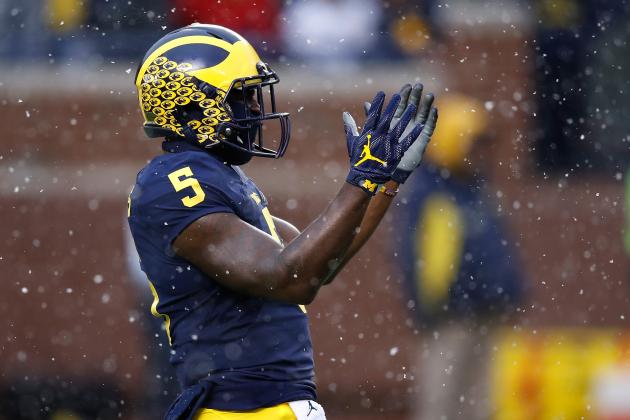 Gregory Shamus/Getty Images
After a few lackluster weeks in terms of big matchups, rivalry week is coming through in a big way for college football.
Week 13 provides plenty of intrigue, as rivalries generally mean upsets, but in this case, it means the narrowing of the playoff field. Multiple games could have a direct impact on the final field of four teams.
That's what happens when two of the top four teams play each other in the top four, and three of the top five will play fellow ranked opponents.
Here's a look at the complete schedule for the Top 25 along with the latest odds from Odds Shark:
College Football Top 25 Schedule, Odds and Predictions

| | | | | |
| --- | --- | --- | --- | --- |
| Date | Time (ET) | Matchup | Line | ATS Prediction |
| Thursday, Nov. 24 | 7:30 p.m. | No. 25 LSU at No. 22 Texas A&M | LSU -7.5 | A&M |
| Date | Time (ET) | Matchup | Line | ATS Prediction |
| Friday, Nov. 25 | 12 p.m. | No. 18 Houston at Memphis | HOU -4 | MEM |
| Friday, Nov. 25 | 3:30 p.m. | No. 6 Washington at No. 23 Washington State | WASH -6 | WASH |
| Friday, Nov. 25 | 3:30 p.m. | No. 20 Boise State at Air Force | BSU -8.5 | AF |
| Friday, Nov. 25 | 3:30 p.m. | No. 17 Nebraska at Iowa | IOWA -1 | NEB |
| Friday, Nov. 25 | 5 p.m. | Toledo at No. 14 Western Michigan | WMU -9 | WMU |
| Date | Time (ET) | Matchup | Line | ATS Prediction |
| Saturday, Nov. 26 | 12 p.m. | Kentucky at No. 11 Louisville | UL -26 | UK |
| Saturday, Nov. 26 | 12 p.m. | No. 3 Michigan at No. 2 Ohio State | OSU -7 | MICH |
| Saturday, Nov. 26 | 3:30 p.m. | Michigan State at No. 8 Penn State | PSU -12.5 | MSU |
| Saturday, Nov. 26 | 3:30 p.m. | Notre Dame at No. 12 USC | USC -17.5 | USC |
| Saturday, Nov. 26 | 3:30 p.m. | Minnesota at No. 5 Wisconsin | WISC -14 | WISC |
| Saturday, Nov. 26 | 3:30 p.m. | No. 16 Auburn at No. 1 Alabama | BAMA -17 | AUB |
| Saturday, Nov. 26 | 3:30 p.m. | No. 19 West Virginia at Iowa State | WVU -7 | WVU |
| Saturday, Nov. 26 | 7:30 p.m. | No. 21 Utah at No. 9 Colorado | CU -10 | CU |
| Saturday, Nov. 26 | 7:30 p.m. | South Carolina at No. 4 Clemson | CLEM -24 | SC |
| Saturday, Nov. 26 | 7:30 p.m. | No. 24 Tennessee at Vanderbilt | UT -7.5 | VANDY |
| Saturday, Nov. 26 | 8 p.m. | No. 13 Florida at No. 15 Florida State | FSU -7.5 | UF |
Odds Shark
The Game: Michigan at Ohio State
The matchup between Ohio State and Michigan is going to live up to its moniker this year. It's truly "The Game" to watch on Saturday.
That's because the winner is likely headed to the playoff, effectively making this clash of Big Ten titans a quarterfinal game.
Whichever team advances will have to do so by figuring out how to score some points. Ohio State and Michigan have both reached a 10-1 record through dominant defenses. The Wolverines rank No. 1 in defensive S&P+ while Ohio State comes in at No. 7, according to Football Outsiders.
Ohio State has dominated the series in recent years, winning nine of the last 10. However, the Wolverines have some matchups to exploit that might see them chip away at that trend this season.
Primarily, the Wolverines' defensive front has the potential to dominate up front. According to Pro Football Focus, Michigan's defensive line leads the nation in quarterback pressure percentage.
The Buckeyes' offensive line has failed to control the line of scrimmage a few times this year, most notably against Penn State and Michigan State.
Taking away a 74-yard run by Curtis Samuel, Ohio State averaged 2.4 yards per carry against the Nittany Lions. Michigan State was able to sack J.T. Barrett three times and add seven more quarterback hurries.
Looking at the havoc rates of those three defenses, the guys up front will have an even greater challenge on Saturday:
Ohio State Opponent Defensive Havoc Rankings

| | | |
| --- | --- | --- |
| | Havoc | Front Seven Havoc |
| Penn State | 16 | 8 |
| Michigan State | 106 | 105 |
| Michigan | 1 | 1 |
FootballOutsiders.com
While Michigan holds the advantage in the trenches, Ohio State has a decided advantage at quarterback. J.T. Barrett is among the best quarterbacks Urban Meyer has had in his career. He can kill defenses with his arm (2,304 passing yards, 24 touchdowns) or his legs (722 yards, eight touchdowns).
With Michigan quarterback Wilton Speight suffering a shoulder injury, he's either going to miss the game or be hampered by the injury. Backup John O'Korn didn't inspire confidence in a 20-10 victory over Indiana last week. He went 7-of-16 for 59 yards.
Ultimately, Michigan doesn't need stellar quarterback play to beat the Buckeyes. When Penn State stunned Ohio State earlier in the season, Trace McSorley was 8-of-23 for 154 yards and a touchdown.
The recipe for beating Ohio State is causing problems for their offensive line up front and being able to run the ball offensively. Those are two things Michigan excel at, and the Wolverines should be able to replicate what the teams who have played Ohio State close have done.
Prediction: Michigan 24, Ohio State 20
The Iron Bowl: Auburn vs. Alabama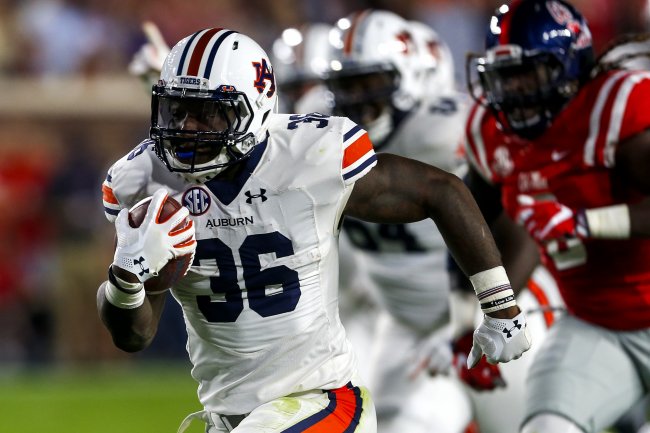 Butch Dill/Getty Images
The Iron Bowl is one of the most intense rivalries in college football, but the oddsmakers don't seem to believe this one will be close.
That could be a mistake.
The 17-point spread would indicate that this is yet another take home win for the Crimson Tide; however, that bet isn't as sure as you might think.
Despite Alabama's recent dominance, the game hasn't been won by more than 16 points in the last three seasons. As the video below notes, the LSU-Alabama game indicates it has the makings of a close game again this year:
The key for Auburn is that they've had success running the ball against the Tide under Gus Malzahn. With Malzahn as offensive coordinator or head coach, they've rushed for over 100 yards in four of their six encounters with Alabama.
It's a trend that Alabama head coach Nick Saban himself attributed to the variety of formations and motions they will use to make the defense unsettled, per James Crepea of AL.com:
They do a great job of executing it, I think is the most important thing, They do a lot of things with formations and motions, but they run the same basic runs that are really well executed. But because of the adjustments you have to make on defense, sometimes I think players get a little distracted about playing those plays.

They just do a really, really good job. They always have, and it's always a real challenge to stop their running game. And they've got some really good play-action passes. We certainly respect their ability to throw the ball as well.
The Tigers aren't just a one-trick pony this year, either. The defense is legitimate and could force Alabama to work to drive the field. The Tigers rank 10th overall in defensive S&P+ and No. 15 against the run.
Alabama is the best team in the country right now. Its defense has been suffocating, while the offense has been efficient. However, the struggles against LSU open the door for some faults to be shown in the Iron Bowl.
With all the emotion that goes into a rivalry game and Auburn being a little better than they're getting credit for, a good portion of this game will likely be close. Alabama should be able to pull away late, though.
Prediction: Alabama 24, Auburn 14
The Apple Cup: Washington at Washington State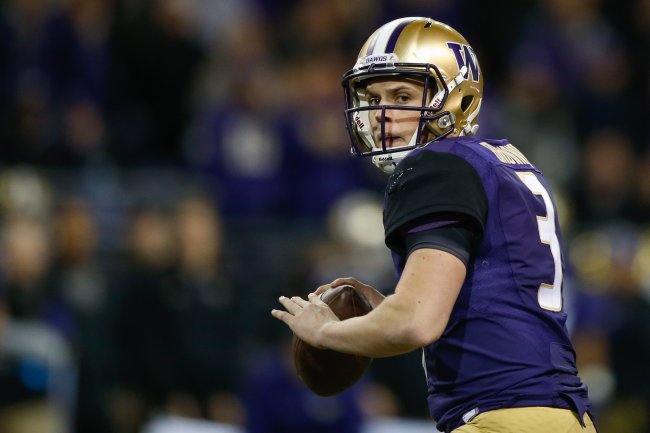 Otto Greule Jr/Getty Images
While it's not uncommon for The Game or The Iron Bowl to have national implications by the time rivalry week rolls around, it is a rarity for The Apple Cup to mean as much as it will on Saturday.
The Washington Huskies and Washington State Cougars will have a Pac-12 Championship Game appearance on the line when they play.
Washington Athletic's Twitter page provided an infographic breaking down some of the trends in this rivalry. Perhaps most pertinent being that the last four times the Cougars have come into the game ranked, it's been the Huskies who emerged victorious:
Preview @UW_Football's 12:30 PM (PT) #AppleCup kickoff with WSU on Friday via #UWDataPoints. #PurpleReign

>> https://t.co/dHAyngUdzXpic.twitter.com/q7zMoBESQO

— Washington Athletics (@UWAthletics) November 23, 2016
That is likely to be the case again, as this is an example of a more well-rounded team taking on a team that does one thing well.
For Washington State, it's obvious what they do well. Like any Mike Leach team, they can hurt anyone through the air. Quarterback Luke Falk has been the focal point of the team and he's come through with big numbers this season (3,953 yards, 36 touchdowns, seven interceptions).
The bad news for the Cougars is that they also look like a Mike Leach team on defense. The defense is just 76th in S&P+ including 99th against the pass.
That means their defense is a lot less likely to slow down Jake Browning than Washington is to hamper Falk.
The Huskies have been one of the better defenses in the country this year. Their defensive unit ranks 11th in the nation overall and against the pass.
Neither team looked great last week. A loss to USC killed a lot of momentum for Washington, but a loss to Colorado also deflated Washington State.
A win here should have Chris Petersen's squad ready to play for a conference title.
Prediction: Washington 31, Washington State 20