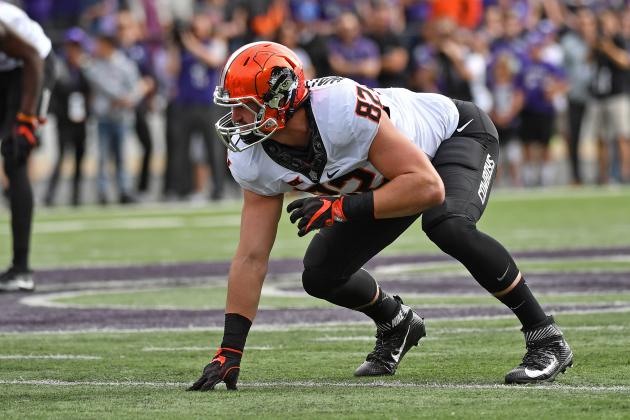 Peter G. Aiken/Getty Images
Oklahoma State Cowboys defensive end Cole Walterscheid was arrested Sunday and charged with public intoxication, Nathan Ruiz of Oklahoma State's student newspaper, O'Colly, reported Monday.
Ruiz noted Walterscheid will appear in court Wednesday and faces no more than 30 days in jail or a fine of up to $100.
Ruiz cited the affidavit that said an Oklahoma State officer noticed Walterscheid "appeared to be sleeping or passed out" on top of a Jimmy John's delivery car topper in the wee hours of Sunday morning.
On the field, Walterscheid has been an important part of an Oklahoma State defense that ranks 28th in the nation with 28 sacks. He has started all 11 of the Cowboys' games this season and has 20 tackles, two sacks and a forced fumble.
The Cowboys don't take the field again until Dec. 3 when they square off with their in-state rival, the Oklahoma Sooners. The winner will earn the Big 12 championship and remain alive in the race for the College Football Playoff.