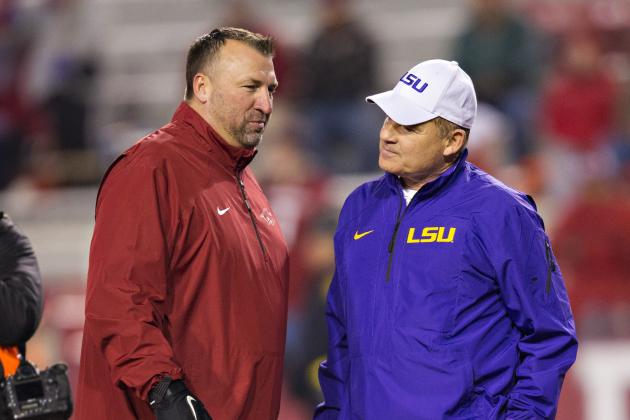 Wesley Hitt/Getty Images
Bret Bielema and Les Miles
"Dysfunctional hell."
That's how he describes it, years later.
The coach, in his first days on the job at one of college football's most prominent programs, walked into the office of the former staff's recruiting coordinator and stared at the big board. He asked who the most important player available was, and he was pointed toward a 5-star defensive lineman who was down to three schools.
The program was struggling, falling further behind its conference rivals and bleeding relevance with each passing day. Sonofagun, he needed that kid.
Three days later, he had the recruit and his father in his office.
The father plopped down on the sofa and laid out what it would take for this thirtysomething first-time head coach to earn his son's letter of intent.
"His father told me it would take 'more than words,'" the coach remembers. "I said, 'I promise you there is nothing more valuable than my word.'
"He said to me, 'A man's word only holds as much weight as his wallet.'"
Dysfunctional hell.
Welcome, everyone, to the world of inheriting a college football program. It's not all million-dollar contracts and attaboy slaps on the back.
The situation this coach found himself in is as familiar as it is ugly. He needed the recruit to help him win, needed to win to attract more quality players, needed to attract more quality players to change a program spinning its wheels and eventually swap the narrative from the coach's begging players to the players' begging to play for him.
What would you do, Mr. and Ms. College Football?
This coach made the "right" decision.
Interpret that how you will.
He's still the coach.
---
"You're either going to do it the right way or the wrong way. You have to pick a side on the first day of the job."
That comes from recently fired Texas coach Charlie Strong. When Strong took over as the Longhorns head coach, he was adamant about doing things the right way. He inherited a team with locker room problems and got right to cleaning it up, kicking two players off the team immediately and nine by the end of his first season.
What did he get for it? Fired after three straight losing seasons.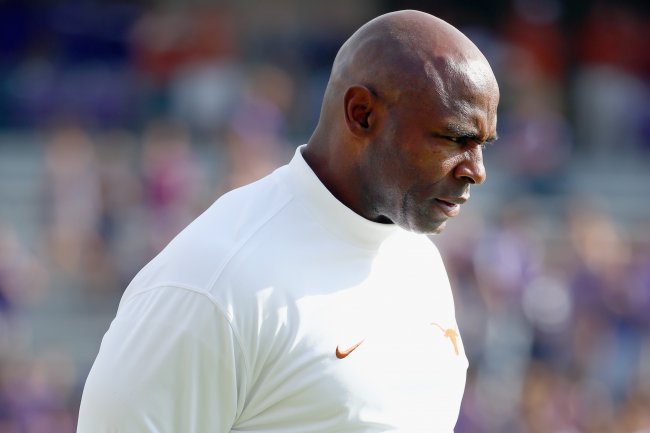 Tom Pennington/Getty Images
This is the reality of college football: If a coach taking over a program chooses what Strong would call "the wrong way"—whether that means active involvement in recruiting violations or cover-ups, or whether it means turning a blind eye to the behavior of his recruits, assistants, current players or boosters—it can and often will come back to disrupt, damage and possibly destroy the program and his reputation.
If he does it "the right way," he might not have the job for long.
Texas won't be the only team looking at that give and take over the next month or so. As many programs come to terms with disappointing seasons and consider coaching changes, it's important to ask this simple but complicated question, which has defined the game for decades but only recently has evolved into significant public debate:
Is it possible to win in college football without cheating?
To get a sense of the landscape that programs and their potential coaches are facing, Bleacher Report posed this question to more than 30 current and former FBS head coaches—most of whom chose to remain anonymous for fear of harming their current or previous universities.
The overwhelming answer: Probably not. At least not right away.
Once a program is successful, the success can sustain itself. But by definition, most programs that turn over their coaching staffs have not been successful. Most are a mess.
One coach who spoke to Bleacher Report was told on his first day that his quarterback might be part of a campuswide gambling ring.
One was given an academic report that showed more than 50 of his players failed to go to class during one week in November. Every player. Every class. For the entire week.
One was met by rumors of a raging drug problem in the locker room. He drug-tested the entire team during the first team meeting. More than 30 percent of the team failed.
These anecdotes and so many more offered by the coaches interviewed show a world in which coaches are faced with a desperate decision within the first weeks of their tenure: Do you choose your players—and build your program—the right way? Or do you do what you need to do to win now, bending the recruiting rules and/or choosing and potentially enabling players with character problems?
There's no good answer.
"I've had young coaches tell me, 'Coach, if I go .500 three years in a row and I'm doing every other thing right, you think people are going to be satisfied? Am I going to be able to keep my job?'" Duke coach David Cutcliffe says. "Look, I can't guarantee that.
"But here's the bottom line: At the end of your career, what [you're] held accountable for is how you've mentored young people and if you did it the right way."
One coach says he kicked four players off the team before the first meeting. Others say they slow-rolled it to save as much transition momentum as possible.
For Bret Bielema, it was 20 players in his first 18 months at Arkansas. When he arrived in Fayetteville, the first academic report he received showed 18 players with sub-2.0 GPAs, and the Hogs were having a player arrested on average once every 68 days. Players were flunking out and getting into trouble, and no one was holding them accountable.
"It wasn't just that guys weren't going to class or doing the work," says Rutgers assistant defensive backs coach Aaron Henry, an Arkansas graduate assistant from 2013 to 2015. "They weren't even logging on to the computer system to begin the work. They wouldn't even do that. That doesn't just happen overnight. That stuff is ingrained."
Bielema was determined to start cleaning it up right away. As former Iowa coach Hayden Fry once told him, "You recruit your own problems."
"Nothing sums up what this profession is all about more than that little nugget," Bielema says. "There is nothing more important."
Except maybe wins. The coach mentioned earlier who kicked the four players off the team before the first meeting? He's no longer at that school. And if Bielema keeps losing twice as many SEC games as he wins, he won't be around to do things the right way forever.
In that regard, it's easy for Cutcliffe to talk about the straight and narrow. He works for an athletic director who can protect him from influential boosters or an administration concerned about apathy in the program.
"When we hired David, I said, 'We're going to do it the right way, and I'm behind you no matter what,'" Duke athletic director Kevin White says.
Cutcliffe won four games his first season, in 2008, and five the next, before bottoming out with back-to-back three-win seasons that gave him 15 wins in four years. That will get you fired from just about every FBS program. Strong lost his job at Texas after going 6-7, 5-7 and 5-7 in three seasons. LSU fired Les Miles in September after he began the season with two losses in four games—and after he won 77 percent (114-34) of his games in 11-plus seasons in Baton Rouge.
But White stuck with Cutcliffe, who responded with the first 10-win season in the history of the program in 2013, followed by 17 wins over the next two seasons. In late September, Duke won at Notre Dame for the first time ever.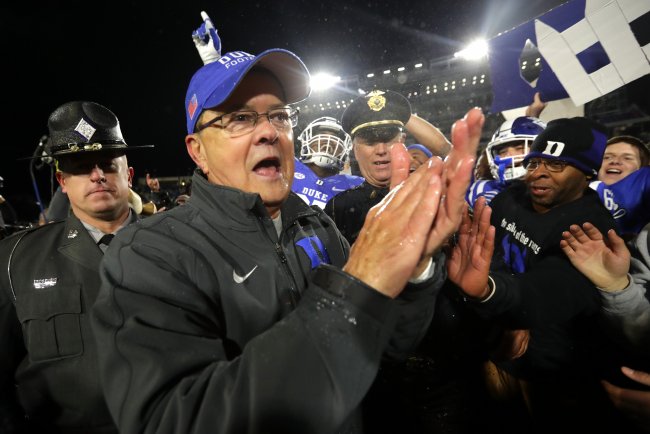 Streeter Lecka/Getty Images
"It takes time. It takes patience," Cutcliffe says. "The two things no one has these days."
That, more than anything, is why it's so easy for coaches to take chances, to push the envelope to the point of cheating and sometimes cross the line, to take chances on players with character issues they know could eventually damage the program and their careers.
Patience is an asset not many coaches are afforded.
---
When Terry Bowden was hired in 1993 to coach Auburn, he was a bright and audacious young (mid-30s) coach eager to make his legendary father proud and make a name for himself.
Everything changed within his first week. An assistant coach from the previous staff, whom Bowden was told he had to retain, walked into his office and placed a black ledger on his desk. It was a list of players who were being paid.
This is how we do it around here, Bowden was told.
This story has been told throughout the years and has almost become folklore, with too many incorrect iterations clouding reality. Auburn officials have always denied it, the NCAA could never nail it down and the statute of limitations on infractions has long since passed.
But here's the catch: I've seen the ledger.
Saw it 13 years ago when Bowden—now the coach at Akron—was a studio host for ABC's college football coverage and lived in my hometown. I went to his house one sleepy spring morning, expecting to talk about why such a successful coach had walked away from it all. He sat behind the desk of a makeshift office in his master bedroom, pulled out the ledger and plopped it on his desk.
Just like it had happened to him.
I saw the names, saw the money, saw the way players were recruited and what they were paid.
"See that!" Bowden said that day. "The look on your face was the same look on my face when I first saw it."
Bowden told the assistant coach, "Pay off the players that were promised and never do it again."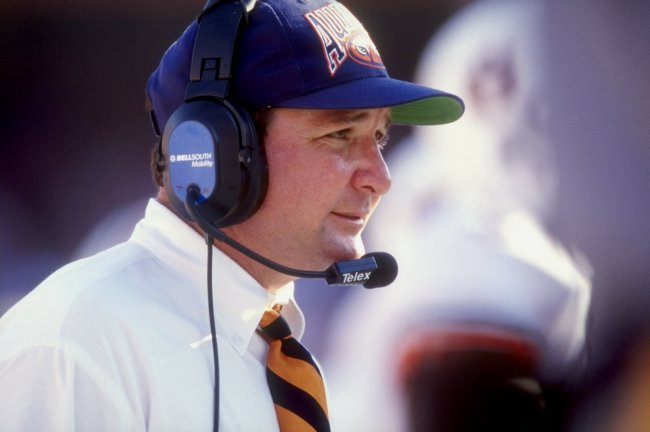 Andy Lyons/Getty Images
Yes, he cheated. You wouldn't have?
You would have instead blown up the program days after signing the biggest contract of your life, days after telling your wife this job—this fit—might just eventually be the spot to retire?
Another coach tells a story about getting a call from an assistant coach from the previous staff. The caller said a fellow assistant from that staff—one who, unlike him, the new coach had retained—was tipping off players to drug tests. The offending assistant was the program's ace recruiter, knew the state better than anyone and had countless contacts with key high school coaches. He was the lead recruiter on three players from the same high school—all three being recruited by the team's rival and all three with the type of elite talent that could facilitate a quicker turnaround.
"If he's tipping off players, what else is he doing?" the coach remembers thinking. "But we needed those three players."
A year later, the assistant coach left for another job. Four years later, only one of the three elite recruits the new coach compromised his values for had made a significant impact.
"It was a minor miracle [the assistant] didn't get us in trouble with the NCAA in the year he was with us," the coach says. "We were just as lucky two of those three [players] didn't do the same."
This is the no-win, all-risk decision coaches face.
For that coach, it didn't come back to bite him.
But you want to know how things went so bad so quickly at Baylor? Look no further than how and why the team got so good so quickly. When you take chances on players with character issues (see: defensive end Sam Ukwuachu), the odds are not in your favor.
The ideal situation, coaches say, is taking chances on a few players early and putting the program in position to win games it wouldn't otherwise. The more you win, the easier it is to get players who aren't character chances. Eventually, consistent winning takes over.
"That works in two places," one coach says. "At the major schools—the 10-20 best programs—and in a coach's head."
---
One coach found out, within the first month on a job, that three of his players had been stealing from the lockers of other players and athletes in other sports. They were caught when they tried to sell merchandise on eBay. One of the three players was a rising senior who had first- or second-round NFL draft talent and never wound up playing in the league.
One coach says one of the first people to call him after he took the job was a booster who owned a local car dealership. The booster offered to work with the coach to set up what he called an "honor system," where players could go to the lot and use loaner cars as long as they were returned in a reasonable amount of time. When told the idea was an NCAA violation, the booster responded, "Not if we don't get caught—and we haven't gotten caught yet."
One coach had a star player cold-cock another student at a fraternity party—punching him so hard in the back of the head that the victim sustained a concussion. He kicked the player off the team. The player, he says, "looked at me dead square in the eyes and said, 'Your loss. I'm going to come back and beat you.'"
More than 30 coaches, and they all have stories like this.
What do you do if you just signed a contract that pays an obscene amount of money—say you're in the SEC, where nine of the 14 coaches earn at least $4 million per season—and the president and big-money boosters want results yesterday?
What do you do if you've moved so many times in the past 10 years that you can't remember the schools your kids attended or their friends' names and that your wife, the one person in your life who makes everything right when it all seems wrong, tells you she can't move again?
Do you find a way to pay a player's father? Or say it's a player with academic shortcomings or questionable character flaws…do you find a way to get him into school? Do you ignore past behavioral problems under the guise of "everyone deserves a second chance" and hope the 2 a.m. call from police doesn't happen?
Do you talk yourself into something unseemly because, in the end, winning overcomes all? Or because, more than anything, you truly believe you can reach the misunderstood player like no one ever has?
It's a simple choice when you boil it down: Do you recruit and build the right way, or do you take chances by recruiting players with character problems to win now?
Now, Mr. or Ms. College Football, what would you do? How do you compete in a world where programs are a sewer and trying to clean them only makes it more difficult to escape to the next, more palatable job? What do you do if the only option to succeed is play along to get along?
How do you compete in a business where third chance has become the new second chance—and no one ever remembers what the first problem was all about, anyway?
"The worst part," one FBS coach says, "is it's not only acceptable in our business; it's expected."
The next thing you know, you're former Baylor coach Art Briles, on national television apologizing and defending your honor. And for what?
Tom Pennington/Getty Images
Wins? A championship? A new stadium? The next job?
When the shelf life of a coach in a major job is no more than four or five years, the inner struggle to win now and pay later looms large.
"You'd be shocked if you took a poll of guys in our profession and asked a simple question," one coach says. "You can make [$4 million to $5 million] a year for five or six years, but you may or may not have controversy that would shame you and end your tenure and maybe your career.
"You wouldn't believe how many would sign on for that. Because, really, that's what's going on right now all over the place."