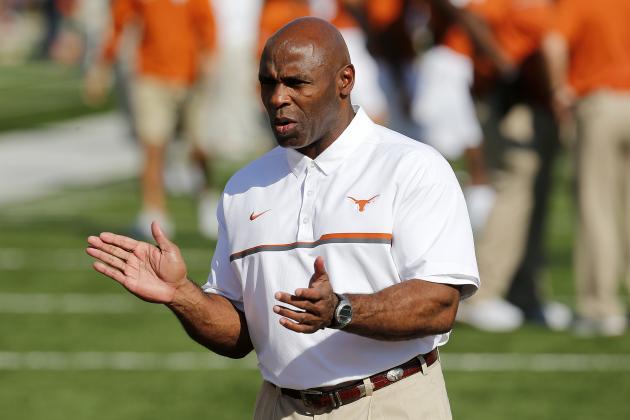 Chris Covatta/Getty Images
The Texas Longhorns fired Charlie Strong in November following three consecutive losing seasons, but the 56-year-old landed on his feet, as the South Florida Bulls hired him as their new head coach Sunday.
"I would like to thank President [Judy] Genshaft and Mark Harlan for their confidence and belief in me," Strong said, via the press release. "I am humbled that we have a shared commitment to take this university and this football program to even greater heights. Some of the best football talent in the country is right here in the Bay Area and throughout the state of Florida, and I feel blessed to have the opportunity to work with the young men in the USF football program and build on the strong foundation already in place."
Jason Higdon of Scout.com first reported the news, and Brett McMurphy of ESPN.com reported the agreement was for five years.
Strong became a full-time head coach when he was selected to lead the Louisville Cardinals in 2010, and the program's decision to hire him paid immediate dividends.
Louisville went 7-6 during each of its first two years under Strong's leadership, including a win in the Beef O'Brady's Bowl during his first year at the helm. The Cardinals proceeded to make a leap in 2012, when they went 11-2 and defeated Florida in the Sugar Bowl.
In 2013, a 12-1 record sent Strong's stock soaring higher, and he landed in Austin, Texas, the following year.
The Longhorns, however, failed to improve and went 16-21 during his three seasons as head coach.
Charlie Strong's Head Coaching Record

| | | | |
| --- | --- | --- | --- |
| Season | Team | W-L | Postseason |
| 2004 | Florida | 0-1 | Lost Peach Bowl |
| 2010 | Louisville | 7-6 | Won Beef O'Brady's Bowl |
| 2011 | Louisville | 7-6 | Lost Belk Bowl |
| 2012 | Louisville | 11-2 | Won Sugar Bowl |
| 2013 | Louisville | 12-1 | Won Russell Athletic Bowl |
| 2014 | Texas | 6-7 | Lost Texas Bowl |
| 2015 | Texas | 5-7 | N/A |
| 2016 | Texas | 5-7 | N/A |
Source: Sports-Reference.com
But despite shortcomings in the win column, Strong proved to be a beloved figure at Texas. That much was clear when players tweeted their support after he was let go:
— Trey Holtz (@TreyHoltz) November 26, 2016
This man gave me a shot when nobody else wanted me. Has helped me grow as a football player and a man. Don't know where I would be w/o him. pic.twitter.com/NNHfKqpx7o

— ocho (@dorianleonard3) November 26, 2016
Strong will be tasked with keeping alive the progress Willie Taggart made before he bolted for the Oregon Ducks last week.
Though USF went 6-18 during Taggart's first two years at the helm, it ascended the American Athletic Conference ranks in 2015 and 2016. After South Florida went 8-5 last season, Taggart propelled the Bulls to a program-best 10-2 record and a berth in the Birmingham Bowl this year.
Maintaining that sort of excellence through a coaching transition won't be easy, but Strong's success at Louisville lends credence to the idea that he can consistently compete for conference championships.
So while it will likely take some time for Strong to get acclimated to fresh surroundings as he attempts to re-establish himself, he should be in position to parlay the new opportunity into success.