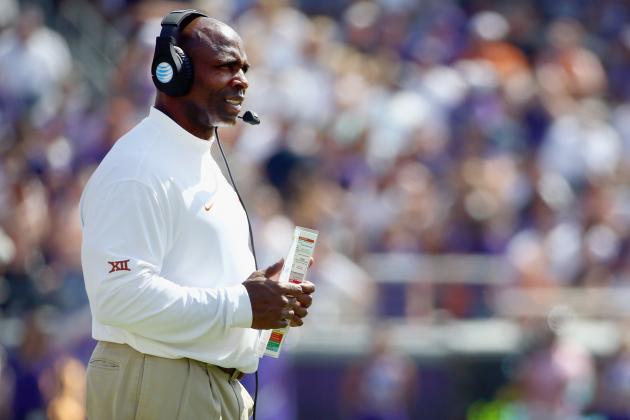 Tom Pennington/Getty Images
Charlie Strong's time in charge of the Texas Longhorns is over after three seasons. The school reportedly plans to fire Strong on Saturday, according to Chip Brown of HornsDigest.com. Sports Illustrated's Pete Thamel confirmed the report.
The 56-year-old entered the 2016 season on the hot seat. A 50-47 overtime win over then-No. 10 Notre Dame Fighting Irish and a 2-0 start seemed to buy him some more time and job security. Then the Longhorns lost four of their next five games.
After Texas fell 49-31 to Oklahoma State on Oct. 1, Texas athletic director Mike Perrin cast serious doubt on Strong's future.
"We need to evaluate what happened here," he said, according to OrangeBloods.com's Anwar Richardson.
Perrin attempted some damage control, adding he was "evaluating everything" and not Strong specifically, per ESPN.com's Jake Trotter.
The writing was on the wall at that point. Thamel spoke to a high-ranking school official on Oct. 3 who said Strong was "very close" to being fired at the end of the season.
If any hope remained of Strong holding on to his job at that point, it evaporated once Texas lost to Kansas last week for the first time since 1938. Yahoo Sports' Pat Forde thought that was the final nail in Strong's coffin:
Kansas wins. No joy in saying this, but Charlie Strong is a goner.

— Pat Forde (@YahooForde) November 20, 2016
Through it all, Strong maintained a strong relationship with his players.
The team was on hand to clap for its head coach after his press conference on Nov. 21, courtesy of the Austin American-Statesman's Brian Davis:
Charlie Strong leaving today's press conference, greeted by his players. pic.twitter.com/Ccm3L0jZzQ

— Brian Davis (@BDavisAAS) November 21, 2016
Fox Sports' Bruce Feldman shared a picture of an emotional D'Onta Foreman after the Longhorns lost to TCU in their final game of the year:
Tough seeing how devastated #Texas star D'Onta Foreman is after this loss. Had s long embrace w Charlie Strong. pic.twitter.com/saL1bdVuFc

— Bruce Feldman (@BruceFeldmanCFB) November 26, 2016
There's no question Strong inherited a tough situation when he replaced Mack Brown. While Brown is a college coaching legend, Texas largely limped along near the end of his time with the school. He left the Longhorns in a state of disarray, and a major rebuild awaited his successor.
As Thamel argued back in October, Strong helped improve the program's infrastructure. In terms of on-field product, though, the Longhorns haven't made any significant strides:
Texas officials are pleased with how he's recruited and overhauled the program's talent and culture in the wake of the lack of talent and discipline left behind at the end of [Brown's] tenure. But there are too many details in game management and special teams that the Longhorns have struggled with. Texas getting three extra points blocked in the first half at Oklahoma State on Saturday perpetuated the notion that the Longhorns have failed to pay attention to detail under Strong.
When the LSU Tigers fired Les Miles in September, Feldman reported one of the fears among those inside the program was that Miles would "have the program keep going in circles" if he stayed on.
In a sense, that may have been a concern for Perrin and his colleagues; Texas would continue to be respectable under Strong but not make the leap to being a national title contender again.
Below is a look at where the Longhorns ranked in total offense and defense, in addition to Football Outsiders' S&P+ ratings, during Strong's three years:
Texas Longhorns under Charlie Strong

| | | | | | |
| --- | --- | --- | --- | --- | --- |
| Season | Total Offense | Total Defense | S&P+ Rating (Percentile) | S&P+ Offense | S&P+ Defense |
| 2014 | 337.3 YPG (113th) | 348.3 YPG (27th) | 80.5% (33rd) | 26.4 (80th) | 16.3 (7th) |
| 2015 | 370.5 YPG (92nd) | 452.6 YPG (108th) | 44.8% (72nd) | 28.1 (73rd) | 28.4 (68th) |
| 2016 | 498.9 YPG (17th) | 444.7 YPG (97th) | 66.6% (47th) | 35.2 (32nd) | 29.4 (66th) |
Sources: ESPN.com; Football Outsiders
Hiring the right replacement for Strong will be pivotal for Texas. The Longhorns have one of the richest athletic departments in the country, but money alone can't get them back among the elite teams.
And another poor coaching hire will further the stagnation, potentially causing significant long-term damage. No school is too big to fail in college football, with Notre Dame, Miami, Florida and Nebraska among those struggling to reach the heights of their glory days.
Of course, Michigan is an example of how the right coach can reinvigorate a sleeping giant. Even the most ardent Wolverines fans are likely surprised with how quickly Jim Harbaugh has the team in the national title discussion again.
Because of its historical stature and financial might, Texas should be able to lure in an attractive coaching candidate.
Houston Cougars head coach Tom Herman will be atop the wish list of many fans, but the Longhorns will have a lot of competition to lure him away from his current post.
Writing for USA Today, Glenn Guilbeau reported Thursday that officials from LSU have met with Herman. USA Today's Dan Wolken, however, tweeted Texas is still his preferred destination:
Tom Herman wants Texas. If he ends up somewhere other than Texas, it's 100% on Texas

— Dan Wolken (@DanWolken) November 25, 2016
If Texas is unable to land Herman, then the Longhorns' search will get interesting.
Art Briles is without a job, and he has plenty of experience in the state from his days with the Cougars and Baylor Bears. The circumstances of his departure from Baylor may sour Texas on the prospect of hiring him, though.
Maybe Texas will even make another run at Alabama Crimson Tide head coach Nick Saban, despite the slim chances he'd ever leave Tuscaloosa. As the New York Times' Monte Burke reported in 2015, Texas wanted Saban in 2012.
Strong wasn't a failure as head coach of Texas, but his reign proved to be somewhat disappointing following his successful run with the Louisville Cardinals.
Now, Perrin is under an immense amount of pressure to ensure the program's recent malaise doesn't turn into a full-blown decline.