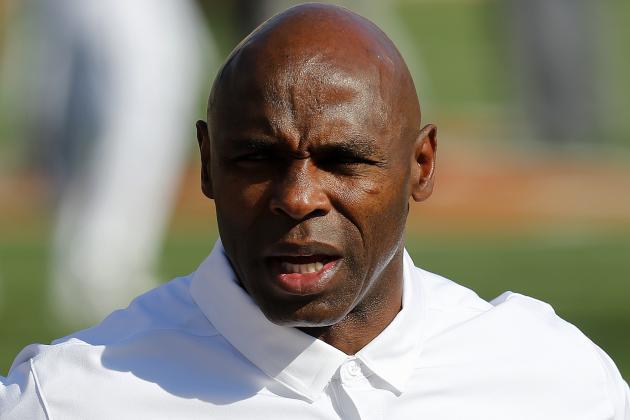 Chris Covatta/Getty Images
Charlie Strong's third season as head coach at the University of Texas came to an end on Friday following a 31-9 loss against TCU, leaving his fate with the program in doubt.
Speaking after the game, per the Express-News' Mike Finger, Strong said he doesn't know what his immediate future holds but he intends to be back in 2017.
Strong also started to get reflective about his tenure with Texas and taking a big-picture perspective of things.
"When I took this job, I came here to win the national championship, and I came here to change lives," Strong said, per Brian Davis of the Austin American-Statesman.
Per Chuck Carlton of the Dallas Morning News, Strong said when addressing his players in the locker room, he told them their "5-7 record doesn't speak to how good this Texas team is."
Carlton also noted Strong told the team he was looking forward "to coming back" for next season, though he added Saturday will likely be when he meets with Texas president Greg Fenves and athletic director Mike Perrin.
When the subject of his win-loss record at Texas came up, Strong didn't have one concrete answer for what's happened over the past three years.
"Inconsistency when you're dealing with a bunch of young players," Strong said, per Davis.
However, Strong suggested he feels the program is getting closer to being back among the nation's elite.
"It's just like baking a cake," Strong said, per Davis. "The only thing you need to do now is put the icing on it and slice it."
Davis noted Strong later told the media he felt this whole collapse of Texas under his watch "turned into all about me."
Davis and Kirk Bohls of the Austin American-Statesman reported Texas officials decided after last week's 24-21 loss to Kansas that Strong was going to be fired, but Perrin denied the report in a statement, per Davis:
There are a number of rumors out there about the status of Coach Strong. I've said it all along, we will evaluate the body of work after the regular season. We have a game to get ready for against TCU on Friday, and I hope our fans will come out and support our team. We'll discuss where things stand after that.
With Texas' season over—the Longhorns needed a win Friday to be bowl-eligible—Strong's future will get a definitive answer soon. He is owed $10.7 million over the final two years of his contract, per Davis and Bohls.
There's no other way to classify Strong's tenure with the Longhorns than disappointing. He has gone 16-21 with just one bowl appearance over three seasons.
Prior to Strong's arrival, Texas had just one losing season under Mack Brown from 1998 to 2013. The Longhorns have one of the most prestigious programs in college football history, making their recent struggles difficult for anyone to accept.