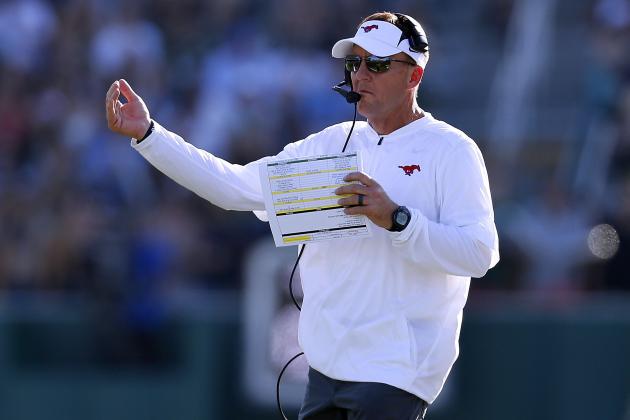 Jonathan Bachman/Getty Images
The SMU Mustangs announced Wednesday evening that head football coach Chad Morris has agreed to a contract extension through the 2023 season.
Morris was the subject of rumors linking him to various schools, notably Baylor, but on Tuesday, he told the football team's staff and players he would remain with the program, per Bill Nichols of the Dallas Morning News.
"According to two SMU sources, the school has been working on a contract extension for Morris for about three months to ensure that his package remained competitive in relation to the current market," Nichols reported.
Nichols also noted Baylor offered Morris a five-year, $24.5 million deal, but the Bears rejected his counteroffer.
"It's a commitment from Chad and a commitment from us," SMU athletic director Rick Hart told Nichols. "It ought to keep him on the Hilltop for a long while."
Morris, 47, has gone 7-17 in two seasons with the Mustangs. He took over an SMU program that was in need of a full rebuild and led the team to a 5-7 record in his second season, just one win away from bowl-eligibility. The Mustangs upset Houston in October, which was a huge win for the program.
Under Morris, the Mustangs appear to be on the rise, so news that he has agreed to an extension is huge for the program. If SMU continues its ascension, however, the rumors that followed Morris around this autumn may become a regular occurrence in the years to come.
You can follow Timothy Rapp on Twitter.