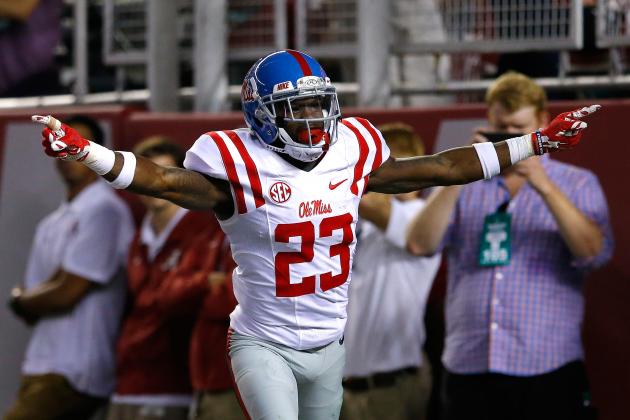 Kevin C. Cox/Getty Images
Ole Miss defensive back Carlos Davis was arrested early Sunday morning and charged with disorderly conduct.
Antonio Morales of the Clarion-Ledger reported Monday the arrest showed up on the Lafayette County Detention Center booking docket. No further information was made available, and the University of Mississippi declined comment to the outlet.
The off-field incident came less than 24 hours after the Rebels finished the regular season with a 55-20 blowout loss to rival Mississippi State. The senior cornerback finished with one tackle in the contest as the team fell to 5-7 on the campaign.
Davis appeared in all 12 games for the Rebels in 2016.
The Alabama native racked up 27 total tackles and recovered a fumble while serving mostly as secondary depth. He also contributed on special teams, averaging 22.8 yards on 33 kick returns and 8.2 yards on six punt returns.
His official team profile noted he clocked in as the fastest player on the Ole Miss roster thanks to a "sub-4.4 40-yard dash."
CBS Sports didn't list the senior among the top 100 draft-eligible corners for 2017, making it hard to judge how the incident could impact his pro stock. Depending on how the legal process plays out, he could possess niche value as a special teams asset at the next level.