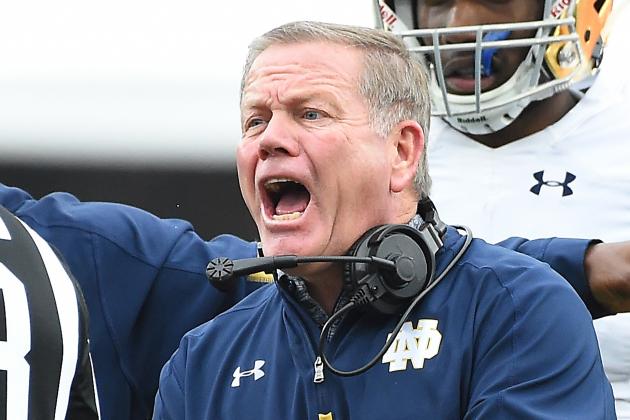 Jayne Kamin-Oncea/Getty Images
Notre Dame finished this season with a 4-8 record, its worst mark since 2007, leaving head coach Brian Kelly's future with the program up in the air.
Continue for updates.
---
Report: Kelly Exploring Options
Saturday, Nov. 26
Pat Forde of Yahoo Sports reported Kelly is taking steps through representatives to explore other potential coaching vacancies.
Speaking after the Fighting Irish's 45-27 loss to USC on Saturday, per ESPN.com's Arash Markazi, Kelly said he expects to return in 2017:
Oh yeah, absolutely. There was some discussion as to why I'm coming back [to campus] early, and I don't believe I'm coming back early because I'm getting fired. [Notre Dame athletic director] Jack [Swarbrick] and I always meet at the end of the year, and I wanted to do some exit interviews with our players because I hadn't been able to do that.
Forde did note Kelly "has expressed no desire to leave the school."
As for what happened on the field this season, Kelly said after the loss to USC that "everything is on the table" with regard to possible changes for the coaching staff in 2017, per Markazi.
Earlier this week, the NCAA ruled Notre Dame had to vacate all of its wins from the 2012 and 2013 seasons due to academic misconduct involving a student trainer. The athletic department also received one year of probation.
Notre Dame athletic director Jack Swarbrick told ESPN.com's Matt Fortuna in October Kelly would "lead this team out of the tunnel opening day next year."
Kelly, who just finished his seventh season as head coach of the Fighting Irish, signed a six-year contract extension in January that runs through 2021. Including the vacated wins, he has compiled a 59-31 record with the program and garnered an appearance in the BCS National Championship Game in January 2013.