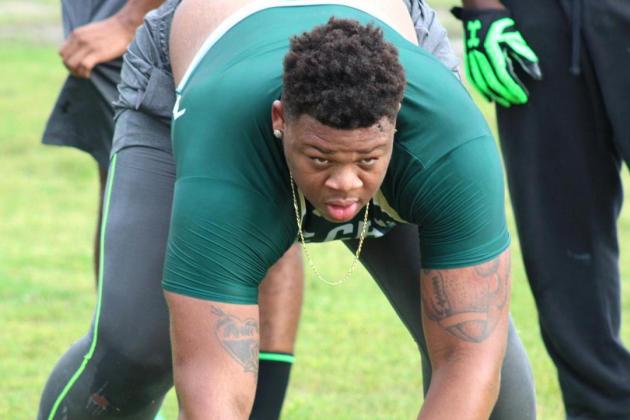 Source: Scout.com
Tennessee has lost two recruits from its 2017 class after twin defensive tackles Brandon Gaddy and Breyon Gaddy have opened up their recruitment.
Ryan Bartow of 247Sports reported the Gaddy brothers were decommitting from the Volunteers after originally pledging to the school in July.
Bartow listed Kentucky, Louisville, Memphis, Florida and Michigan State among the programs that have already contacted the Gaddy brothers.
The pair will attend the same college together, just as they have played high school football at Bishop Sullivan Catholic High School in Virginia.
Breyon is regarded as the better prospect. He's listed as a 4-star recruit, third-ranked defensive tackle from the state of Virginia and 23rd-ranked player nationally at the position, per Scout.com.
Brandon is a 3-star recruit, the No. 4 defensive tackle from Virginia and No. 56 defensive tackle in the nation, per Scout.com.
This has been a particularly rough day for the Volunteers and head coach Butch Jones. C.J. Cotman, an athlete from the state of Florida, also announced he was opening his recruitment back up.
Tennessee failed to reach its lofty expectations this season, which is becoming a trend under Jones. The Vols started 2016 ranked No. 9 in the Associated Press Top 25 before finishing a disappointing 8-4 and failing to reach the SEC title game for the ninth straight year.
With the Gaddy brothers once again available, expect a flurry of activity on the duo. Coming as a package deal makes them even more valuable because bringing in two defensive tackles instantly adds depth to a roster, to say nothing of what they can become with proper development and coaching.