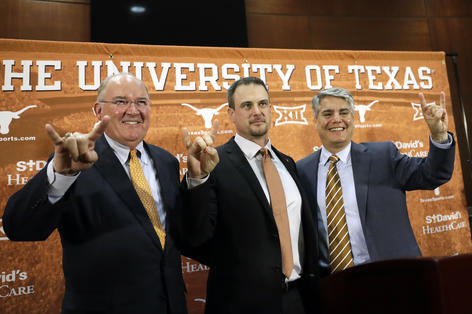 Eric Gay/Associated Press
Tom Herman was named the new head coach at Texas over the weekend. What will this mean for a 2017 recruiting class that currently has only seven commitments?
Separated by roughly 430 miles, the Texas and LSU football programs experienced similar—yet different—scenarios over the weekend.
Both programs had press conferences to announce new full-time leaders at the head coaching position. Tom Herman was named the head coach of Texas Saturday after the program fired Charlie Strong following a 5-7 record and a third consecutive losing season. Herman, who went 22-4 in two seasons at Houston, became the Longhorns' 30th head football coach.
LSU also introduced a new head football coach, even though he was a familiar face around Death Valley. Ed Orgeron was named the Tigers' permanent head coach after holding the interim tag since late September, when Les Miles was fired after 12 seasons. The last time he was a head coach was in 2013, when he held the interim tag for USC.
These stories and others headlined an action-packed weekend of college football recruiting. Here are some of the week's top highlights.
Texas recruits praise Herman hire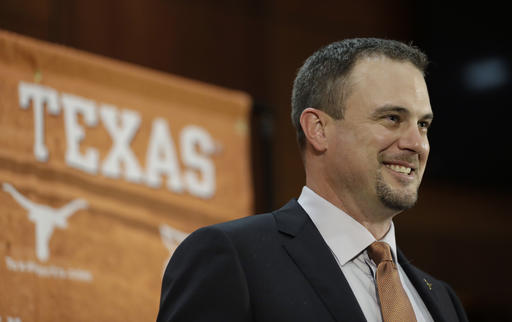 Eric Gay/Associated Press
Texas recruits were sad to receive the news of Charlie Strong's firing. Those same recruits understand the nature of the business. Strong was 16-21 in three seasons with the Longhorns, and with a program used to winning tons of ballgames, a change was evident.
Enter Tom Herman, a name speculated upon for months to take over the Texas program if Strong were to fall. Hearing the news of Herman taking over went over well for several athletes, including the 4-star tandem of defensive end Lagaryonn Carson and quarterback Sam Ehlinger, the top two pledges in Texas' 2017 class.
Staying committed to Texas period!!!!

— Lagaryonn Carson (@LagaryonnCarson) November 22, 2016
"I think it was a great hire, and glad it was sooner rather than later," Carson said. "There are more elite recruits out there that he will be able to get back on board."
"I think Coach Herman is the next big thing in college football," Ehlinger added. "I think it's a great hire."
The majority of the other Texas commitments, as well as a handful of targets and athletes interested in the Longhorns, expressed their excitement about Herman to E.J. Holland of 247Sports. The Longhorns have only seven pledges in the 2017 class, which means there will be plenty of opportunity for Herman to build on the class between now and February.
Fortunately, he has quite a few elite athletes considering Texas, including 5-star defensive tackle Marvin Wilson, 5-star offensive tackle Walker Little and 4-star defensive end K'LavonChaisson.
Orgeron a favorite among many LSU recruits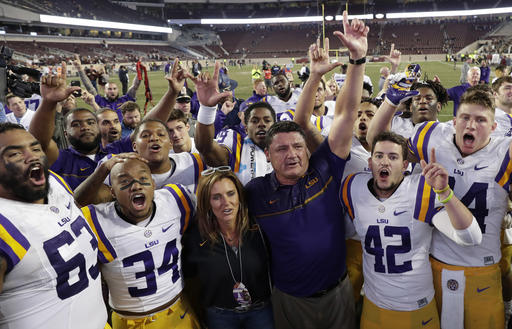 David J. Phillip/Associated Press
LSU won over a few commits and targets when it announced it was removing the interim tag from head coach Ed Orgeron. In fact, Orgeron's presence was felt less than 24 hours after the announcement, when 2018 athlete Caden Sterns gave his verbal commitment, according to Greg Powers of Scout.com.
Orgeron is well-liked among recruits, and when the news dropped, multiple athletes went public to express their joy. "Happy as hell" were the words used by stud offensive lineman Austin Deculus, according to Billy Embody of Scout.com.
One happy tiger! See you soon Coach O.. ??

— Myles Brennan (@mylesbrennan12) November 26, 2016
The big question now: Who's the first stud commit for the 2017 class under Orgeron as official head coach?
The Tigers are still hoping to land Marvin Wilson, as well as fellow 5-star RB Cam Akers. Orgeron, however, reminded reporters during his introductory press conference of the importance of keeping in-state players within the border boundaries.
This means that Louisiana athletes like 5-star wide receiver Devonta Smith, 4-star safety Todd Harris, 4-star cornerback Brad Stewart and 3-star receiver Al'dontre Davis will be among the few to watch between now and February.
One Louisiana resident who fully supports Orgeron as head coach is Lowell Narcisse. The 4-star quarterback, who committed to the Tigers in May, told Scout.com's Tiger Blitz that he also is curious as to who will be named offensive coordinator.
Former Iowa commit setting up official visits
Gavin Holmes
Iowa's loss can prove to be a gain for a few schools. Gavin Holmes, a sure-handed 3-star wide receiver at Northwest High School in Justin, Texas, decommitted from the Hawkeyes last week to explore other options and take some official visits.
Holmes, who, according to the Dallas Morning News caught 83 passes for 1,549 yards and 15 touchdowns his senior season, said he is in the process of finalizing an official visit schedule. UCLA will get an official the weekend of Jan. 20. If all works out this weekend, however, Holmes said his first official will take place this weekend at Oklahoma, when the Sooners host Oklahoma State for the annual Bedlam football game.
"I just wanted to be open to exploring because I wanted to be sure," Holmes said. "I decommitted [from Iowa] because they have a policy where they didn't want me going on visits. I want to take some visits, and it's getting down to crunch time."
God has a plan. . .
I have decided to officially open up my recruitment! Thank you to those who understand. pic.twitter.com/M7qiuWfuWB

— G3 ® (@Gavin_Holmes23) November 22, 2016
Other potential visits Holmes is looking at are Arizona State, Nebraska, Utah and Cal. He said he may make a final decision before signing day, and the winning school will get a versatile receiver who can play both outside and slot receiver.
"Right now, I just want to take it slow and sit down and think about where what I want and where I want to go," he said.
4-star JUCODL planning big January
Javon Kinlaw
Goose Creek, South Carolina, defensive lineman Javon Kinlaw is one of the nation's prize junior college gets for the 2017 class. January will be a huge month, as he plans on taking his official visits then. The Jones County Junior College standout has yet to take an official thus far.
He does, however, have a list of schools in the running for his verbal commitment.
"As of now, I have no favorites, but my top five, in no order, is South Carolina, Alabama, Maryland, USC and Texas A&M," Kinlaw said. "Everything's going good. A lot of schools have been buzzing me. I'm just ready to go on some official visits."
A Maryland visit, Kinlaw said, has been set up the weekend of Jan. 13. He added that he will visit either South Carolina or Alabama the weekend of Jan. 27. Other visits are still to be announced.
Kinlaw, who now is at 6'6″ and 305 pounds, is strong enough to play defensive tackle and quick enough to play defensive end. As a tackle, per Jones County's NJCAA page, he had 26 tackles, four tackles for loss and 4.5 sacks.
He said the schools in his top five all offer him a chance for early playing time. He also has solid relationships with the coaching staffs. Being from South Carolina and playing JUCO ball in Ellisville, Mississippi, Kinlaw added that proximity won't play a role in his ultimate decision.
"I just want a good relationship with the coaching staff and early playing time," he said. "I want to be a starter wherever I go."
What will a Houston 4-star LB commit do?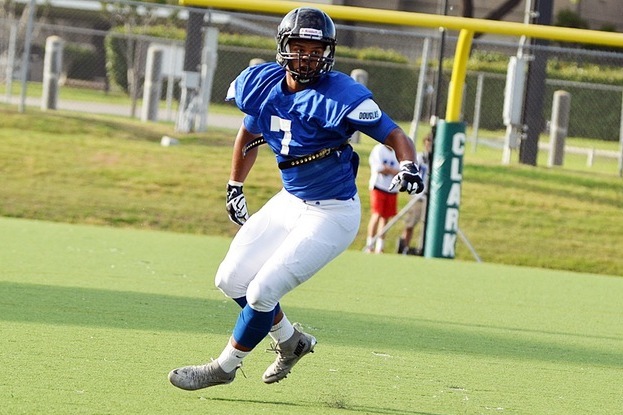 Credit: Scout.com
Tom Herman's departure from Houston has left some wondering about the future of the Cougars' 2017 class. Mohamed Sanogo is one of the bigger mysteries in this regard.
Sanogo, a 4-star linebacker, committed to Houston on June 27. Now that Herman is headed to Texas, will Sanogo be a target for a Longhorns class that only has seven commits?
It's something that Sanogo's thought about, as he has reasons for flipping to Texas but also reasons for staying with Houston.
"My interest in Texas definitely goes up a lot, especially since I was [Herman's] first choice at Houston," said Sanogo, who wasn't offered by Texas when Strong was head coach. "I also want to be coached by [interim head] Coach [Todd] Orlando, so I want to see if he gets the head coach job—and if not, see where he goes."
Sanogo is a top-10 inside linebacker among 2017 athletes. He has additional offers from Baylor, Indiana, Air Force, Army and others.
Damon Sayles is a National Recruiting Analyst for Bleacher Report. All quotes were obtained firsthand. All player ratings are courtesy of Scout.com. Follow Damon via Twitter: @DamonSayles.