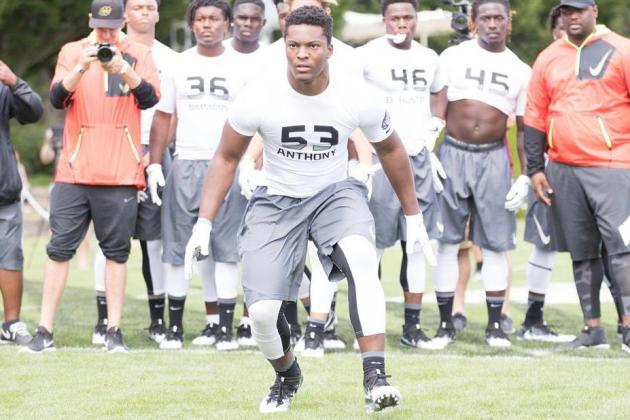 Credit: Student Sports
IMG Academy linebacker Jordan Anthony has done his part to sell his football team as the best high school in the country. Anthony now is focused on finding a college home, as IMG finished its regular season 11-0.
Two days after IMG Academy scored a win against Virginia's Bishop Sullivan Catholic, the question continues to float: Is IMG the best high school team in the country?
Those in and around Florida would say yes. Many around the West Coast—and especially in Las Vegas—would disagree.
Saturday's 16-6 win over Bishop Sullivan put IMG at 11-0 on the year. It was a game that featured nearly 20 committed athletes and more than 50 athletes with potential to play FBS football in college. Among the big names competing included Alabama linebacker commit Dylan Moses, Texas A&M quarterback commit Kellen Mond and Florida State running back commit Khalan Laborn.
Saturday's game was one that tested IMG's mettle. The Ascenders trailed, 6-0, entering the fourth quarter but scored 16 unanswered points to not only get the win, but also keep their record unblemished.
"Last night was a hard-fought battle that came down to the wire," said 4-star linebacker Jordan Anthony, one of the tackling leaders for IMG. "I was proud that we were able to overcome adversity and lock in on the task at hand in the final quarter."
IMG's brutal coast-to-coast schedule supports its argument of being the nation's best team. The Ascenders beat Georgia power Grayson High School and California stalwarts Corona Centennial and Long Beach Poly en route to an undefeated season.
The Ascenders believe in the old adage of defense winning championships. IMG's defense allowed less than 9.5 points per game this season.
On the flip side, Bishop Gorman and Mater Dei High School out of California have just as much say in claiming the top spot. Bishop Gorman's unblemished record features convincing wins over teams traditionally considered national favorites, including Cedar Hill (Texas), Cocoa (Florida) and St. John Bosco (California). Bishop Gorman also has a nationally televised, triple-overtime win over Florida giant St. Thomas Aquinas.
And then there's Mater Dei—the team that seems to be forgotten but has been dominant all season. Its signature win was against St. John Bosco, a 26-21 victory on Oct. 21; the rest of its wins have come in blowout fashion.
For most of the year, IMG and Bishop Gorman have been the two teams many want to see competing against each other. In the MaxPreps and USA Today national rankings, IMG is ranked No. 2.
There has been constant talk, however, of the potential fireworks an IMG-Bishop Gorman clash would produce. This video only added fuel to the fire:
IMG pulls off the win vs. Bishop Sullivan. Now they want @BishopGormanFBpic.twitter.com/21VdyXHEiz

— B/R The Future (@BR_TheFuture) November 20, 2016
"I think it would definitely be the game of the year," Anthony said. "I think we should give the people what they want, which is to make this game happen!"
OU visit next on deck for 4-star LB Anthony
Jordan Anthony
Dylan Moses gets a lot of the publicity, defensively, for IMG, but Jordan Anthony has also shown his worth throughout the season. The outside linebacker, who also saw time at running back, is now focusing on where to continue his playing days.
Anthony has taken one official visit—to Michigan last month—and he confirmed with Bleacher Report that his second official will take place at Oklahoma the weekend of Dec. 2.
"OU has been one of the schools that's been on me since my sophomore year," Anthony said. "It's definitely a place I want to go see."
Anthony, who, now at 6'1″ and 235 pounds, can play either inside or outside linebacker, said he's in constant contact with inside linebackers coach Tim Kish, as well as head coach Bob Stoops. Anthony said Oklahoma is intriguing because it's a team needing depth at the linebacker position, and playing time early in his career is a legitimate possibility.
Anthony's top six includes Oklahoma, Michigan, Maryland, Clemson, Penn State and LSU. A verbal commitment, he said, could come before the end of December. As for additional visits, he said he's looking to fit a couple more in before making his final decision.
"Wherever I go, I want to be happy in the environment I choose. I want to be somewhere where I can't wait to go to practice," he said. "Of course, the scheme is important, too. And I can't just make a judgment off one year."
FSU RB commit Laborn: 'We're on the come-up'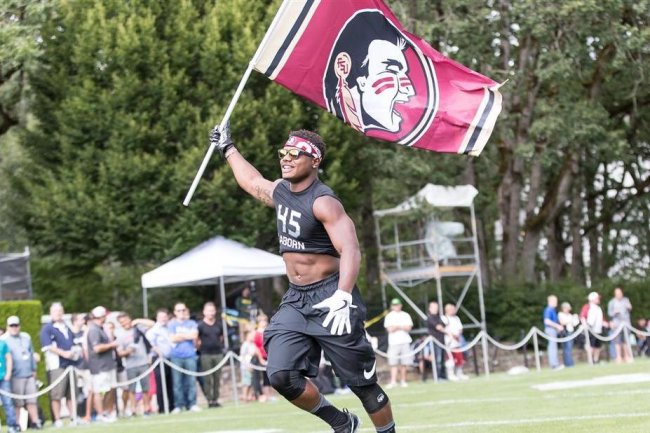 Credit: Student Sports
While IMG got the win Saturday, Khalan Laborn made sure it wasn't easy for the Ascenders defense. Laborn, Bishop Sullivan Catholic's 4-star running back and a Florida State commit, didn't score, but he made some highlight plays, including a few where he showed his hurdling ability.
"It was pretty live," Laborn said. "It was definitely a game to remember."
Laborn committed to Florida State on July 8 during his time at The Opening (he committed with the help of a Lamborghini). He is the top-ranked offensive player in the Seminoles' 2017 class, and he's welcoming all new commits with open arms.
Florida State is in the running for several elite targets, including 5-star defensive tackle Marvin Wilson and 5-star running back Cam Akers. Laborn said he isn't one to pressure anyone about recruiting, but he did have a message to all uncommitted athletes.
"We're on the come-up," he said. "[It's] something special to definitely be a part of."
Alabama QB pledge eyeing WR targets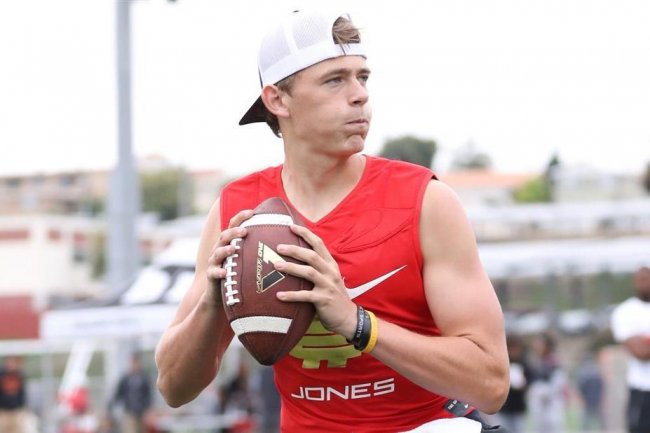 Credit: Student Sports
As Alabama continues to roll on the field, Jacksonville, Florida, 4-star quarterback Mac Jones continues to keep an eye on talented players to join him when he puts on a Crimson Tide uniform next season.
Jones has watched Alabama quarterback Jalen Hurts build a connection with wide receivers ArDarius Stewart and Calvin Ridley, and he's hoping to find receivers to do the same when it's his time to shine in Tuscaloosa.
There are a few guys on Jones' radar as a player-recruiter, and while 4-star commits like Jerry Jeudy and Tyrell Shavers are anticipated to be special playmakers, Jones said Henry Ruggs and Nico Collins are two 4-star receivers who would add more firepower to the nation's top-ranked 2017 class.
"Henry has that quick burst you want to see," said Jones, one of two Alabama quarterback commits, the other being 4-star Tua Tagovailoa. "He's physical enough to get off the press but quick enough to make that first cut. I've talked to guys who've seen him play, and they say he's always one of the fastest kids on the field.
"With Nico, he has everything you want in a receiver. He's big, he's strong and he's fast," Jones said. "I know he's got some interest in some other places, too, but he's a good receiver."
Alabama is considered a heavy favorite to land Ruggs. The Crimson Tide are in a recruiting battle with Michigan and Georgia for Collins. Per Chad Simmons of Scout.com, Michigan left a big impression on Collins two weeks ago.
Katoa headed to L.A. for third official visit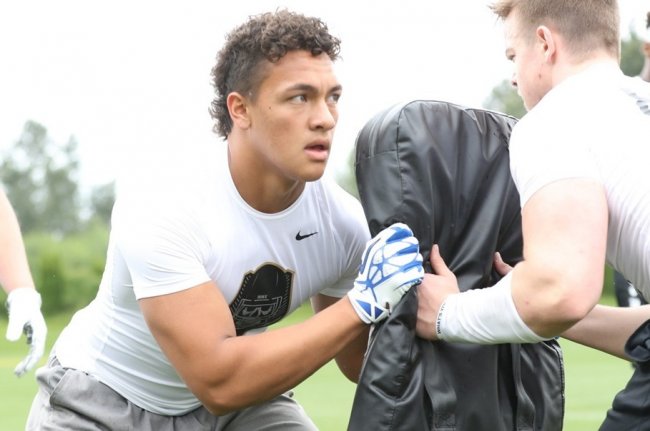 Credit: Student Sports
At 6'2″ and 225 pounds, Layton, Utah, standout Tayler Katoa can be seen at a few spots on the football field. If he's not lined up as an outside linebacker or defensive end on defense, he's calling plays on offense as a dual-threat quarterback.
It's Katoa's versatility that makes him such an intriguing athlete for next-level competition. He is preparing to play outside linebacker in college, and he has 11 offers to choose from. Katoa has taken official visits to Washington and, most recently, Boise State, and this weekend, he said he will be in Los Angeles to visit USC.
"I want to see how the culture is and what the program is all about," Katoa said. "I want to see how the coaches interact with the players and how the players interact with each other."
Katoa said he's enjoyed the previous visits and added he will take all five of his allowed visits. The process has been one that he's enjoyed, and he added that a final decision won't be made until after all visits are taken.
"This is an awesome process to be a part of it, especially since not many kids can say they've done it," he said. "Visiting colleges has been one of the coolest experiences I've had. It really gives you insight on how coaches are and how a campus is."
USC has 16 commits but is still without an outside linebacker pledge. Katoa could fill that void for the Trojans.
Damon Sayles is a National Recruiting Analyst for Bleacher Report. All quotes were obtained firsthand. All player ratings are courtesy of Scout.com. Follow Damon via Twitter: @DamonSayles