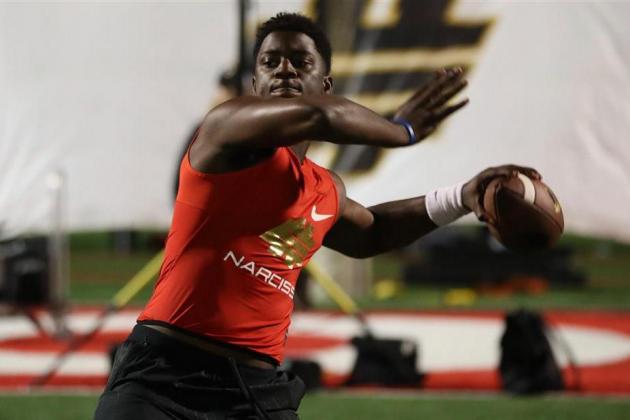 Credit: Student Sports
LSU lost a commit Monday morning in 4-star quarterback Lowell Narcisse. The Louisiana native had been committed to LSU since May 2.
The NCAA dead period started Monday (no in-person contact between college coaches and athletes), but not before a weekend that saw tons of action-packed news occur on the recruiting trail.
Notre Dame was a big winner Friday in landing 4-star Aaron Banks, a versatile offensive lineman ranked by Scout.com as the nation's No. 7 guard. Penn State picked up offensive firepower Friday, as 4-star wide receiver K.J. Hamler committed. Hamler can be a solid slot receiver and special teams returner.
Saturday was a huge day for Auburn, as head coach Gus Malzahn got his quarterback of the class in former Baylor quarterback Jarrett Stidham, a 5-star talent out of high school who took a year off from football to complete classes at McLennan Community College, located minutes from Baylor. Saturday also saw Texas A&M get a big pledge in 4-star defensive end Micheal Clemons, one of the top junior college prospects in the country.
These last 6 months have been crazy and the craziness is finally over. Time to start my next chapter at Auburn University! WAR EAGLE! ? pic.twitter.com/BckaHMO6D3

— Jarrett Stidham (@Jarrett_Stidham) December 10, 2016
Sunday had major news coast to coast. On the West Coast, Fresno State picked up five junior college pledges in running back Nate Jones, outside linebacker Emeka Ndoh, cornerback/athlete Vosean Crumbie and cornerbacks Matthew Boateng and Sherman Coleman. On the East Coast, Maryland added three players to its 2017 class in 3-star offensive tackle Tyran Hunt and the defensive tackle/twin brother tandem of 4-star Breyon Gaddy and 3-star Brandon Gaddy.
BUSY day on the recruiting trail for #FresnoState, as the 'Dogs nab 5 new verbal commits. More from @JacksonM_Scouthttps://t.co/vYrZR4qCUI

— Lorenzo J. Reyna (@LJ_Reyna) December 12, 2016
Additionally, Ohio State picked up a linebacker in 4-star Pete Werner, a former Notre Dame pledge who helped the Buckeyes in their quest for the top spot for the team recruiting rankings. Ohio State and Alabama are battling for the No. 1 position as national signing day rapidly approaches.
LSU, unfortunately, was hit with bad news to start this week, as 4-star Lowell Narcisse announced his decommitment early Monday morning. The Tigers still have a soft commitment from 4-star quarterback Myles Brennan, but losing Narcisse—committed to LSU since May—was a blow.
— 2⃣ Reasons (@JrJr238) December 12, 2016
"There's a lot of uncertainty there right now. You don't know who the offensive coordinator is; you don't know who the quarterbacks coach is going to be," Narcisse told ESPN Baton Rouge radio. "It's hard to say you can go there and let someone coach you and not know who that person is."
Narcisse said LSU is still a major player, but Auburn and Memphis also are in the mix. He plans on committing Jan. 1 at the Under Armour All-America Game and added that he will be an early enrollee.
Here's additional intel from other athletes looking to finalize their recruiting processes soon:
5-star target Gibbs releases top 5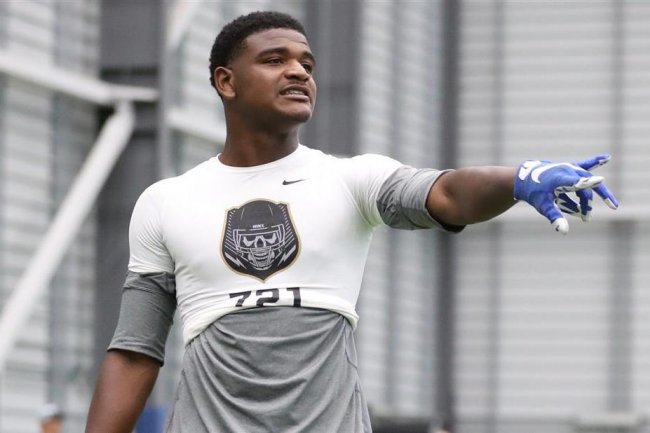 Credit: Student Sports
Fresh off a Georgia state championship, 5-star athlete Deangelo Gibbs from Grayson High School is ready to focus solely on his college plans. Gibbs, a safety with a cornerback's coverage skills and a wide receiver's hands, tweeted on Sunday his top five of Georgia, Alabama, Tennessee, Auburn and Florida.
Expected to be an early enrollee, Gibbs took official visits to Alabama (weekend of Oct. 22), Auburn (Dec. 3) and Florida (Dec. 11). He is expected to make a decision Jan. 1 at the Under Armour All-America Game.
Back in May, Gibbs told Bleacher Report that the process was "a good type of stress" and said he made sure to weigh all of his options before making a decision. He has been relatively quiet since the summer regarding his process, choosing to focus on being a leader on and off the field for Grayson.
It feels good to be the champs… a season I'll never forget. Love all my boys ????

— Deangelo Gibbs (@TheHercules8) December 11, 2016
The focus paid off, as Grayson beat Roswell High School, 23-20, in overtime for the Class AAAAAAA state title.
One SEC school now hopes to win, as well, in landing Gibbs' commitment at the beginning of the new year.
Big decision coming for USF pledge Judson
All Cocoa, Florida, 3-star athlete Bruce Judson wanted is to get through his senior season with a state championship. Mission accomplished, as Cocoa beat Bolles High School out of Jacksonville, Florida, 31-17, for the Florida Class 4A title.
Judson now has the unenviable task of making a loyalty decision: Does he stay with the program he's committed to, or does he follow the head coach who recruited him the hardest?
A South Florida pledge, Judson has been committed to the Bulls since July 27. However, with coach Willie Taggart leaving South Florida for Oregon—and with Taggart extending an offer on Sunday—Judson said he has a lot to think about in the next few weeks.
Just received a offer from the University of Oregon by my Main Man @CoachTaggart#WinTheDay? #OregonDucks? #Blessed?? Booooooooooom❗️??? pic.twitter.com/Fp0b3G39QR

— Bruce Judson Jr™ (@4way_lilbruce) December 11, 2016
"After we won [state], my weekend has been crazy," Judson said. "I'm just going to see how things play out. I'll probably make a final decision on national signing day."
Judson said he and Taggart talked the day Taggart was announced as Oregon's coach. Judson added that Taggart hinted to a potential offer, as he feels he fits in well in Oregon's high-octane offensive system.
Judson added that while he didn't know new South Florida coach Charlie Strong, he spoke with Strong on Sunday. Judson is interested in seeing who stays on the Bulls' coaching staff and how he will be used in Strong's playbook.
Just talked to Coach Charlie Strong❗️????………

— Bruce Judson Jr™ (@4way_lilbruce) December 12, 2016
In addition to South Florida and Oregon, Judson said Virginia Tech and Kentucky are major players in his recruitment as well. Proximity, he said, will not play a role in his final decision.
"Football is football; you've got to play somewhere," he said. "I'm all about finding the right fit."
Damon Sayles is a National Recruiting Analyst for Bleacher Report. All quotes were obtained firsthand, unless otherwise noted. All player ratings are courtesy of Scout.com. Follow Damon via Twitter: @DamonSayles