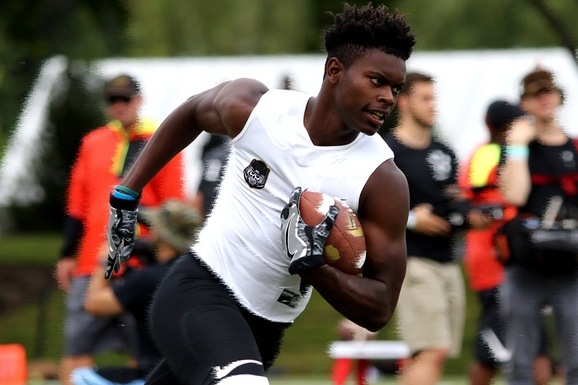 Credit: Scout.com
Each week, Bleacher Report National Recruiting Analyst Tyler Donohue analyzes a different prospect based on in-person evaluation and intensive film study. Here's our latest scouting report of a promising young athlete and how he projects as a college player.
Elite uncommitted options continue to dwindle in the 2017 receiver class, but Joseph Lewis—considered the position's No. 1 overall prospect in Scout.com rankings—appears primed to take his recruitment deep toward national signing day.
The 6'2 ½", 200-pound Southern California playmaker plans to utilize multiple upcoming official visits as a measuring stick to sort through contenders. Alabama and Oklahoma are expected to appear on his travel itinerary, according to Mike Schaefer of 247Sports, who also notes Nebraska and Oregon are in excellent shape with Lewis.
Nearby USC is another program to monitor closely in the coming weeks and months, leading up to Feb. 1 signing day developments. The U.S. Army All-American hasn't disclosed a decision date, so expect plenty of intrigue to swirl around his situation.
Lewis, who started collecting collegiate opportunities in bunches as a sophomore, holds more than 30 scholarship offers. That's quite a feat for an athlete who didn't begin playing football until his freshman year, according to Jason Jordan of USA Today.

Lewis burst onto the national scene with 121 receptions for 2,605 and 22 total touchdowns during his first three varsity seasons, per MaxPreps. He caught 21 passes for 555 yards and seven scores through the opening seven games this fall, pushing his career average to 22.3 yards per catch.
Hawkins High School implements one of the most impressive receiver tandems you'll ever find at the prep level. Lewis lines up alongside junior Jalen Hall, who is considered the No. 1 pass target of the 2018 recruiting class by Scout.com.
Hall will warrant an equally expansive spotlight throughout the next cycle, but for now we'll focus on Lewis. Let's detail the lauded Los Angeles playmaker in our latest B/R Recruiting Breakdown.
The Basics
High School: Hawkins High School (Los Angeles)
Size: 6'2 ½", 200 lbs
Recruitment Status: Uncommitted; Offers include Alabama, Arizona, Nebraska, Oklahoma, Oregon and USC
Prospect Assessment
A model of consistency throughout high school (at least 775 receiving yards during each of his first three seasons); speaks volumes about development considering late entry into the sport.
Career at Hawkins High School includes scintillating stretches since he first suited up as a freshman. Lewis secured 15 touchdown receptions in 15 games during a span that covered Nov. 2014 through Sept. 2016.
Hawkins High School teammate and fellow 5-star receiver

Jalen

Hall: "Joseph just dominates. He has the ability to attack the ball at its highest point and take

cornerbacks

up top. He can be unstoppable."
Grades out among the most sure-handed prospects in this recruiting cycle. Makes difficult catches in traffic and limits ball movement once his mitts make contact.
Isn't fazed on 50-50 balls, battling for position and plucking passes with understated authority.
Not a demonstrative guy but doesn't back down against "alpha" defenders, evidenced by an impressive overall performance this summer at The Opening.
Smooth route-runner who sets the stage for his quarterback to locate him in stride with space to operate. He's a serious threat to compile substantial yards after the initial reception.
Physical near the line of scrimmage when defenders attempt to body him up off the snap. Uses solid handwork and smooth steps to disengage and gain separation.
Does his best work out wide. Lewis isn't an elite burner but uses tremendous hip fluidity to leave opponents in his wake and presents a trustworthy target in deep regions of pass attack.
Lewis tracks deep pass trajectory very well, adding another edge to his arsenal as he attempts to locate the ball.
Capable of feasting on crossing patterns, bursting toward intended target zone with quick feet and a catch radius that creates opportunities for difficult receptions.
Body control is a big plus, particularly when combined with high-level leaping skills. He is especially difficult to deal with in jump-ball scenarios.
Willing blocker who extends efforts and remains on his opponent through the whistle.
Selfless player who won't need to be center of attention in a college offense immediately; can work his way into rotation as roster needs dictate and steadily develop into a top-tier target.
Ambitions beyond football field extend to business. Lewis told Bleacher Report's Damon

Sayles

he hopes to develop a clothing brand and own a sports facility after college.
Lewis can alter the complexion of a matchup at any point, placing pressure on opposing coaches to invest significant resources into coverage efforts wherever he's located on the field. If provided wiggle room, this crafty athlete is capable of pushing past containment for long-distance gains and scores.
In this example below, Lewis is allotted limited room on a short strike toward the top of the screen. The ball is out of the quarterback's hand less than three seconds after the snap, finding him three yards beyond the line of scrimmage (Hawkins' 45-yard line) with about three yards of cushion as a collection of defenders move in, including three moving downfield.
He doesn't hesitate to turn upfield, chopping his feet, lowering his shoulder and dishing out a stiff-arm that eliminates the first opponent he meets: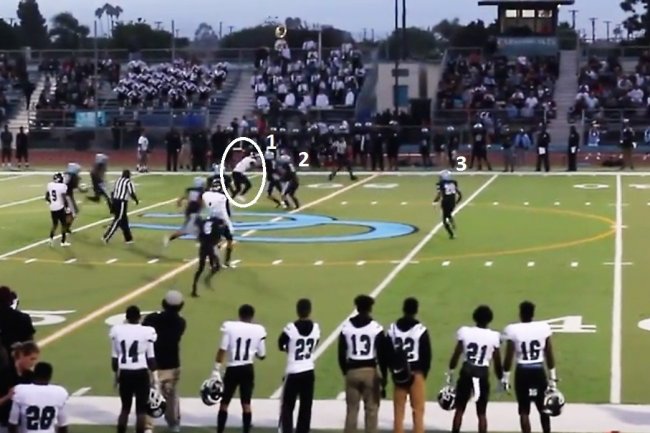 Credit: Hudl
Now working toward midfield, Lewis avoids deceleration upon contact and finds a seam along the sideline. Powerful strides swiftly establish momentum with that edge in sight, and Lewis manages to beat several defenders to his desired lane.
He turns a short, seemingly non-threatening pass attempt into a 58-yard touchdown: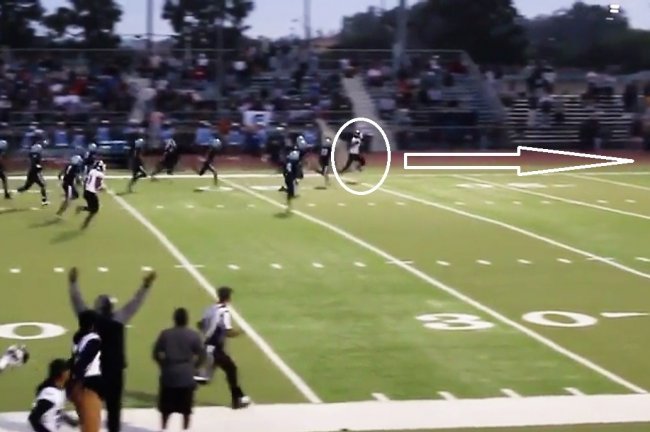 Credit: Hudl
Lewis does a lot of damage on designs like the previous play, targeted near or behind the line of scrimmage with room to operate. However, he is a complete receiver who will impact contests within multiple phases of a collegiate attack.
Below, he runs a seven-yard slant with the cornerback and safety contributing in coverage. The pass is placed behind Lewis, who flashes that aforementioned exceptional body control by halting, adjusting momentum and snagging the ball with strong hands: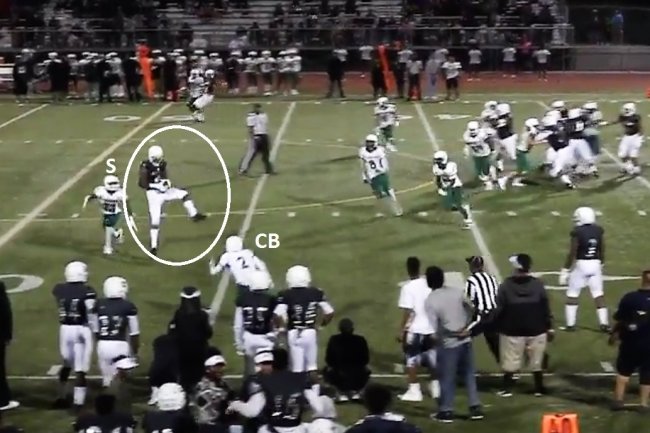 Credit: Hudl
He gains possession at Hawkins' 47-yard line, three yards shy of producing a fresh set of downs. Lewis senses the safety is barreling down from behind, so he violently bursts upfield in one continuous motion off the foot he planted on upon his reception.
Lewis discards the safety with another stiff-arm, putting him on the ground and launching into opposing territory. He picks up the first down and adds another eight-yard chunk for good measure: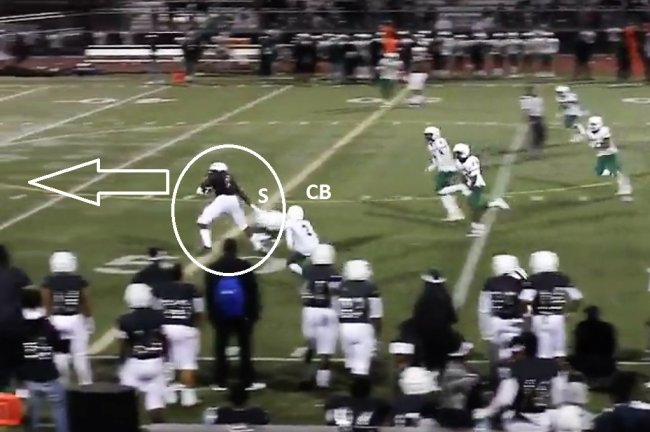 Credit: Hudl
Lewis is rarely stopped by the first defender he encounters, and consistent extra yardage proves crucial in make-or-break moments for offensive drives.
Long-Term Outlook
Prepared for a leap in competition from a physical perspective, Lewis' instant-impact potential next year likely relies on how quickly he can digest collegiate schemes. Route precision and overall polish in his approach at receiver indicates a high ceiling for freshman success.
Lewis has largely kept thoughts on an expansive recruitment close to the vest and would encounter vastly different depth charts at the position depending on where he elects to attend school. He may benefit from a situation that already features multiple returning contributors who can carry the load early during the next phase of his career, allowing him to ease into a playbook at a comfortable pace.
What are realistic college expectations for 5-star WR Joseph Lewis?
What are realistic college expectations for 5-star WR Joseph Lewis?

Instant starter and key contributor in 2017.

Eventual starter who will work his way up the depth chart within two years.

Will make an impact later in his career.
Regardless of where Lewis lands, we anticipate he'll be tasked with a sizable volume of routine targets by his second season on campus. His balance at the position enables coordinators to trust him in a variety of roles, increasing the chances he'll become entrenched as an offensive staple within 10-20 college games.
We envision Lewis as an initial complementary component in an established attack, eventually blossoming into the go-to guy for passing efforts. It wouldn't surprise us if he enters his junior season with preseason all-conference accolades, establishing the foundation for a fearsome second half of a promising collegiate career.
Tyler Donohue is a National Recruiting Analyst for Bleacher Report. Quotes and observations obtained firsthand unless otherwise noted. Prospect ratings and information courtesy of Scout.

Follow Tyler via Twitter: @TDsTake.