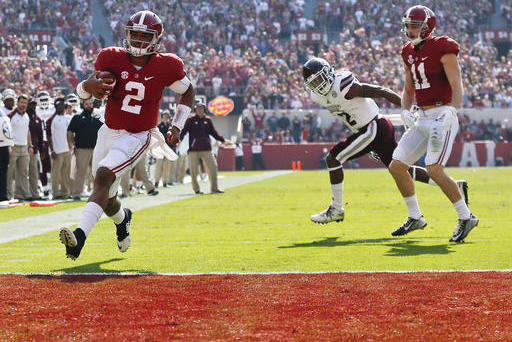 Brynn Anderson/Associated Press
The college football regular season ends Saturday, but it seems we're still no close to knowing which four teams will comprise this year's playoff.
We can likely Sharpie in Alabama, barring a loss to Auburn on Saturday and an upset loss in the SEC Championship Game. The Crimson Tide are mortal locks for the College Football Playoff even if they go 1-1 in their final two games; their resume is just too strong.
But elsewhere, things are completely up in the air. Michigan or Ohio State will find itself in the playoff; the question is which one. The second-ranked Buckeyes host the third-ranked Wolverines on Saturday in the biggest game of the 2016 regular season. Even if the victor fails to win the Big Ten Championship, it would be hard to keep it out of the CFP.
Clemson and Washington can both make strong cases if they win out. Same goes for Penn State and Wisconsin; either would each be hard to keep out if it won the Big Ten. The Nittany Lions will be rooting for Ohio State on Saturday as much as they are themselves.
While there is still way too much left to be decided, let's take a look at the New Year's Six heading into Week 13.
Playoff Matchups
Peach Bowl: (1) Alabama vs. (4) Washington
I had a tough time choosing between Washington and two-loss Wisconsin, which I project winning the Big Ten Championship. It's likely the committee will do the same. The Badgers will have better strength-of-schedule markers provided they win out, but they also dropped games to Ohio State and Michigan. I'm not sure beating Penn State in Indianapolis will or should be enough to overcome Washington being a one-loss Power Five team.
The Huskies also finish their regular season with a pair of ranked opponents. They travel to rival Washington State on Saturday and can put a strong capper on their regular season by handing the Cougars their second conference loss. A matchup with Colorado or USC then awaits, which should be enough to put Washington over the hump with the committee.
Alabama is just Alabama. Auburn might put a scare into the Tide this week, but it's laughable to think about Florida or any SEC East team standing a chance. Odds are they'll be undefeated. Even if not, Alabama's still going to keep the No. 1 seed.
Fiesta Bowl: (2) Clemson vs. (3) Ohio State
The Buckeyes have been wildly inconsistent all season, but they were dealt a great hand when Michigan lost quarterback Wilton Speight for the season to a broken collarbone, per MGoBlog.com. John O'Korn looked completely at a loss last week at home against Indiana; it's hard to see him handling the Horseshoe environment any better.
I wouldn't be surprised to see Shane Morris at some point Saturday when the Wolverines offense inevitably stalls.
Ohio State has had its own struggles throwing the ball this season, but unless Columbus winds up with some inclement weather in the forecast, J.T. Barrett and Co. should have a bounce-back from last week. Even without much of a chance to win the Big Ten Championship—Penn State would have to lose to Michigan State this week—the Buckeyes have a strong resume and a "good" loss. They'll get in.
Clemson is sitting in a relaxing spot, perhaps even as good as Alabama. The Tigers finish with a below-average South Carolina team before facing off with the winner of the ACC's weak Coastal Division. They're not going to get any marquee wins, but their resume is good enough already that coasting out will get them in.
Other Notables
Orange Bowl: Louisville vs. Michigan
The Orange Bowl is pretty straightforward. Louisville is probably locked into this spot unless it loses to Kentucky. Florida State can't even threaten with a win over Florida. The Cardinals' 63-20 embarrassment of the Seminoles will and should loom too large on the committee's mind.
Michigan locks in here among the solid Big Ten teams to not make the championship game. There aren't any legitimate threats in the SEC to take this spot, and Notre Dame is languishing as perhaps the sport's most disappointing team.
A Louisville-Michigan matchup is a fun way to kick off the New Year's Six as a contrast of styles as well.
Sugar Bowl: Oklahoma vs. Florida
Oklahoma is essentially locked into a Sugar Bowl appearance unless the committee falls in love with the Sooners' second-half ascent. They have a real shot of moving up in this week's playoff rankings after blowing out West Virginia and host a surging Oklahoma State team Saturday.
The remaining problem: no Big 12 Championship Game. The Sooners won't have the same opportunity as (potentially) Penn State or Wisconsin to make their final impression on the committee. Given the Big Ten's elite depth this season, it's hard to see a two-loss Big Ten champion being left out in favor of Oklahoma—even if the Sooners are objectively the more talented team.
Florida is an SEC filler here and can put itself in a strong position with a win over Florida State this week. Texas A&M and Auburn also have a chance of filling this spot. The Tigers need a win over Alabama to have any real shot, while the Aggies have a critical matchup with LSU. They'll have their fingers crossed that Florida finishes its season with a pair of losses against FSU and Alabama.
Rose Bowl: Wisconsin vs. Colorado
This continues my prevailing projection that Wisconsin will wind up taking the Big Ten Championship, locking the Badgers into either the No. 4 seed or a trip to Pasadena, California. This is wholly dependent on the projection of Ohio State holding home field against Michigan. If Michigan winds up going on the road and winning, Penn State has a good shot of slipping into the Rose Bowl spot.
The Pac-12 component of the Rose Bowl comes down to Colorado taking care of business against Utah this week. The Buffaloes should be in this spot regardless of what happens in the Pac-12 title game, provided they lock up the South.
USC has a real shot of playing the spoiler here, though—not only for Colorado, but also the conference as a whole. The Trojans will be the South representative and play Washington if Utah defeats Colorado. They have reeled off seven consecutive wins since their 1-3 start, have what should be a gimme over Notre Dame upcoming and already handed Colorado and Washington their first conference losses.
Cotton Bowl: Western Michigan vs. Penn State
Western Michigan makes it as the top-ranked mid-major champion thanks in part to Boise State being ineligible. It's all about taking care of business against Toledo at this point, and the Broncos will get their shot.
The final spot here is difficult because it's a true at-large. Will the committee really slot in four Big Ten teams? Especially a three-loss Penn State? It likely depends on how the Lions look in the conference championship game.
If they're blown out by Wisconsin, a team like USC could wind up sneaking ahead in the rankings and take this spot. If it's close, I have a hard time seeing the committee penalizing Penn State simply for having an extra game. The committee has been all-in on the Lions since their initial rankings.
Right now, the entirety of Pennsylvania has its fingers crossed Ohio State beats Michigan and sends the Lions to the conference championship. That would give them a shot at landing the No. 4 seed. But their easiest path to the New Year's Six is a Michigan win.