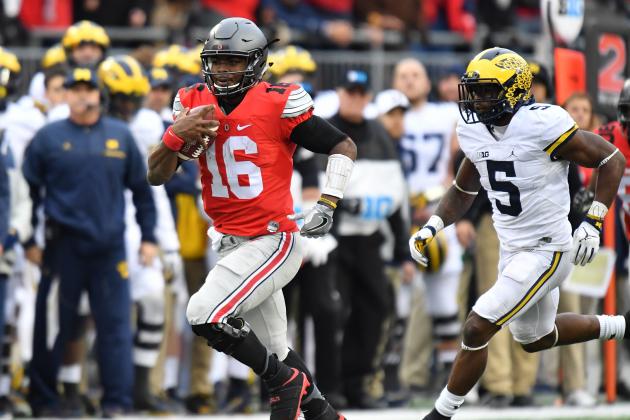 Jamie Sabau/Getty Images
Get ready for controversy.
The teams that made the first two editions of the College Football Playoff were fairly straightforward picks (even if there was some Big 12 consternation when Ohio State got in over TCU and Baylor in 2014), but that will likely not be the case this year.
The mere fact there are five power-conference teams and four spots makes the possibility for controversy very real, and the 11-1 Buckeyes appear to be one of the best four teams but are on the outside looking in for the Big Ten Championship Game.
It is not a stretch to envision a scenario where Alabama, Clemson, Ohio State, Washington, Wisconsin, Penn State, Colorado, Oklahoma, Oklahoma State or even Michigan have legitimate arguments to be included.
With that in mind, here is a look at some predictions for the four playoff teams, as well as the rest of the New Year's Six bowls with the high stakes of the conference title games rapidly approaching.
New Year's Six Bowl Projections
Peach Bowl (Playoff Game): No. 1 Alabama vs. No. 4 Washington
Fiesta Bowl (Playoff Game): No. 2 Clemson vs. No. 3 Ohio State
Sugar Bowl: Oklahoma vs. Auburn
Rose Bowl: Wisconsin vs. USC
Cotton Bowl: Penn State vs. Western Michigan
Orange Bowl: Florida State vs. Michigan
Breakdown
Peach Bowl (Playoff Game): No. 1 Alabama vs. No. 4 Washington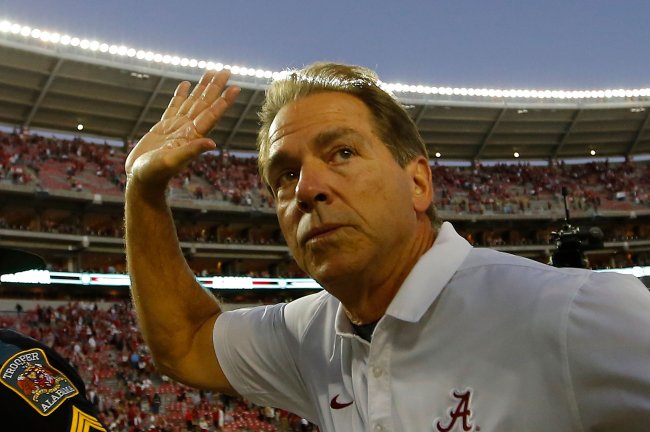 Kevin C. Cox/Getty Images
The task is simple for the Alabama Crimson Tide: Beat the Florida Gators in the SEC Championship Game, and you get the opportunity to defend your national title.
While Alabama may make the playoff even with a loss to the Gators, it can remove all doubt with an SEC title. The Crimson Tide are first in the nation in yards and points allowed per game, which would be a problem for any offense, let alone Florida's. The Gators are 86th in the country in passing yards per game and 104th in scoring offense.
Who wins?

Alabama

Washington
Look for the Crimson Tide to suffocate that offense from the opening snap and earn a spot in the playoff, especially since head coach Nick Saban said, "Winning the SEC championship is really significant to us," per Barrett Sallee of Bleacher Report.
Washington is a much more dicey case for the playoff, but a win over Colorado in the Pac-12 Championship Game would mean a 12-1 record and conference title. It would also mean the Huskies finished their season with a statement victory over a Top 10 opponent.
The fourth seed in the playoff will come down to Wisconsin (who I am predicting beats Penn State in the Big Ten Championship Game) and Washington, but the Huskies will have one loss to the Badgers' two.
Wisconsin also doesn't have a win over a team in the Top 20 of the Associated Press poll, which will ruin its playoff bid.
Fiesta Bowl (Playoff Game): No. 2 Clemson vs. No. 3 Ohio State
Clemson will beat Virginia Tech in the ACC Championship Game and finish a resume that includes victories over Florida State and Louisville, as well as a conference title.
Including the 12-1 Tigers in this hypothetical will be a no-brainer for the selection committee, and it will also give them the No. 2 seed over Ohio State because the Buckeyes will not be conference champions.
The Buckeyes' eventual inclusion will raise eyebrows because they will be the first College Football Playoff team to not win their conference championship.
However, their resume is so overwhelming everywhere else that it will not matter. If Wisconsin and Oklahoma each win their respective games on Saturday, Ohio State will have head-to-head victories over the Big Ten and Big 12 champions. What's more, those games each came on the road in hostile environments.
The Buckeyes also beat Michigan and suffered only one loss (to playoff contender Penn State) that was largely the result of a blocked field goal. Mike Greenberg of ESPN called Ohio State's resume "second to none."
The playoff is supposed to pit the best four teams against each other, and Ohio State has proved to fit that criteria.
Sugar Bowl: Oklahoma vs. Auburn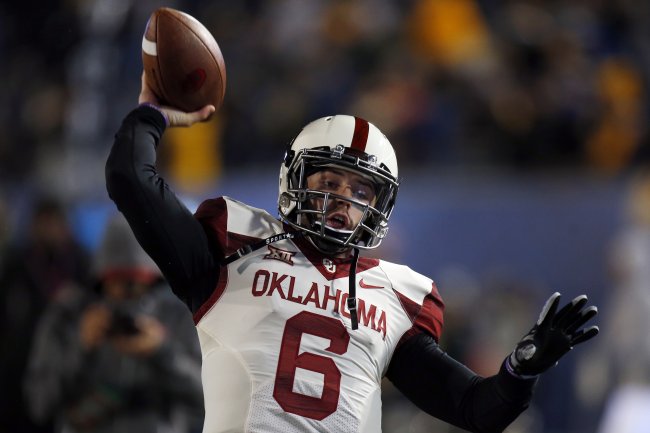 Justin K. Aller/Getty Images
The Sugar Bowl features the SEC against the Big 12, but the conference champion Crimson Tide will be in the playoff.
That leaves a lack of enticing choices from the SEC considering every team in the once-great conference except Alabama will have at least four losses when Saban's team beats Florida. Auburn is something of a default pick, but it beat LSU and Arkansas in head-to-head showdowns and competed against Clemson in a close 19-13 loss.
That alone will be enough to face Oklahoma, who will make the Sugar Bowl as Big 12 champions with a victory over Oklahoma State in the defacto conference title game.
Rose Bowl: Wisconsin vs. USC
The prediction here is the Badgers knock off Penn State in the Big Ten Championship Game behind a strong defense that limited Michigan to 14 points and forced overtime against Ohio State. Wisconsin ranks third in the nation in points allowed per game and will contain the Nittany Lions' attack.
The Pac-12 spot in the Rose Bowl will come down to USC or Colorado with Washington in the playoff. Each will have three losses, but the Buffaloes will pick up their third only because they played an extra game in the conference title contest.
Stewart Mandel of Fox Sports weighed in on the potential controversy:
Committee so far has not punished teams that lose conference title game much (see Iowa last yr) That's CU's best hope for staying above USC.

— Stewart Mandel (@slmandel) November 27, 2016
While that may be the small-sample-size precedent, USC holds a head-to-head win over Colorado and is one of the hottest teams in the nation thanks largely to a quarterback switch.
It has eight straight wins—seven by double digits—and freshman QB Sam Darnold has rallied the team with 26 touchdowns to eight interceptions after Max Browne started the season with a 1-2 record.
The Trojans will get the opportunity to finish their impressive turnaround with a Rose Bowl win.
Cotton Bowl: Penn State vs. Western Michigan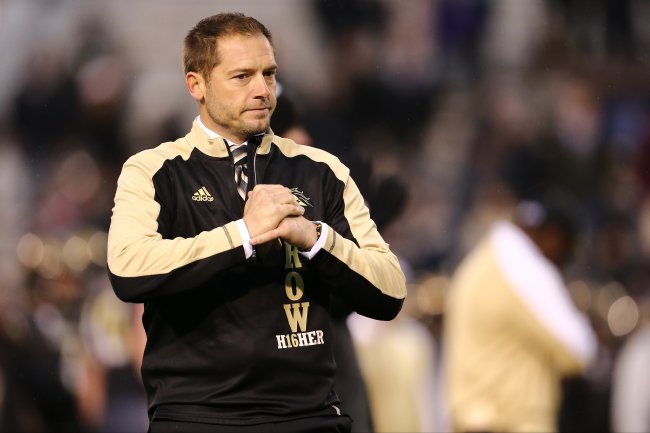 Rey Del Rio/Getty Images
Penn State will no longer be a playoff contender with a loss to Wisconsin but will make the Cotton Bowl as a consolation.
Like Mandel said, there is no precedent for punishing teams for losing conference title games, and the committee will not knock Penn State out of New Year's Six consideration for losing to Wisconsin, especially with a win over Ohio State (USC's case is different with a head-to-head win over Colorado with the teams each vying for the same spot).
Western Michigan will be a straightforward pick because the highest-ranked team not in a Power Five conference is automatically included in the New Year's Six games. As long as the Broncos beat 8-4 Ohio in Friday's MAC Championship Game, they will complete their undefeated season with a showdown against Penn State.
Western Michigan has already beaten two Big Ten teams this year (Northwestern and Illinois), and every victory was by 14 or more except that win over the Wildcats. It will have no problem with the Bobcats.
Orange Bowl: Florida State vs. Michigan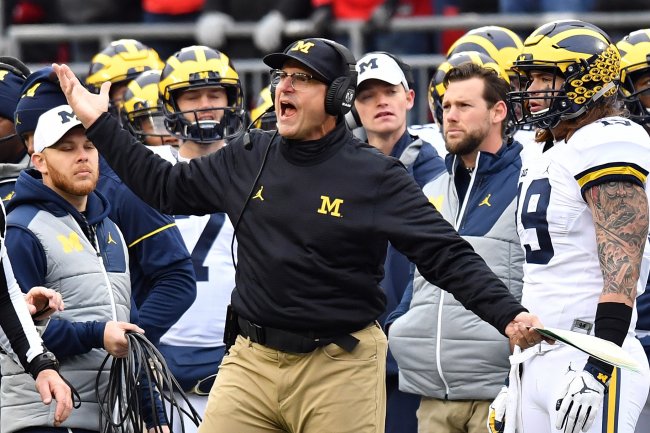 Jamie Sabau/Getty Images
One of the spots in the Orange Bowl will come down to Florida State and Louisville.
They are each 9-3, and the Cardinals destroyed the Seminoles 63-20 in their head-to-head game. However, Louisville has lost two straight, while Florida State is riding high with four straight wins, one of which came against archrival Florida. The Seminoles will be ahead of Louisville in Tuesday's rankings and will stay there with both teams done playing until the bowl season.
Who is more deserving of an Orange Bowl spot?
Who is more deserving of an Orange Bowl spot?

Florida State

Louisville
Nick Bromberg of Yahoo Sports pointed to another factor when he said, "Florida State will also be a bigger draw for the Orange Bowl too. While Louisville fans would undoubtedly be happy to head south for New Year's, finding Florida State fans in Miami isn't too tall of a task."
As for Michigan, it is not going to miss the New Year's Six games, even if they are filled with Big Ten teams.
It will have a head-to-head win over the conference champion regardless of whether it is Wisconsin or Penn State. It also beat Pac-12 South champion Colorado and lost in double overtime to Ohio State in a heartbreaker on the road.
It won't be much consolation to Wolverines fans who watched their team lose to the hated Buckeyes for the 14th time in 16 tries, but they will get a chance to beat a high-profile Seminoles squad in a marquee bowl game to end their season.