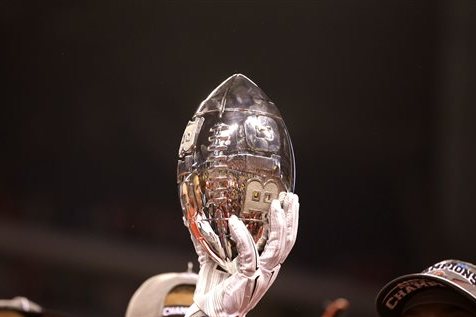 Darron Cummings/Associated Press
Penn State and Wisconsin will be battling for the Big Ten championship trophy on Saturday, but what both would much rather get is a spot in the playoffs.
Congratulations, you've made it this far.
You've survived 13 wild and exciting weekends of college football, during which we've seen blowouts and nail-biters, upsets aplenty and Hail Marys on plays that shouldn't have happened. And yet so much still has to be decided before the playoffs are set and the rest of the massive bowl picture is completed.
That happens this weekend, when championships are awarded. They're of the conference variety, but still incredibly important in the grand scheme of things.
With the playoff selection committee putting a great deal of importance on conference championships—and in the case of picking a "Group of Five" team for one of the New Year's Six bowl games, it's a flat-out requirement—coming out on top this weekend is arguably more important than winning any other game on the schedule.
But it won't be easy. Every team competing for a conference title this weekend earned that right by navigating their league slate well enough to finish at the top of its division. Well, except for the Big 12, which won't have a championship game until next season but lucked out by having its first- and second-place teams square off on the final weekend.
Think you're properly prepared for what's at stake this weekend? Just to be safe, check out what we've put together as a primer.
The Big Ones
Pac-12 Championship (in Santa Clara, California): No. 9 Colorado vs. No. 5 Washington (Fri., Dec. 2; 9 p.m. ET)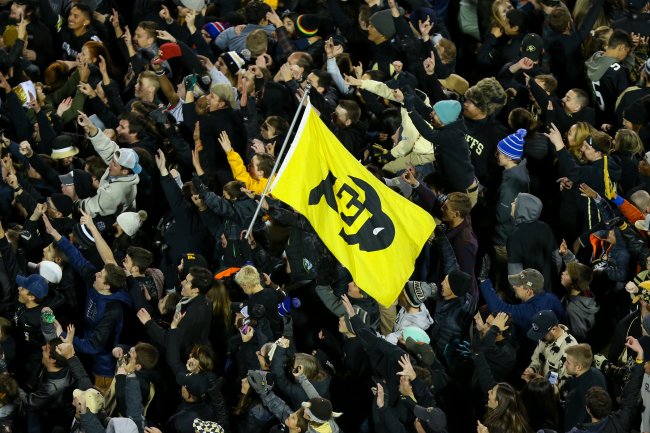 Justin Edmonds/Getty Images
It was a changing of the guard in the Pac-12 this season, with traditional powers like Oregon and Stanford falling by the wayside in the North Division and none of the regulars in the South being able to finish on top. What that's left us with is a battle of fresh blood on the night before Championship Saturday to help set the stage for the weekend.
If Colorado (10-2) isn't the feel-good story of the 2016 season it's right up there. The Buffaloes haven't been good in quite a while, and until this year their presence in the Pac-12 had been nothing more than an afterthought with a 5-40 mark in league play from 2011-15.
But Mike MacIntyre's veteran group is playing like a team that's been together for a while and has learned from its mistakes. Most importantly, Colorado understands the importance of being able to make stops on defense, and coordinator Jim Leavitt should be the frontrunner for the Broyles Award given to the top assistant coach in college football with the Buffaloes allowing 18.8 points and 4.67 yards per game.
It's been a while since Washington (11-1) was relevant, as well. The Huskies last won the conference in 2000 and over the next 15 years only reached the eight-win plateau three times. One of those was in Chris Petersen's first year on the job in 2014, while last year the Huskies were 4-6 before catching fire and carrying that over to this season.
Washington is doing it with youth, many of its key players sophomores or juniors. Quarterback Jake Browning is the league's best hope for a Heisman ceremony invite and though the Huskies have lost some notable stars on defense they're still capable of neutralizing opponents' weapons.
SEC Championship (in Atlanta): No. 15 Florida vs. No. 1 Alabama (Sat., Dec. 3; 4 p.m. ET)
Yes, this is technically a conference title game but the SEC championship was effectively determined when Alabama clinched the West Division earlier this month. That side of the league has won the conference crown seven straight years, and with the Crimson Tide (12-0) favored by 21.5 points (per OddsShark) that shows you how close this game is expected to be.
Florida (8-3) won the East for the second year in a row and you could say this was by default. The Gators blew a 21-0 lead at Tennessee and got blown out by the fifth-place team in the West (Arkansas) but because Tennessee and everyone else in the East lost at least four times in league play they claimed the division by a landslide. And the Gators' reward is getting to pit their anemic offense against Alabama's ridiculously good defense.
Consider it a variation on the immovable object/unstoppable force paradox, where the Tide are unstoppable on defense and Florida's offense will be lucky to move at all.
Florida coach Jim McElwain, once Alabama coach Nick Saban's offensive coordinator, isn't mincing words when explaining what his team is up against: "There's only been a couple times so far that I've become violently ill watching them," he said Sunday, per Dan Mathews of GridironNow.com.
ACC Championship (in Orlando): Virginia Tech vs. No. 4 Clemson (Sat., Dec. 3; 8 p.m. ET)
The ACC final has only been slightly less one-sided than the SEC championship, with the Coastal Division taking the last five games. Those were all claimed by either Clemson or Florida State, one of whom has won that division every year since 2009, while the Atlantic has its fourth different champion in as many years.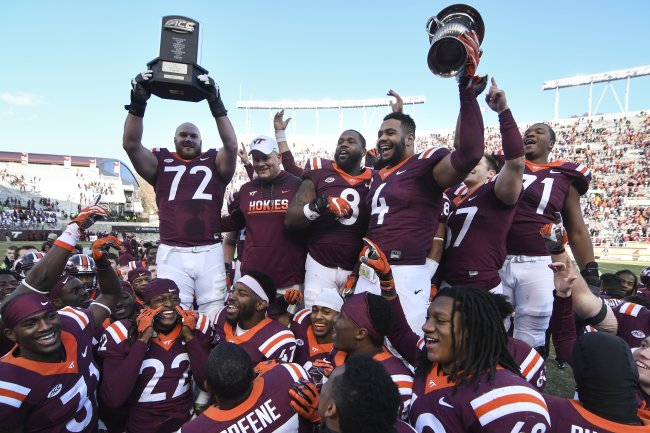 Michael Shroyer/Getty Images
Virginia Tech (9-3) finished on top by virtue of successfully navigating a hurricane back in October to beat North Carolina. The Hokies had a few outlier-type losses after that, by 14 at Syracuse and a mistake-filled home setback to Georgia Tech, but overall they've looked sharp under first-year coach Justin Fuente. He's the only first-year coach in FBS vying for a conference title, making the transition from the Frank Beamer era incredibly smooth.
Defending ACC champion Clemson (11-1) hasn't looked as good as the team that reached the national championship game in January and came very close to knocking off Alabama. But that's in comparison to itself, not to other schools, against whom the Tigers still match up very favorably.
Quarterback Deshaun Watson has better passing numbers than a year ago though his rushing output is down, but with a veteran group of weapons around him the Tigers are still scoring 40 per game. And their defense, despite sending a good portion of the 2015 edition to the NFL, has the potential to be even better than a year ago.
Orlando's Camping World Stadium is hosting this game instead of the usual setting of Charlotte's Bank of America Stadium. The ACC made the change in late September in response to North Carolina passing a controversial law preventing cities and towns from establishing protections for sexual orientation or gender identity.
Big Ten Championship (in Indianapolis): No. 7 Penn State vs. No. 6 Wisconsin (Sat., Dec. 3; 8 p.m. ET)
While the path to the playoffs is pretty clear for the favored teams in the ACC, Pac-12 and SEC championship games, it's a little cloudier in the Big Ten. This is apropos since the Midwest is where we most often get such traditional "football weather" at this time of year, never mind the fact Penn State (10-2) and Wisconsin (10-2) are playing in a dome.
Odds to Make College Football Playoffs

| | | |
| --- | --- | --- |
| Team | Conference | % Chance |
| Alabama | SEC | 92 |
| Ohio State | Big Ten | 89 |
| Clemson | ACC | 77 |
| Washington | Pac-12 | 66 |
| Wisconsin | Big Ten | 34 |
| Penn State | Big Ten | 20 |
| Colorado | Pac-12 | 10 |
| Oklahoma | Big 12 | 9 |
| Michigan | Big Ten | 2 |
| Oklahoma State | Big 12 | 2 |
FiveThirtyEight.com
These teams face a unique situation in that each would be worthy of a semifinal spot if they won college football's best conference but there's no guarantee there will be a bid available to the winner. That's because Ohio State, which tied Penn State atop the East Division but lost the tiebreaker by virtue of its head-to-head loss, it looking like a pretty safe bet to make the playoffs. The Buckeyes (11-1) were second in the latest playoff standings and just knocked off No. 3 Michigan in double overtime in what many considered a playoff quarterfinal.
Conference champions have comprised all eight playoff spots in the first two years of the system but that trend looks like it will end unless the playoff committee pulls a 2014 TCU and drops OSU out of the top four because of its lack of a so-called 13th data point by not playing this weekend. More likely, though, is the Penn State-Wisconsin winner would potentially bump either Clemson or Washington out if all the favorites win.
Though for that to happen might depend more on how the Nittany Lions or Badgers beat the other. A tight, one-score victory isn't likely to sway the committee enough to lift the winner into the top four, but a curb-stomping performance could.
The DeFacto One
No. 10 Oklahoma State at No. 8 Oklahoma (Sat., Dec. 3; 12:30 p.m. ET)
Over the last six months the Big 12 acted out its own version of the classic sitcom "will they or won't they?" storyline. In the summer it decided to pursue expansion from 10 to as many as 14 teams, prompting a slew of suitors from all corners of the country to express interest. Ultimately they passed on the entire lot, choosing to stick with what they had and hope that's good enough to remain relevant.
And then every team in the conference lost at least once before the end of October, effectively knocking the Big 12 out of playoff contention. Almost.
Oklahoma (9-2) and Oklahoma State (9-2) are still in the mix, though just barely. And only because the Sooners and Cowboys scheduled their annual Bedlam game for championship weekend—next year the Big 12 will have an official conference title game—and these teams happen to be first and second in the standings is there even a hint of a shot for the winner to make the playoffs.
The Sooners were declared out of the playoff race before Big 12 play even began after starting 1-2 with losses to Houston and Ohio State, but eight straight wins has them surging at the right time and in position to slide into the top four like they did a year ago. For OK State the situation is a little more dire: first the Cowboys have to win in Norman for the second straight time (which they last did in 1995 and 1997) and hope the selection committee gives them a pass for their 30-27 loss to Central Michigan that was the result of officials erroneously giving CMU an extra play that they used to pull off a miraculous Hail Mary/hook-and-lateral final play.
Mike Gundy on Oklahoma State's loss to Central Michigan: "I consider that a win and always will."

— Kellis Robinett (@KellisRobinett) November 28, 2016
The Rest of the Lot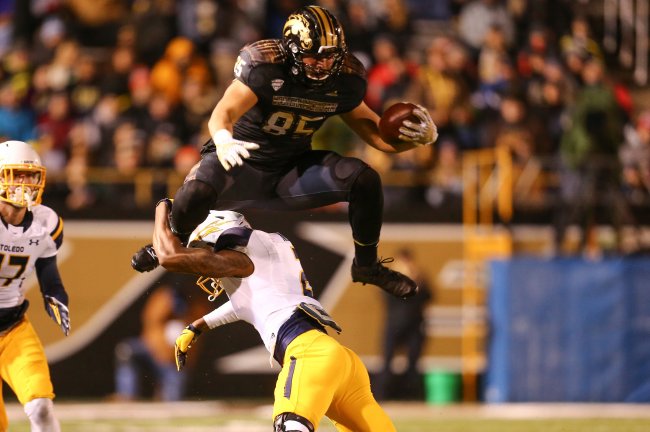 Rey Del Rio/Getty Images
Mid-American Championship (in Detroit): Ohio vs. No. 21 Western Michigan (Fri., Dec. 2; 7 p.m. ET)
Western Michigan (12-0) began its season with wins at Big Ten schools Northwestern and Illinois and just kept on winning. The Broncos dominated the MAC and are probably going to be in the market for a new coach since P.J. Fleck is very likely to get snatched up by a power-conference program, but it will all be worth it if they can take care of business one more time.
With Boise State and Houston not eligible to claim the "Group of Five" bid to a New Year's Six bowl game, since they can't be conference champions, a trip to the Cotton Bowl is Western Michigan's to lose. Considering they beat their eight league opponents by an average of 29.4 points per game, Broncos fans should start looking up flights to Dallas.
American Athletic Championship: Temple at No. 25 Navy (Sat., Dec. 3; noon ET)
Forever an independent program, and quite happy to be one, last year Navy (9-2) made a business decision to join a conference for the first time. Smart move by the Midshipmen, who are 14-2 in league play in those two seasons and this fall won their first-ever division title. Now they get to host the AAC title game with an outside shot to get into a major bowl game if they win and Western Michigan slips up in the Mid-American final.
Coach Ken Niumatalolo passed on coaching BYU in the offseason, opting to stick with the program he's been with for all but three years since 1995. Assuming his team's option run game can get past two-time East Division champ Temple (9-3) at home, where Navy has won 12 straight, Niumatalolo will get to hoist the program's first-ever conference title as well.
Conference USA Championship: Louisiana Tech at Western Kentucky (Sat., Dec. 3; noon ET)
With seven of its 13 schools finishing below .500, Conference USA is arguably the worst league in FBS. But it's not all bad, as the top of the conference features some of the best offenses in the country.
Louisiana Tech (8-4) and Western Kentucky (9-3) rank first and second, respectively, in FBS in yards per play. The Bulldogs average 7.68 yards per snap and the Hilltoppers aren't far behind at 7.51, and each averaged 44 points per game.
This is a rematch of an Oct. 6 meeting in Ruston, Louisiana that epitomized these teams' firepower. Louisiana Tech won 55-52 in a game that featured 988 yards of total offense.
Mountain West Championship: San Diego State at Wyoming (Sat., Dec. 3; 7:45 p.m. ET)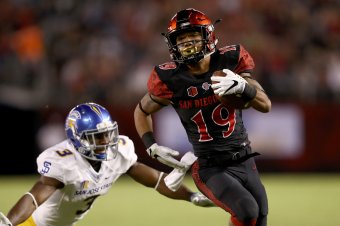 Sean M. Haffey/Getty Images
Defending league champ San Diego State (9-3) heads into this game on a two-game skid that started with a 34-33 loss at Wyoming on Nov. 19 in which the Aztecs scored on a Hail Mary as time expired and went for two and the win but couldn't convert. Wyoming (8-4) won the Mountain Division thanks to a 30-28 victory over Boise State in late October for its first title of any kind since 1998, not bad for a team that was 2-10 a year ago.
The winner gets to play in the Las Vegas Bowl, where SDSU last appeared in 1998 and Wyoming was last involved in 2004.
Looking for plenty of rushing yards in this one, as two of the top four running backs in FBS are on display. Wyoming junior Brian Hill has run for 1,674 yards with 21 touchdowns while SDSU senior Donnel Pumphrey has gained 1,908 yards and score 15 times. Pumphrey, with 6,180 career yards, needs 218 to surpass Wisconsin's Ron Dayne for the FBS career record.
All recruiting information courtesy of Scout.com, unless otherwise noted. All statistics provided by CFBStats, unless otherwise noted.
Follow Brian J. Pedersen on Twitter at @realBJP.