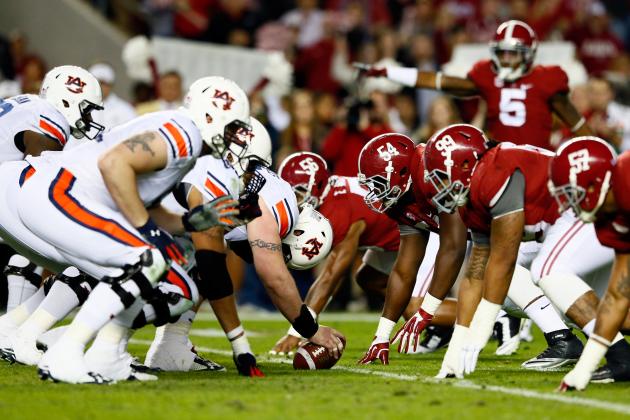 Kevin C. Cox/Getty Images
Alabama and Auburn meet Saturday in the Iron Bowl, one of the biggest rivalry games in college football.
It's hate week in college football, and that's something to love.
While there's much sadness to be had about the fact that we're approaching the final full weekend of the 2016 regular season, you can't beat the lineup for this last act. Of the 61 games set to kick off between Tuesday evening and Saturday night, nearly half of them pit rivals with varying levels of dislike for each other in annual grudge matches.
There are bragging rights on the line, not to mention some sweet-looking trophies, and in many cases a win would mean becoming bowl-eligible and earning not just another game but a free vacation to some random destination—Quick Lane Bowl in Detroit on Dec. 26, anyone?—as well as some much-coveted bowl swag. And several could also determine division or conference titles and make or break a team's shot at the playoffs.
Almost every college football fan has something to be thankful about with this weekend's slate. But just in case you're meh about the slate, we've broken down the rivalry games into helpful categories to show which are more important than others. (Though we know your team's game against those bums from down the road is really the only one that matters).
High-Stakes Battles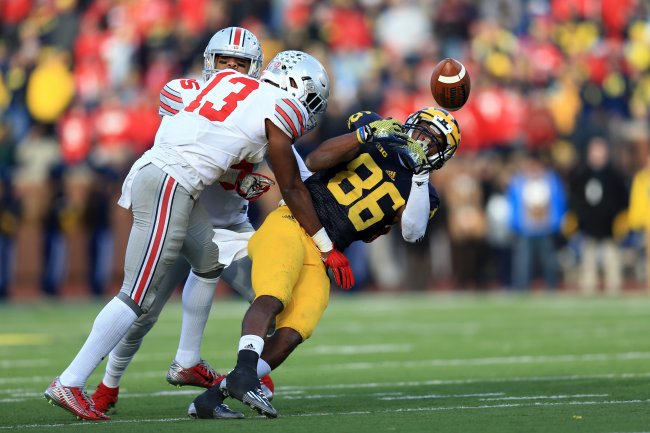 Andrew Weber/Getty Images
Every game on this list involves at least one team that's still in the hunt for the playoffs or is vying for a division title and a spot in a conference title game, in many cases both. That adds extra fuel to the fire because it means teams that don't have such things at stake can potentially rob rivals of a great prize, like they needed something else to motivate them.
The Game, Michigan at Ohio State (Saturday, noon ET): You know it's a rivalry when alphabet restrictions are involved, but Ohio Gov. John Kasich's request last year that the letter M not be used on what he's declared "Scarlet Letter Saturday" is only a minor footnote to this year's game. Much more important is the impact the 113th meeting between the Wolverines and Buckeyes will have on the playoffs.
Ohio State (10-1) is No. 2 in the most recent playoff standings, with Michigan (10-1) right behind at No. 3. The winner vastly improves its chances of getting a semifinal bid, with a victory locking up the Big Ten's East Division title for Michigan. OSU takes the division with a win and a loss by Penn State.
Apple Cup, Washington at Washington State (Friday, 3:30 p.m. ET): Normally just a quirky regional rivalry that generates little interest outside the state, this time around there's a whole lot more at stake. First off, the winner claims the Pac-12's North Division title and their first appearance in the conference title game.
For Washington (10-1), a victory drastically improves its playoff standing and helps repair the damage done from the home loss to USC earlier this month. The Huskies dropped from fourth to sixth in the rankings after that one.
Wazzu (8-3) has only won one of the previous seven meetings (in 2012), but a victory puts the Cougars in position to play for a spot in the Rose Bowl for the first time since 2003.
Iron Bowl, Auburn at Alabama (Saturday, 3:30 p.m. ET): Alabama (11-0) is No. 1 in the nation by a long ways, the only unbeaten power-conference team in FBS and riding a 23-game winning streak as defending national champions. The Crimson Tide are so far ahead of the field, Bleacher Report's Adam Kramer noted they could have skipped Saturday's 31-3 win over Chattanooga to "play laser tag or have a pizza party" and still been at the top.
Alabama has already clinched the SEC's West Division and a third consecutive conference title game appearance, where it will face Florida for the second straight season on Dec. 3, and a third consecutive playoff bid seems all but assured. But don't expect the Tide to play soft against hated rival Auburn.
The Tigers (8-3) could still land a New Year's Six bowl slot, and beating 'Bama would go a long way toward that cause. It's only done so once in the previous five tries, and only because Nick Saban lobbied for an extra second to be put on the clock so his team could attempt an ill-fated field goal in 2013.
Rumble in the Rockies, Utah at Colorado (Saturday, 7:30 p.m. ET): Rivalry games don't normally have a 49-year gap in the series as is the case with these mountain-state foes. They hadn't played since 1962 when they met again in 2011 following their simultaneous addition to the Pac-12. Until this year their annual season-ending game was basically an afterthought.
Then Colorado (9-2) decided to become good at football again, clinching bowl eligibility for the first time since 2007 and its most wins since 2002. One more victory and the Buffaloes win the Pac-12's South Division after going a combined 5-40 in the previous five seasons. They remain a dark-horse playoff contender.
Land Grant Trophy, Michigan State at Penn State (Saturday, 3:30 p.m. ET): Penn State (9-2) takes the Big Ten East Division with a victory and a loss by Michigan and is very much in play for the playoffs, something that didn't seem possible after the Nittany Lions were thumped 49-10 at Michigan on Sept. 24. Since then they've won seven straight, knocking off Ohio State along the way and creating a three-way tie atop the East.
Palmetto Bowl, South Carolina at Clemson (Saturday, 7:30 p.m. ET): Clemson (10-1) will be playing for a second straight ACC title on Dec. 3 against an undetermined opponent and should make a second straight playoff appearance if it wins out. That means also avoiding an upset to an upstart South Carolina team (6-5) that's exceeded expectations in Will Muschamp's first season.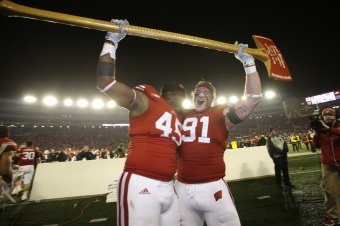 Mike McGinnis/Getty Images
Paul Bunyan's Axe, Minnesota at Wisconsin (Saturday, 3:30 p.m. ET): The longest continuous rivalry game in FBS, they've played every year since 1907. A massive axe has been on the line since 1948 (before that they played for the "Slab of Bacon," which is so Upper Midwest). Wisconsin (9-2) has won 12 straight over Minnesota (8-3) and a 13th means a Big Ten West title, keeping the Badgers in the hunt for the playoffs.
Florida at Florida State (Saturday, 8 p.m. ET): There's no fancy name for this rivalry and the Florida Cup trophy only gets handed out in years that both teams also play Miami (which last happened in 2013 and won't again until 2019). No titles are at stake this time around since Florida (8-2) has already clinched the SEC East. But the Gators can't afford a loss if they think there's still a shot to make the playoffs. They've lost three straight to the Seminoles (8-3), with only 28 total points during the span.
Notre Dame at USC (Saturday, 3:30 p.m. ET): They play for the Jeweled Shillelagh, a club that gets an emerald or ruby added to it each year depending on who wins. Notre Dame (4-7) has taken four of the last six meetings, but it's USC (8-3) that is in a must-win situation. The Trojans, who win the Pac-12 South if Colorado loses to Utah, would be an intriguing playoff option if they win out and enough chaos happens above them.
War on I-4, UCF at South Florida (Saturday, noon ET): Though they've played seven times since 2005, including the previous three seasons, it wasn't until this year that the rivalry got an official name and requisite trophy. So now they're playing for a pewter highway sign while South Florida (9-2) can also win the American Athletic Conference's East Division with a victory and a loss later Saturday by Temple.
Bowl Eligibility or Bust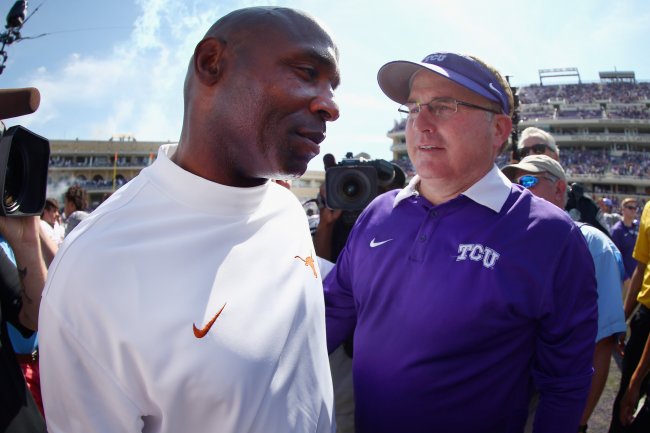 Tom Pennington/Getty Images
We enter the final weekend of November with 65 FBS schools having reached the six-win threshold needed to ensure bowl eligibility. Another 18 can get there with a victory in the next game, which for several teams means needing to beat their rival.
TCU at Texas (Friday, 3:30 p.m. ET): It's the only game on the Week 13 schedule where both teams are looking for that sixth win, though TCU also has a game Dec. 3 against Kansas State, so it's not in a must-win situation. Texas coach Charlie Strong wants to get his seniors to a bowl game but doesn't know if he'll be around to see such an event since reports have been swirling about his impending termination since the Longhorns lost at Kansas on Saturday.
North Carolina State at North Carolina (Friday, noon ET): NC State coach Dave Doeren is 23-26 in four seasons with the Wolfpack and 1-2 against UNC. Evening his record against the Tar Heels would mean a third consecutive bowl bid and help ensure he gets a fifth year on the job.
Arizona State at Arizona (Friday, 9:30 p.m. ET): The Territorial Cup is the oldest rivalry trophy in college football, dating back to 1899, though the cup went missing for 80 years until it was found in a church basement in 1980. ASU has won three of four over the Wildcats and coach Todd Graham needs to get another victory to ensure his Sun Devils go bowling for a fifth straight season.
Purdue at Indiana (Saturday, noon ET): The Old Oaken Bucket is on the line between these Hoosier State rivals, as is bowl eligibility for Indiana. The Hoosiers, who lost to Duke in overtime in the Pinstripe Bowl last season, haven't been to consecutive bowls since 1990-91.
Illinois at Northwestern (Saturday, noon ET): Northwestern guarantees a bowl bid with a fourth win in five tries against Illinois, but even if the Wildcats lose the Land of Lincoln Trophy they're still in good shape for a 13th game since their APR score is second-best in the country and puts them near the top of the list if some bowls need to invite 5-7 teams.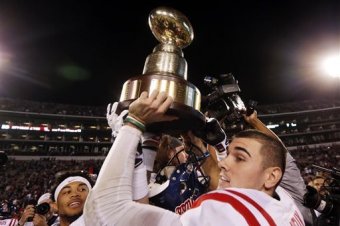 Rogelio V. Solis/Associated Press
Mississippi State at Ole Miss (Saturday, 3:30 p.m. ET): The Egg Bowl returns to its normal level of regional-only interest after being in the national spotlight the previous two years when both teams were ranked. The 113th edition is only significant because Ole Miss can clinch a fifth straight bowl bid with a victory.
Tennessee at Vanderbilt (Saturday, 7:30 p.m. ET): Tennessee was picked to win the SEC East, but after a midseason slump it will finish between second and fourth depending on if it can beat Vanderbilt for a third straight time. A win for the Commodores gets them bowl-eligible for the first time under third-year coach Derek Mason.
Playing for Pride
"Well, at least we beat our rivals."
It's among the saddest phrases in sports, but for many college football fanbases a victory over their team's archrival can serve as a salve for an otherwise painful season. That and bragging rights are about all that's at stake in this last group of rivalry games.
LSU at Texas A&M (Thursday, 7:30 p.m. ET): LSU began the season as a Top 10 team and Texas A&M was fourth in the first playoff rankings. They're now a combined 14-7 overall and 8-6 in the SEC, with one (LSU) playing under an interim coach and the other possibly in the market for a new leader if the powers that be decide Kevin Sumlin's annual second-half slides are no longer tolerable.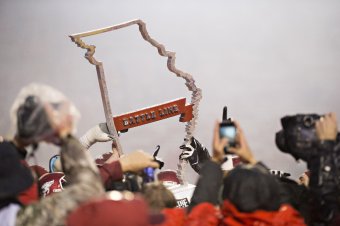 Wesley Hitt/Getty Images
Arkansas at Missouri (Friday, 2:30 p.m. ET): Missouri used to be part of one of the most heated rivalries in the game with its Border War against Kansas, but that died with the Tigers' move to the SEC in 2012. Now they're part of the manufactured Battle Line Rivalry against Arkansas in a series that's had the six previous meetings each played in different cities.
Baylor vs. Texas Tech in Arlington, Texas (Friday, 6 p.m. ET): Rivals since their Southwest Conference days, Baylor and Texas Tech have met at the home of the Dallas Cowboys since 2011. Each of those games have had at least 94 points scored. With neither team having won in November, there's nothing holding them back from putting up triple digits.
Georgia Tech at Georgia (Saturday, noon ET): It's the best rivalry name in college football, Clean Old-Fashioned Hate, and it's been played since 1893. And with each team at 7-4 it should be a pretty decent matchup even though there's nothing riding on the result.
Kentucky at Louisville (Saturday, noon ET): Kentucky has gone into this game the previous two seasons needing to win in order to be bowl-eligible and proceeded to blow a lead to finish at 5-7. The Wildcats avoided potentially repeating that scenario by getting that elusive sixth win on Saturday, leaving them free to serve as Louisville quarterback Lamar Jackson's final Heisman Trophy audition tape victim.
Kansas at Kansas State (Saturday, noon ET): The Sunflower Showdown has been played every year since 1911 and you can count on one hand how many times the game has had major national implications. This isn't one of those times, though Kansas could make history by ending its FBS-record 40-game road losing streak.
Virginia at Virginia Tech (Saturday, noon ET): The Commonwealth Cup normally has bowl eligibility implications but Virginia Tech isn't coming in with five wins like in three of the previous four years. Instead the Hokies can win the ACC's Coastal Division for the first time since 2011 with a 13th straight win over Virginia.
San Jose State at Fresno State (Saturday, 3:30 p.m. ET): They play for the Valley Trophy, but whoever hoists that oversized V will be doing so with plenty of sadness. Fresno is the only 10-loss team in FBS and fired its coach last month—and already found his replacement in former California coach Jeff Tedford—while 3-8 San Jose State might also be considering a change as Ron Caragher is 18-30 in four seasons.
Oregon at Oregon State (Saturday, 4 p.m. ET): The Civil War is always among the wildest rivalry games even when Oregon was heads and shoulders above Oregon State in terms of talent and record. This year the winner avoids finishing in last place in the Pac-12 North Division.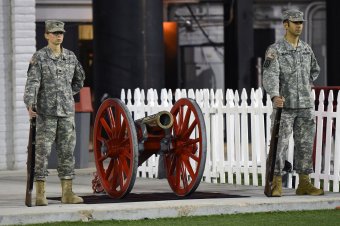 Ethan Miller/Getty Images
Nevada at UNLV (Saturday, 4 p.m. ET): The Fremont Cannon is the largest rivalry trophy in college football and it's changed hands in four consecutive seasons with the road team winning each time. To that end, congratulations in advance to Nevada.
Utah State at BYU (Saturday, 10:15 p.m. ET): The Old Wagon Wheel goes to the victor, which has been BYU in 24 of 27 meetings since 1983.
All recruiting information courtesy of Scout.com, unless otherwise noted. All statistics provided by CFBStats, unless otherwise noted.
Follow Brian J. Pedersen on Twitter at @realBJP.