Jonathan Bachman/Getty Images
LSU RB Leonard Fournette
It's November, which means the races for the College Football Playoff, conference titles and Heisman Trophy are in full gear.
LSU will host Alabama this week in a game with major CFP and SEC implications, Nebraska will visit Ohio State in a key cross-division Big Ten matchup, and Louisville's Lamar Jackson will hope to continue his Heisman run during the final full month of the season.
Bleacher Report experts Adam Kramer, Barrett Sallee, Chris Walsh, Greg Couch and Michael Felder break down Week 10 of the 2016 college football season in this week's edition of expert picks.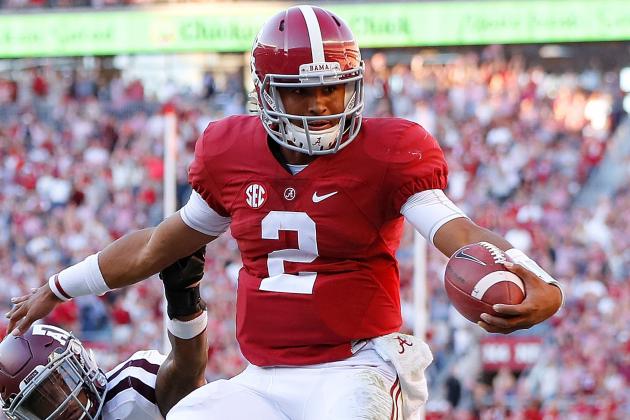 Kevin C. Cox/Getty Images
Alabama QB Jalen Hurts
Adam Kramer
Yes, Alabama can and will beat LSU, but this victory won't be as easy as some believe.
LSU interim head coach Ed Orgeron is essentially coaching for his job here, and the energy he has infused in the program since stepping in for Les Miles is real. The issue is that the offense may struggle through the air, and the Tigers will be depending on their running game more than ever. They'll have to be more efficient than they were last year, when Leonard Fournette was often hit right as he touched the ball.
This game will be ugly—a beautiful kind of ugly. It will be defensively driven and close for a while. Ultimately, Alabama will make a few more plays. But I don't see this as a blowout. This should be a great deal of fun.
Barrett Sallee
Yes, it will do so with relative ease. Orgeron has made a few tweaks to LSU's offense, including mixing up some formations and passing on what used to be obvious running downs. But as the head coach of the Tigers, he hasn't faced a defense currently ranked in the top 80 nationally in yards per play allowed. Alabama is third (4.22).
Alabama's defensive line and linebackers are well-versed in stopping the run, which they will do enough to force Tiger quarterback Danny Etling to beat the Crimson Tide with his arm. I don't see that happening. This game might be tight for a while, but Alabama will make a big defensive play or two in the second half and cruise to a 31-14 win.
Chris Walsh
Yes, but it'll be a tough, close win. This is basically LSU's season, and the talented Tigers are rested after enjoying a second bye week. Orgeron and Lane Kiffin are obviously familiar with each other, so it bears watching whether any of that carries over into the game. But on the field, the key matchup is LSU's high-powered running game against Alabama's defense, which ranks No. 1 nationally against the run.
Greg Couch
I've never thought Orgeron would have a shot at moving from interim coach to a permanent spot, but if the Tigers win this game, then why not? They're 3-0 under Orgeron, the offense is a little less predictable, and the players already seem to be emotionally connected to him. And LSU's losses under Miles this year don't look nearly as bad as they once did. LSU keeps this close, but Alabama wins.
Michael Felder
Yes, it will win its sixth straight. LSU, for all its improvements, is still not the type of team that makes Nick Saban uncomfortable. With Etling at QB for the Tigers, this is Saban playing against almost Zach Mettenberger. A thrilling game may ensue because both teams have plenty of talent, but there isn't the discomfort that comes with mobile quarterbacks and chunk plays.
A 24-21 or 17-14 game against a running or passing team is what Saban dreams about. He'd rather take his defense on the field to close things out instead of relying on his true freshman quarterback to put up 35-plus points to keep pace with the opposition.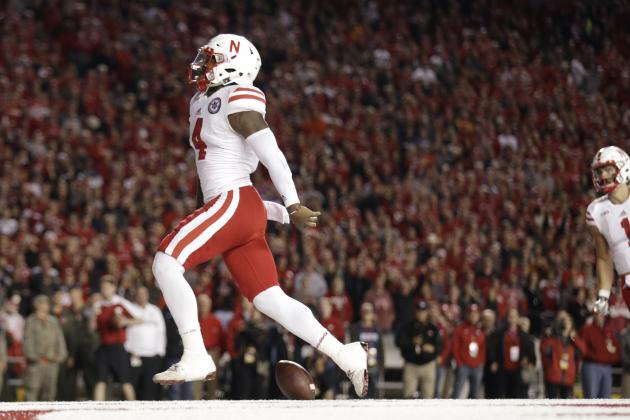 Mike McGinnis/Getty Images
Nebraska QB Tommy Armstrong
Kramer
At this point, how could the Buckeyes not be concerned? It's not so much a Nebraska thing—although the Cornhuskers delivered a game effort against Wisconsin—but a reality that they aren't clicking as of late.
Ohio State should win this game, but I don't see this being lopsided. Nebraska showed last week that it can compete, and it will likely hang around once again in The Horseshoe. My chief concern for the Cornhuskers is the aftermath of their time in Madison. Goodness, there was some hitting in that game. That could play a role.
Give me the Buckeyes, close-ish.
Sallee
I'm done thinking Ohio State is a legitimate national championship contender. If its offensive line doesn't get fixed, there's no way it can beat Michigan and win the Big Ten East. It will have enough in the tank to get by Nebraska, but I fully expect Buckeyes quarterback J.T. Barrett to get some heat from the Cornhuskers defensive front and the Ohio State offense to struggle at times. Barrett will find a way to get the job done, but expect Nebraska to have a puncher's chance in the fourth quarter.
Walsh
Absolutely, but that doesn't mean the Buckeyes are going to lose, especially playing at home. Even though Nebraska lost in overtime at Wisconsin last week, it gained some respect and showed that its 7-0 start wasn't a fluke or all scheduling. Ohio State won't underestimate Mike Riley's team and will pull out the home win.
Couch
Ohio State should be worried about Ohio State. Talk about losing mojo. Losing to Penn State seems like a rough moment. Following that up by barely beating Northwestern is a trend. The Buckeyes are too talented to be playing so conservatively. They should definitely be worried. But they'll win.
Felder
I'm picking Ohio State to win…but I don't have a ton of confidence like I did when the Buckeyes faced Oklahoma. This Ohio State team has legitimate issues along its offensive front, and if Nebraska can get Barrett hurried and harassed just like Northwestern and Penn State did for much of their respective games, the Huskers will have a shot to win it late. The Wildcats couldn't grab that opportunity; Penn State caught some breaks and got it done.
The Buckeyes will win, but they have to show some positives up front to rebuild confidence.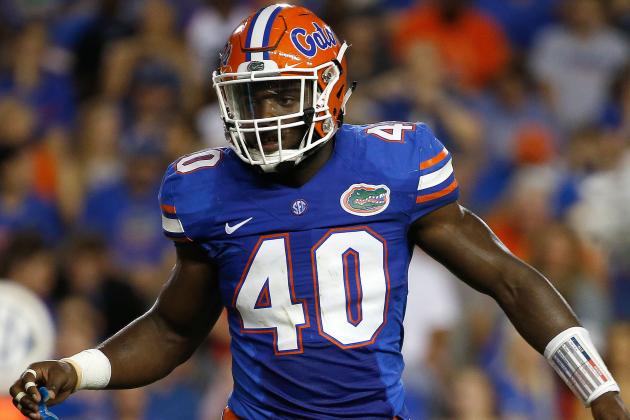 Kim Klement-USA TODAY Sports
Florida LB Jarrad Davis
Kramer
Florida has to be one of the more curious one-loss teams in recent memory, and it appears to only be getting better. Although Arkansas is coming off a much-needed bye after giving up roughly 2,000 points to Auburn, the Gators have an edge here and should pick up the win.
On the topic of the playoff, we should be talking about this more, yes? If the Razorbacks win this week, beat LSU, and finish off Mississippi State and Missouri, things will get even weirder. This would be a big obstacle to get beyond.
Sallee
Yes, easily. Arkansas has a major flaw on its offensive line, and the three SEC teams it has lost to—Texas A&M, Alabama and Auburn—exploited it to no end. What's Florida's strength? A defensive front that's allowing just 4.01 yards per play, second-best in the country.
As for the playoff, the Gator offense is still very much a mystery because of the midseason absence of quarterback Luke Del Rio. I expect Florida to build a lead and get creative with its offense to see just how much Del Rio can handle. But with a defense like the one head coach Jim McElwain has, the Gators should be considered a fringe playoff contender at this point—and will look like more of one after this weekend.
Walsh
Even though they're in the same conference, these teams don't play often. This is the first game between them since 2013, and the Gators have won all nine matchups since the Razorbacks joined the SEC in 1992. I want to pick Arkansas in this game, especially coming off a bye week and playing at home, but I can't. The Gators defense is carrying the team again, and it's playing well on the line, which is where this game will be decided.
Couch
Actually, I think Arkansas is going to win. But even if Florida does win, it will be a step toward an SEC East title, not a spot in the playoff. The Gators are good again, but let's not go overboard.
Felder
The Gators will beat Arkansas, which, I guess, is technically a step toward the CFP. I'm not confident in their ability to come out of the SEC as the team with the bid. Beating Alabama seems too tall a task, and that is also making a lot of assumptions, as contests against LSU and Florida State still loom large. The Gators have a good record and a defense I love, but they aren't a team that says "contender."
For that reason, it's tough to view beating Arkansas as anything beyond a plus for the win total but not an actual march to a playoff spot.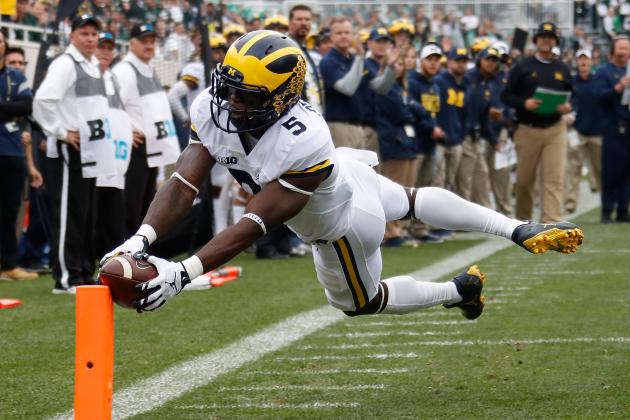 Gregory Shamus/Getty Images
Michigan ATH Jabrill Peppers
Kramer
No. While Maryland is a nice team, Michigan is back at home and will have no issues here.
Yes, Michigan State made it weird for a while. But Michigan is a different team at home, and Maryland has lost three of its past four games. This is an entirely different level of difficulty, and it would not shock me to see the Michigan defense respond in enormous fashion.
Since that's handled, can we talk about Jim Harbaugh's new glasses quickly? I have not adjusted to them yet, and I'm still waiting for that time to come. As long as they continue to play like this, though, he can wear whatever he pleases.
Sallee
Nah, not really. Although, it wouldn't totally shock me to see the Terrapins defense have some early success against Michigan since new Terps head coach D.J. Durkin was Michigan's defensive coordinator last year and is familiar with Harbaugh's tendencies. But the Wolverines will pop a couple of big plays—perhaps with Heisman contender Jabrill Peppers—and pull away to a 17- or 20-point win.
Walsh
Maryland may be 5-3, but it has lost three of its last four games to Penn State, Minnesota and Indiana. Making matters worse is that this is its first of three games against ranked opponents, with Ohio State and Nebraska up next. Perhaps the Terrapins can wear their four-color state-flag uniforms and have them light up, confusing the Wolverines long enough to score a touchdown. Even so, they'd still lose by 25 points.
Couch
Michigan plays at home against a team that has lost three of its past four games. Maryland can't stop the run and Michigan can run. Game over. Blowout.
Felder
Michigan is not going to lose to Maryland. The Wolverines are not just good, but their players are focused and disciplined. After a game in which Michigan State found some unexpected successes, the Wolverines will be on even more alert to play their best game. Basically, I expect to see everyone functioning at a high level, which means Maryland is in a tough spot.
Andy Lyons/Getty Images
Louisville QB Lamar Jackson
Kramer
Style points are wildly important for Louisville moving forward, as much as we say they don't matter. Because the Cardinals will almost certainly have to crash the playoff as a nonconference champion, they have to be that much better than other teams.
We saw Clemson dismantle Boston College at home earlier this season, and I believe Lamar Jackson will do the same. It won't be by 50, but I am seeing a three-touchdown Louisville win, which will be good enough to hold the CFP serve.
Oh, and Jackson will continue to be a video game cheat code. That too.
Sallee
Yes, because while Jackson had a great game last week against Virginia, his receivers let him down quite a bit with several key drops. That will change this week. Boston College's defense is a far cry from that of last season, has already been stomped by Clemson at home and will suffer the same fate this weekend when Jackson continues his Heisman march.
Walsh
Sort of. Boston College will slow the Cardinals offense, but the Eagles have struggled offensively this season. Granted, they had 386 total yards against North Carolina State and pulled off a 21-14 upset last week, but Louisville can score in the blink of an eye. Don't be surprised if it has another lackluster showing against another inferior team this season, but this won't be it.
Couch
Louisville is in good shape to win out from here, but to get into the playoff, it's going to have to be picked above champions of major conferences. That's a huge favor to ask of the committee. Louisville needs to keep putting up points and keep pointing out that it has Jackson. Both of those things will happen.
Felder
Louisville will win against Boston College, perhaps even by a lot of points. However, that doesn't mean it's making a playoff impression. It means the Cardinals did what they were supposed to do—the same as when Clemson beat the Eagles. A win over Boston College isn't proof this team is playoff-worthy.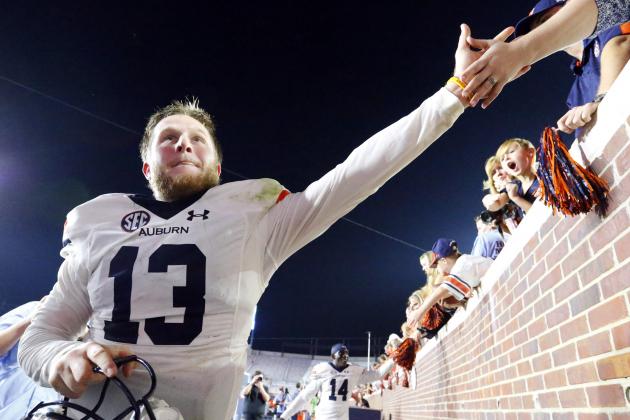 Butch Dill/Getty Images
Auburn QB Sean White
Kramer
I don't know if handling Vanderbilt qualifies as making a statement, but Auburn's season-long statement will continue. Yes, the Tigers will win a game they should win. It's just remarkable how quickly all of that is assumed and how much this team is prepared.
We wanted Gus Malzahn fired. The offense was broken. We were lining up new head coaches. Now, strangely, they feel like a real threat to Alabama in the Iron Bowl and a balanced team you don't want to play.
That will continue at home as planned.
Sallee
Auburn because it has nothing to do with its opponent—Vanderbilt—and everything to do with Auburn.
The Tigers have the best rushing attack in the SEC, the most efficient passer in the SEC and a defensive front that routinely finds its way into the backfield. That will continue against the Commodores on Saturday afternoon, and it will signal to the rest of the conference that this team is for real and could force the Iron Bowl to be the de facto SEC West title game with a little help.
Walsh
I'm going to go with something different—Colorado. A good portion of the nation hasn't seen the Buffaloes since they visited Michigan, but they'll be playing on national television Thursday night with a chance to make a lasting impression. UCLA has lost three straight and four of five games. All four losses were pretty close, but the Bruins haven't hit rock bottom yet. What better place to do it than Boulder?
Couch
There are a lot of moving parts in that question. Oklahoma has a shot at the CFP and has two losses, but you can't make a statement against Iowa State. Auburn can't make a statement against Vandy. I'm going with Colorado beating UCLA. The Buffs are re-emerging after years of being bad and have a real shot at getting to the Pac-12 title game (where Washington will crush them).
Felder
This week? None of them. Auburn plays Vandy; you can't make a statement against the Commodores. Same goes for Virginia Tech, Washington State, Wisconsin, Oklahoma, Utah, UNC, Penn State, Colorado and Oklahoma State. All of the top-ranked two-loss teams play opponents that have nothing to do with the playoff or being in playoff contention.
Realistically forecasting, Auburn is probably the two-loss squad that can make noise first, playing Alabama in the Iron Bowl. After that, championship weekend will be when two-loss teams get to help decide who writes history.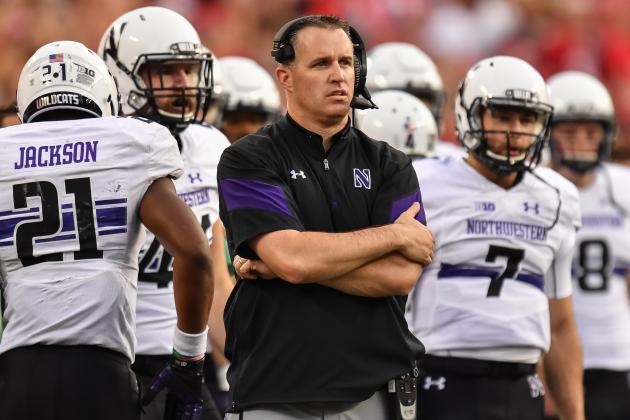 Jamie Sabau/Getty Images
Northwestern head coach Pat Fitzgerald
Kramer
The Badgers better be careful against Northwestern.
They look like one of the 10 best teams in the country, and they're finally free of a grueling stretch of games. That being said, a sleepy trip to Evanston, Illinois, to take on a rapidly improving, angry Northwestern team is something to look out for.
This has all the makings of an ugly, competitive game that will be won deep in the fourth quarter. It would not shock me in the least to see the Wildcats pull off the upset.
Sallee
Wisconsin is a seven-point favorite over homestanding Northwestern, according to Odds Shark. Take those points, but you won't need them because the Wildcats will win this game outright. They've topped the 400-yard mark in three straight games, have quietly improved throughout the season and are facing a Badgers team fresh off a thrilling win over Nebraska. Evanston is where Week 10's major upset will be.
Walsh
It was this time last year that TCU had its playoff hopes dashed during a 49-29 loss to Oklahoma State. Turnabout may be fair play as the Horned Frogs travel to Baylor this weekend. You have to wonder about the Bears after they lost to Texas for the second straight time. Last year's game went to double overtime before TCU finally won 28-21, and this one should be close as well.
Couch
Not sure this creates too much chaos, but Florida State might be ready to give up. All of the Seminoles' goals are shot, and they're coming off an emotional loss to Clemson. North Carolina State can still have a good season for that program. Lots of incentive and a home game. NC State wins.
Felder
I think this must mean an upset. Ohio State is probably the most ripe to be picked off if Nebraska can put together a strong appearance after a crushing loss to Wisconsin. The linebackers and Nate Gerry have to figure out how to stop the Buckeyes rushing attack.
For all of the Buckeyes' issues being able to push the ball vertically given the constant pressure, they've done well to lean on their run game in spots, and Nebraska must combat that to walk away with a W.