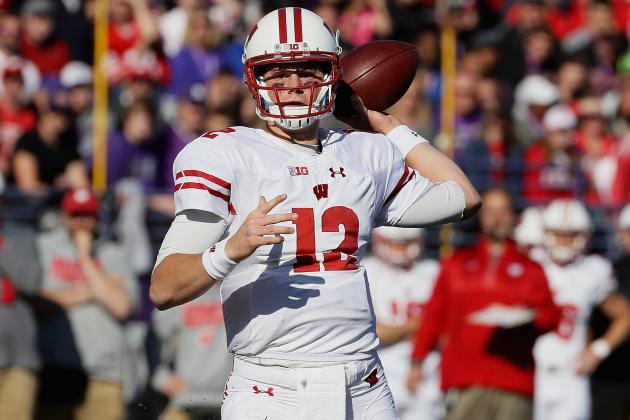 Jonathan Daniel/Getty Images
Wisconsin quarterback Alex Hornibrook
The 2016 college football season has been a wonderful year for the Big Ten.
However, it may not provide an ideal conclusion for the winner of the Big Ten Championship Game.
Wisconsin and Penn State are preparing to square off in what should be a hard-fought and entertaining title game at Lucas Oil Stadium in Indianapolis Saturday night. The game will kick off at 8:17 p.m. ET and will be televised by Fox.
However, the winner is unlikely to clinch a College Football Playoff berth, and the Rose Bowl may not be a guarantee, either.
Ohio State, which edged out Michigan last Saturday at Ohio Stadium in double overtime, is likely to represent the Big Ten in the playoff.
The Wolverines, No. 5 in the latest CFP rankings, could also go to the playoff if either Washington or Clemson loses in respective conference championship games. The Badgers and Nittany Lions are right behind Michigan at the sixth and seventh spots, and the winner of the Big Ten title game might need both the Huskies and the Tigers to lose in order to get a shot at the playoff.
Even if that happens, it would seem unlikely that the selection committee would allow three Big Ten teams to compete in the CFP.
The Badgers are 2.5-point favorites over the Nittany Lions, according to Odds Shark.
Wisconsin (10-2, 7-2 B1G) is the Big Ten's West Division champion. The Badgers concluded the regular season with a victory over Minnesota. It is Wisconsin's third trip to the title game and its first since 2014.
Penn State (10-2, 8-1) finished tied with Ohio State in the East Division, but since the Nittany Lions defeated the Buckeyes in a head-to-head meeting in October, they earned the tiebreaker.
Even though it's unlikely that Wisconsin or Penn State will go to the playoff, Wisconsin senior tailback Dare Ogunbowale said the game between the two schools is huge.
"We view it as a championship game," Ogunbowale told Jeff Potrykus of the Milwaukee Journal Sentinel. "That is even bigger than a playoff game. Playoffs are to get to a championship. … This is the Big Ten championship. That is what we see it as. We want to make sure we go out and win."
A closer look at Ohio State, Wisconsin and Penn State pic.twitter.com/iW9Y5d5zkJ

— ESPN Stats & Info (@ESPNStatsInfo) November 30, 2016
Wisconsin dropped back-to-back games to Michigan and Ohio State in October. Since that time, the Badgers have reeled off six wins in a row.
Penn State's only conference loss this season was a blowout at Michigan. However, the Nittany Lions shook off that 49-10 beating and have won eight straight games.
Wisconsin received good news Tuesday when redshirt freshman quarterback Alex Hornibrook was able to practice. Hornibrook suffered an apparent concussion in last week's game against Minnesota.
Hornibrook has completed 58.1 percent of his passes this season, and he has an 8-7 touchdown-interception ratio.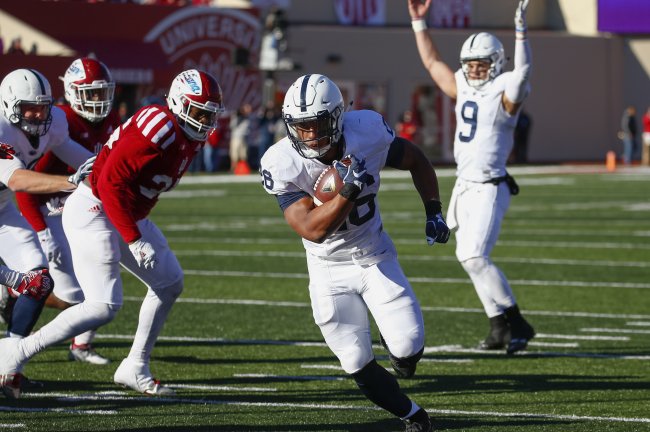 Michael Hickey/Getty Images
Penn State is dependent on its ground game with Saquon Barkley. He is averaging 101.6 yards per game, ranking third in the Big Ten. Quarterback Trace McSorley is averaging 248 yards per game, and he has a 21-5 TD-interception ratio.
While Penn State and Wisconsin did not play this season, they had six opponents in common, and Nittany Lions head coach James Franklin said that helps in preparing for this game.
"You know [the common opponent] a little bit better," Franklin told Jordan J. Wilson of the Indianapolis Star. "You know their strengths, you know their weaknesses. You know how physical they are, you know how fast they are, so you can kind of gauge Wisconsin off of team you're familiar with."
Prediction
Penn State appears to be the better offensive team, averaging 36.6 points per game, while the Badgers are scoring at a rate of 28.5 points per outing.
However, the Badgers are the better defensive team, as they give up 13.7 points per game compared to 22.8 for Penn State.
One other factor seems to tip the scale in Wisconsin's favor. When the Badgers went to Michigan on Oct. 1, they dropped a tight 14-7 game. The Wolverines humbled the Nittany Lions on Sept. 24, and that may be hard to shake.
Wisconsin is the tougher and hungrier team, and the Badgers will come away with a 28-24 victory.