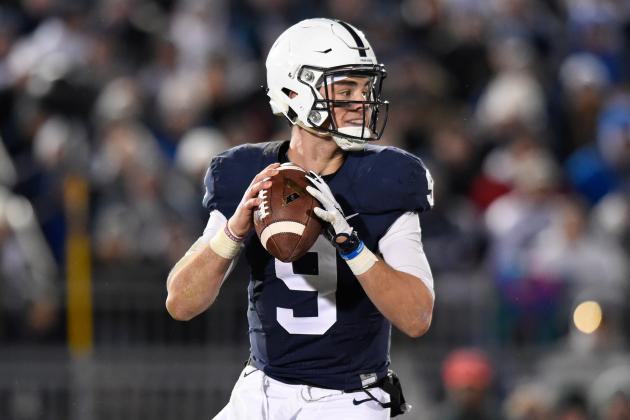 Joe Sargent/Getty Images
College football's toughest conference will crown a new champion on Saturday night when No. 6 Wisconsin faces No. 8 Penn State in the Big Ten title game.
The Badgers (10-2, 7-2) surged to the front of the pack in the College Football Playoff race this season, using a Week 1 upset of LSU to vault into the Top 10. Back-to-back matchups against Michigan and Ohio State were the only blemishes on an otherwise stellar season and a perfect 6-0 record against West Division opponents.
The Nittanty Lions (10-2, 8-1) looked like they were stuck in rebuilding mode after opening the season 2-2, which included a blowout loss to the Wolverines. But a 24-21 upset of Ohio State fueled an eight-game winning streak to close the season and helped clinch the brutal East Division.
It's won't just be the conference title on the line in Indianapolis this weekend. Both Wisconsin and Penn State are in play for a coveted playoff bid, and a convincing win could send either team to the final four.
Viewing Information
Date: Saturday
Time: 8 p.m. ET
Place: Lucas Oil Stadium—Indianapolis
TV: FOX
Radio: Wisconsin Badger Sport Network, Spartan Sports Network

Spread: Wisconsin (-3), per Odds Shark
Mike McGinnis/Getty Images
Unleash Jazz Peavy
Dating back to the Barry Alvarez era in the 90s, Wisconsin's identity has been centered around a big, aggressive offensive line and a powerful run game. That continued under head coaches Bret Bielema and Gary Andersen, but Paul Chryst has doubled down on the run-heavy strategy.
That's why a complement on the perimeter is so pivotal to Wisconsin's success.
Jazz Peavy has been that complement this season. The junior wideout leads the team in receptions, receiving yards and receiving touchdowns, but he's also a dangerous threat on jet-sweeps and has 263 yards and a touchdown on the ground this year.
Get After Trace McSorley
Wisconsin's No. 3 scoring defense is built around the toughness of its front seven, and on Saturday, it needs to have its best game against the Nittany Lions' improved offensive line.
That line was Penn State's biggest weakness over the last few years, but with the mobile Trace McSorley behind center, the Nittany Lions have taken fewer sacks this year.
The Badgers excel at getting after the quarterback, though, ranking No. 27 nationally in total sacks this season. Defensive coordinator Justin Wilcox should be aggressive in his play-calling in an effort to fluster McSorley and get Penn State's offense out of rhythm.
Brett Carlsen/Getty Images
A Fast Start
Penn State is a second half team.
That was the big theme that developed down the stretch of the season. The Nittany Lions scored 17 unanswered points to overcome a 14-point deficit in the win over Ohio State. They scored the final 17 points in a come-from-behind win on the road against Indiana in Week 11. And even last week against an overmatched Michigan State team, they overcame a 12-10 halftime deficit by scoring 35 points in the second half to secure a 45-12 blowout win.
James Franklin knows his team has a different gear down the stretch. He needs to focus his game plan on getting a first-half lead so that if the Nittany Lions have a huge surge in the second half, they're pulling away instead of coming from behind.
Load Up Against the Run
The defensive game plan against Wisconsin never changes: Buckle your chinstrap and load up against the run.
Only nine teams ran the ball more than the Badgers this year, four of which run the triple option. But unlike in years past, Wisconsin's rushing numbers don't equal the output. The Badgers rank 44th nationally in rushing yards per game and a disastrous 85th in yards per carry.
That inefficiency is due to a lack of explosive playmaking ability from the running back position. The Badgers haven't quite recovered from the loss of Melvin Gordon two years ago as Corey Clement lacks that breakaway speed at the second level.
The Nittany Lions should load up to stop that limited rushing attack.
Dylan Buell/Getty Images
The Quarterback
Wisconsin's pass offense has been erratic all season, and it comes into championship week ranked No. 106 nationally. A lot of the struggles are by design, or lack of design, rather, as the Badger always put a premium on ball control and physicality.
But the quarterback position will be interesting to watch because starter Alex Hornibrook is currently day-to-day after suffering a "head injury" in last week's game against Minnesota.
If Hornibrook can't go, the Badgers will turn to Bart Houston, who has routinely rotated in and out with Hornibrook as the offense tried to find a better rhythm the last few weeks.
Houston is capable and has made some nice throws down the stretch. In his last four games, he's completed 17-of-24 passes for 283 yards and two touchdowns (against no interceptions).
T.J. Watt
How many superstars can come from one family?
That's a question we can ask after T.J. Watt blew up in his first full year as a starter. The athletic linebacker has paced one of college football's stingiest defenses, and he was rewarded for it when he was named a first-team All-Big Ten defender by both the media and coaches on Tuesday.
Watt is at his best when he's attacking the line of scrimmage, and he ranked third in the conference in sacks (9.5) and 10th in tackles for loss (13), both of which led the team.
Joe Sargent/Getty Images
Saquon Barkley
Similarly to Wisconsin quarterback Alex Hornibrook, Saquon Barkley was knocked out of the regular season finale, but the Penn State running back didn't suffer a head injury, but a "lower-body injury."
It was a huge storyline coming out of the East Division-clinching win over Michigan State, but Barkley has been adamant from the outset that he'll be ready to go against the Badgers.
"I'm feeling fine, feeling really good, getting treatment, taking it day by day and trying to get ready for the game this weekend," Barkley said, via Mark Wogenrich of The Morning Call.
Barkley has been the engine in Penn State's offense, running for 1,219 yards and 15 touchdowns, which is tied for 12th nationally. The Nittany Lions will need him at 100 percent against the Badgers' No. 3 run defense.
Brandon Bell
Penn State will match Wisconsin's do-everything linebacker in T.J. Watt with Brandon Bell, the reigning Walter Camp National Player of the Week.
Bell, a speedy, aggressive linebacker, was all over the field against Michigan State last Saturday, registering an incredible 18 tackles. He's fully worked his way back from an undisclosed injury that he suffered against Pitt in Week 2 that made him miss four games.
Even with sitting a third of the season, he ranked second on the team in total tackles and fourth in tackles for loss.
Michael Reaves/Getty Images
Penn State head coach James Franklin is optimistic about the status of his running back, Saquon Barkley, according to Greg Pickel of Penn Live.
Saquon, as you guys know, whether there was something to report or not, I would report it, but I think he's already told people he feels great, he looked great on Sunday when I saw him, so we're anticipating him playing and playing well on Sunday.
Wisconsin head coach Paul Chryst relishes the opportunity to win the Big Ten Championship, via Pickel.
Last night after the game, I was just kind of thinking about where we're at and where we're heading, and one is the appreciation I have for, and respect I have for, this conference. It doesn't just happen where you get to play in the championship game. You get to appreciate the work and effort from so many to be able to play in this game. That's what's fun about it. Penn State's a very talented team that obviously is playing at a very high level right now.
Penn State quarterback Trace McSorley talked about the accomplishment of winning a division that includes Top Five teams in Ohio State and Michigan, via Jesse Temple of ESPN.com.
There's a little bit there, as far as proving people wrong, knowing that no one really expected us to be there. But we, as a team, expected ourselves to be here through all the work we put in — throughout the offseason, the winter, the spring ball, over the summer. If you ask anyone on this team, 'Did you guys expect to be here?' They'd say yes. These are the goals we set for ourselves at the beginning of the year, and you don't set goals you don't think you can achieve.
Joe Robbins/Getty Images
Wisconsin will drag Penn State into a defensive slugfest, and when the clock strikes zero, the Badgers will be Big Ten Champions.
Corey Clement will grind out his guttiest performance of the season, running for 110 yards and a touchdown on 30 carries. He'll lead the way for an offense that struggles with Bart Houston at quarterback, as the Badgers gain just 290 total yards against the Nittany Lions.
Penn State's offense will have an even harder time moving the ball. The Badgers will bottle up Saquon Barkley, who will net just 70 yards on 20 carries. Trace McSorley will throw two interceptions, the last of which will come late in the fourth quarter with The Nittany Lions clinging to a 16-13 lead.
That interception will set the Badgers up in the red zone, where Clement gets the go-ahead score from 10 yards out.
Wisconsin 20, Penn State 16