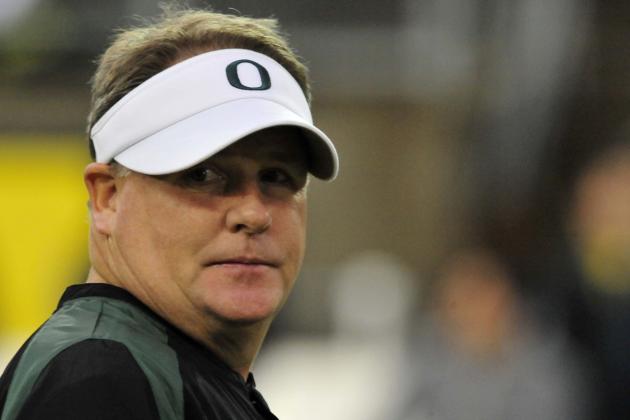 Steve Dykes/Getty Images
San Francisco 49ers head coach Chip Kelly while with Oregon in 2012
Autzen Stadium is open, and Oregon needs a new lead duck. It's time for Chip Kelly to fly home.
Kelly made a name in coaching as the head coach of the Ducks from 2009 to 2012, and he has the chance to make Oregon great again after the program dismissed head coach Mark Helfrich on Tuesday night.
Helfrich was 37-16 in four years at Oregon and made an appearance in the inaugural College Football Playoff National Championship following the 2014 season. But a 9-4 record last year preceded a 4-8 mark this year that culminated in the program's first loss to Oregon State since 2007.
"It is a great honor to have served as the head football coach at the University of Oregon," Helfrich said, according to the school. "It is with respect and disappointment that we receive this decision. Plain and simple—we didn't win enough games this season."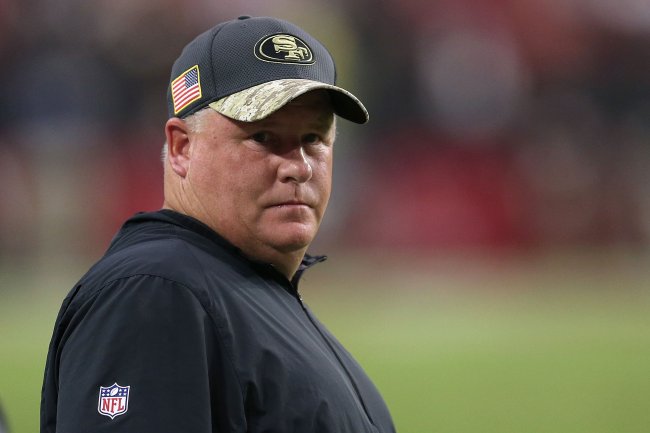 Chris Coduto/Getty Images
Kelly is sitting there, 560 miles south of Eugene, wallowing in professional football mediocrity at 1-10 as the head coach of the San Francisco 49ers.
Go get him, athletic director Rob Mullens.
Get him back to where he belongs, and let him build Oregon back into a Pac-12 power.
Yes, Kelly has turned down overtures from colleges in the past. As recently as Oct. 24, he told reporters he has no interest in returning to college: "No. I'm the head coach of the San Francisco 49ers. So, not looking at anything else. I'm here."
That was when Oregon wasn't officially vacant and San Francisco was only 1-6, not 1-10.
What's more, ESPN's Darren Rovell reported that Nike co-founder and Oregon alum Phil Knight is willing to pony up around $10 million for the Ducks' new head coach. Former athletic director Pat Kilkenny later refuted that report.
Again, that was when Helfrich occupied the job. Now that he doesn't, Oregon doesn't have to worry about how to handle a coach on the hot seat and what information gets out that could embarrass a sitting coach who has a job to do.
Why Kelly?
It's simple. He took the Mike Bellotti offense to new heights, led the Ducks to within a few seconds of a national title with Darron Thomas at quarterback in 2010 before falling to Auburn and was in charge when the Ducks inked a little-known Hawaii quarterback named Marcus Mariota prior to the 2011 season.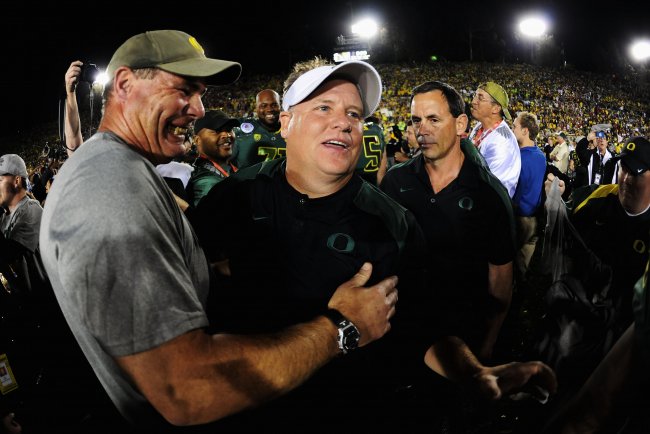 Harry How/Getty Images
Sure, Helfrich—who was offensive coordinator at the time—had a lot to do with with his recruitment, including several in-person visits. But Helfrich chose to go the FCS graduate transfer route for each of his last two season-opening quarterbacks (Vernon Adams and Dakota Prukop), which suggests that he can identify but not develop quarterbacks.
Kelly has never seemed to fit in the NFL.
In addition to this season's disaster, he was 26-21 with the Philadelphia Eagles from 2013 to 2015, made the playoffs just once and never won a playoff game. He needs to hit the eject button now and go back to the place that made him a star.
As Clay Travis of Fox Sports Radio noted late in November, Kelly isn't appreciated, and his strengths as a spread guru are being wasted at football's top level:
Chip Kelly is being wasted in the NFL | Outkick the Coverage with Clay Travis | Fox Sports 1400 https://t.co/F9jyAVYTsf

— Fox Sports 1400 (@FoxSports1400) November 21, 2016
There is baggage, of course.
Kelly left the program in the wake of the Willie Lyles recruiting scandal, which resulted in three years of probation and an 18-month show-cause penalty for Kelly—which has long since expired.
What's more, Kelly was a hands-off recruiter during his time in college. That doesn't matter. If Oregon is willing to break the bank to go get Kelly, leaving enough room in the budget for Kelly to assemble a staff of ace recruiters shouldn't be a problem.
Plus, Kelly makes the sport fun. He's always willing to speak his mind, and he knows and welcomes the attention that comes with being the head coach of a high-profile program like Oregon. He will draw more eyeballs to a conference that got overlooked at times this season with the early-season struggle of its highest-profile team (USC) and the season-long struggle of UCLA.
Who should Oregon target as its next head coach?
Who should Oregon target as its next head coach?

Chip Kelly

Bryan Harsin

Dana Holgorsen

Dan Mullen

Jim McElwain

P.J. Fleck

Somebody else
Nothing against this year's powers Washington, Washington State, Utah and Colorado. They've been awesome to watch, and the Huskies should earn a playoff spot with a win over Colorado in the Pac-12 Championship Game on Friday night.
But the Pac-12 needs glitz and glamor to resonate across the country, and Kelly can make that happen in Eugene.
Oregon will kick tires elsewhere, of course.
Travis Haney of 247Sports suggested the Ducks could approach Boise State's Bryan Harsin, Western Michigan's P.J. Fleck, West Virginia's Dana Holgorsen, Mississippi State's Dan Mullen and even Florida's Jim McElwain—a West Coast guy.
All of those candidates would do fine at Oregon as well.
But Mullens shouldn't even consider talking to any of them until the Ducks back up the Brink's truck to Kelly's house in the Bay Area and unload stacks of cash on his doorstep with a picture of Puddles the mascot on top. If he sends that cash back, drive some more over and unload it in the garage instead.
A lot of coaches can make Oregon competitive, but only Kelly has shown he can make Oregon elite.
There's no time like the present to make it happen.
Quotes obtained firsthand unless otherwise noted. Statistics courtesy of CFBStats.com unless otherwise noted.
Barrett Sallee is the lead SEC college football writer and national college football video analyst for Bleacher Report, as well as a host on Bleacher Report Radio on SiriusXM 83. Follow Barrett on Twitter: @BarrettSallee.