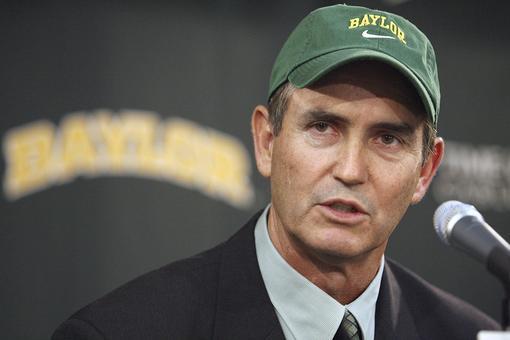 DUANE A. LAVERTY/Associated Press
Baylor University announced it reached an undisclosed financial agreement with two women who were allegedly gang raped by football players in 2012.
Mark Schlabach of ESPN.com received a statement on the settlement from attorneys. These assaults were previously unreported and are separate from the highly publicized alleged gang rape that has implicated former Bears coach Art Briles and others in a cover-up.
One of the two women alleged an additional sexual assault involving a football player that took place in 2013. Baylor interim president David E. Garland confirmed none of the players allegedly involved in either case are still with the university. Members of the athletic department notified of these cases, which were not prosecuted by the law or Baylor, are also no longer employed.
The names of all parties involved have remained undisclosed. Attorneys have also kept the details of the case and terms of the financial settlement private.
Baylor's handling of sexual assault allegations—specifically those involving student-athletes—have made national headlines throughout the year. Briles, university president Ken Starr and athletics director Ian McCaw each left the university amid multiple Title IX lawsuits filed by women who said the university tried silencing their reports of rape and other forms of sexual assault.
Law firm Pepper Hamilton, which Baylor retained to investigate its handling of these claims, determined the university's code of conduct led to a chilling effect on reported rapes. The report said "'perceived judgmental responses' to victims who reported being raped 'created barriers' to reporting assaults," per Jim Vertuno of the Associated Press.
One woman who is suing the university said she was gang raped by five football players in 2012. A former student-athlete, the woman informed her coach of the incident in 2013 and named each of the players involved, per Claire Ballor of the Dallas Morning News.

Baylor said Briles, McCaw and an unnamed sports administrator were informed but did not report the event to the university's judicial affairs department. Briles, through attorneys, said that account is false and the university was properly informed.
That case is still pending. Baylor is also facing lawsuits from multiple other women who said the university covered up sexual assaults.
Follow Tyler Conway (@jtyerconway) on Twitter.