Aug 31, 2017 at 7:55p ET
Rogvi Baldvinsson surprises Portugal with a great goal for Faroe Islands.
Show Transcript
Hide Transcript
ANNOUNCER 1: –Edmundsson with his legs.
[CROWD CLAPPING AND CHANTING]
And just about the only touch of the ball that he's had. And what can the Faroese muster here from a long throw from Naes? Edmundsson inevitably the target.
Oh, it's a brilliant goal! The Faroes have one back. It's a stunning strike from Rogvi Baldvinsson.
[CHEERING]
The deficit halved with a goal of real quality. Baldvinsson scoring only his third international goal, a moment he will never forget. The Faroes' long run without a goal ends at 417 minutes.
ANNOUNCER 2: That's some finish, isn't it? As Jose Fonte actually gets a little flick on it at the near post. Wins the initial header, but he can only head it backwards into the path of Baldvinsson.
And that is some strike– on the volley. Rui Patricio, absolutely no chance. Cedric can't get tight enough. What a finish. And from nowhere, they're back in the game.
More Soccer Videos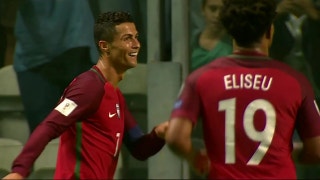 Watch Cristiano Ronaldo score a dazzling hat trick for Portugal | World Cup Qualifying Highlights
15 mins ago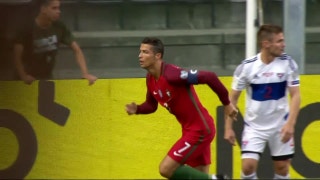 Watch Ronaldo's hat trick to pass Pele on the all-time international goal scoring list
2 hours ago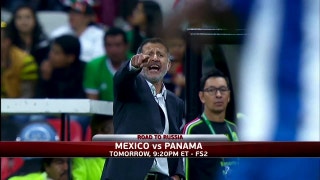 Breaking down Mexico's quest to secure a World Cup spot against Panama
3 hours ago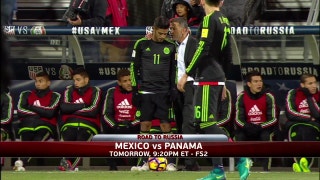 Mexico can secure a World Cup spot against Panama
4 hours ago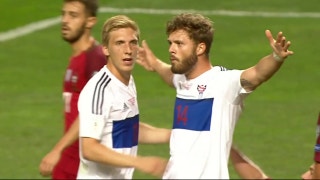 Baldvinsson scores for Faroe Islands vs. Portugal | 2017 UEFA World Cup Qualifying Highlights
5 hours ago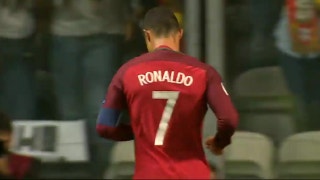 Cristiano Ronaldo scores hat trick in Portugal win over Faroe Islands
7 hours ago
More Soccer Videos
»