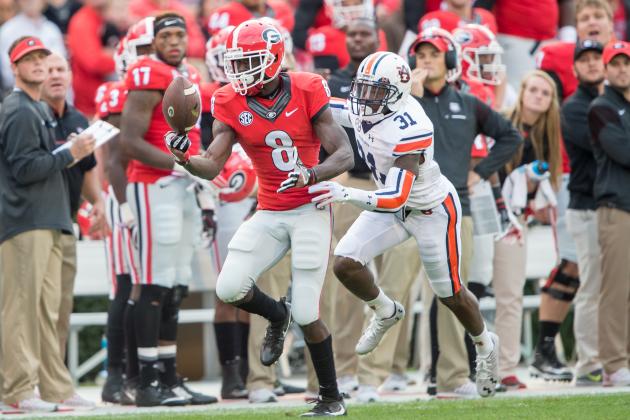 Michael Chang/Getty Images
The Auburn Tigers' hopes of winning the SEC championship were crushed Saturday when the Georgia Bulldogs pulled off a 13-7 upset win at Sanford Stadium.
Auburn's offense was horrid on the road, and the passing game in particular was abysmal. Quarterback Sean White and running back Kerryon Johnson combined to go 8-of-22 for 37 yards with one interception in the loss.
Per ESPN Stats & Information, White started the game 4-of-16 for 19 yards with an interception, which Georgia returned 34 yards for its only touchdown. That meant he had more passing yards for the opponent than his own team at the time.
The second half was brutal for the Tigers. They ran 22 plays (14 passes), gained 32 yards and had zero first downs. Per Brandon Marcello of 247Sports' Auburn Undercover, Auburn's 164 total yards on offense were the second-lowest output by a team Gus Malzahn was the head coach or offensive coordinator of.
Georgia's offense wasn't overwhelming anyone in the win with 343 total yards, but the Bulldogs' ability to control the ball for more than 39 minutes enabled them to wear down Auburn's defense before putting together a 14-play, 65-yard drive that took nearly seven minutes off the clock and ended with a field goal to take a 13-7 lead with 2:25 left.

While Georgia was unable to get anything going consistently, quarterback Jacob Eason was able to hit wide receiver Riley Ridley for 57 yards for one of the few big plays in the game.
After Georgia went up by six with just over two minutes to play, former WAAY-TV sports anchor Mark Freeman came up with a solution for Auburn to pull off the win:
Just run that prayer play thing that worked a few years ago. #AUBvsUGA

— Mark Freeman (@mfreemantv) November 12, 2016
Unfortunately, there was no kick-six or deflected Hail Mary to be found this year. Auburn was able to escape disaster last week against Vanderbilt with a 23-16 victory, but it was the first time during its six-game winning streak the team looked vulnerable.
White did come into the game dealing with a shoulder problem, though offensive coordinator Rhett Lashlee told reporters earlier this week his quarterback would not be limited, per Wesley Sinor of AL.com:
Obviously he's not 100 percent, but I think you saw on the touchdown pass to Darius (Slayton) last week, the ball is probably 30-35 yards in the air. I don't think he's going to be limited in any capacity or we probably wouldn't put him out there. I mean, if he full-go, 100 percent, healthy and fresh like it was the first game? Probably not. Again, not a lot of people are, but he'll be good to go.
The injury clearly came back to haunt White. He was incapable of doing anything, contributing just three rushing yards on four carries, in addition to his passing numbers.
Michael Felder did highlight one notable storyline that came to an end as a result of Auburn's loss:
I just realized if Auburn loses the "well what if 2-loss AUburn, Iron Bowl, SEC Champ" stuff goes away. So I'm down for that.

— Michael Felder (@InTheBleachers) November 12, 2016
After starting 1-2 with the losses coming against Clemson and Texas A&M, Auburn climbed up to No. 9 in the College Football Playoff standings. The Tigers would have had an opportunity to play for the SEC title with a win over Georgia and then Alabama on Nov. 26.
Instead, Auburn's loss has clinched the SEC West title for Alabama. Georgia's SEC East hopes were dashed thanks to Florida, but the Bulldogs became bowl-eligible thanks to Saturday's upset win.
The Ringer noted the irony of Georgia's win sending Alabama to the SEC championship game this year:
You can leave Nick Saban, but you still have to do his bidding. Kirby Smart's Georgia beats Auburn and wins the SEC West for Alabama.

— The Ringer (@ringer) November 12, 2016
Per SportsCenter, this is the first time the Bulldogs have won three straight over Auburn since their four-game streak from 2006-09.
This has not been the debut season Georgia head coach Kirby Smart wanted, but his team has put together some quality performances that suggest the future is bright. In addition to Saturday's win, the Bulldogs have a season-opening win over then-No. 22 North Carolina and lost a competitive 34-31 game against Tennessee.
Auburn will catch a break next week against Alabama A&M, but Malzahn needs to round his team up quickly to avoid getting run off the field at Alabama in two weeks.
Postgame Reaction
One of the first questions Malzahn had to answer after the loss was his decision to stick with White at quarterback.
"He's our quarterback," Malzahn said, per Josh Vitale of the Opelika-Auburn News.
Malzahn was blunt when talking about his offense as a whole.
"Our offense didn't get it done today, it's as simple as that," Malzahn said, per Sam Butler of the Auburn Plainsman.
However, Malzahn did not stop himself from giving Georgia credit for its effort throughout the game.
"Give (UGA) credit, they had a good job, but we didn't execute and do what we needed to do," Malzahn said, per Nathan Deal of the Auburn Plainsman.
Trying to spin things positively looking forward, Malzahn believes his team won't let Saturday be the defining moment of the season.
"We've got two more games," Malzahn said, per Auburn Gold Mine. "Our guys will rebound. This is a tough group. We have great leadership."
Georgia cornerback Maurice Smith, who transferred to the program from Alabama and scored his team's lone touchdown on an interception return, was thrilled with his team's victory.
"This makes it definitely worthwhile," Smith said, per ESPN.com. "It's a blessing. For me to be part of this team and be able to help the team, I just love it."