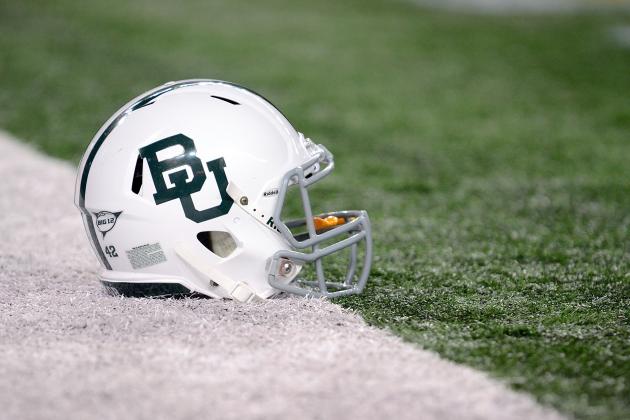 Sarah Glenn/Getty Images
Baylor University released a statement Friday evening saying former head football coach Art Briles and ex-athletic director Ian McCaw failed to report an alleged 2012 sexual assault to the university's judicial affairs office.
According to ESPN.com's Mark Schlabach, the alleged assault involved five football players and one female student-athlete—who disclosed the events to her coach in 2013.
"According to Baylor's investigation, neither the head coach, the athletic director, the sports administrator or the football coach disclosed the reported sexual assault to Baylor's Judicial Affairs or to anyone else outside of the Athletics Department," the school's statement said.
Last week, trustee David Harper told the Dallas Morning News' Sharon Grigsby that Briles failed to report at least one alleged gang rape during his time as head coach.
"He was made aware of one of the allegations of a gang rape," he said. "At least one of them. I can't tell you if he knew or didn't know about the others."
Baylor offensive coordinator Kendal Briles, Art's son, denied his father failed to follow the correct operating procedure:
— Coach KB (@kendalbriles) November 5, 2016
The Wall Street Journal's Brad Reagan detailed similar allegations of negligence against Baylor's former head football coach, according to the school's board of regents.
"In one of the alleged gang rapes, the victim, who also was an athlete, told her coach that she didn't want to go the police," Reagan wrote. "When notified of the allegation, Mr. Briles told the victim's coach that he hoped she would go to the police, according to people familiar with the matter."
Reagan also reported that Briles didn't approach the school's judicial affairs or Title IX office despite being notified of the allegations.
On Nov. 8, Reagan reported the NCAA had informed Baylor it would avoid sweeping sanctions like the ones imposed against Penn State following the Jerry Sandusky sexual assault scandal.
"Baylor has taken sweeping actions to ensure students on our campus will never again have to wonder whether Baylor will stand with them and support them if they are victimized in any way," board of regents chairman Ron Murff wrote. "The University has made dramatic improvements in our response to sexual violence – and those efforts will continue."