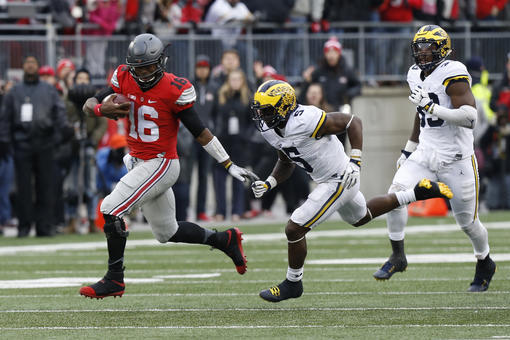 Jay LaPrete/Associated Press
Ohio State took care of business. So did Alabama, Clemson and Washington. But with a critical Big Ten Championship matchup between Penn State and Wisconsin coming up on Saturday, the latest Associated Press poll reflects a college football landscape that's not nearly settled.
The undefeated Crimson Tide remain the class of the nation, followed by second-ranked Ohio State, Clemson and Washington. Michigan rounds out the Top Five.
Here is a look at how the entire poll played out:
Ohio State's holding pattern at No. 2 comes thanks to its 30-27 win over rival Michigan in double overtime. The Buckeyes were the recipients of a couple of close calls, including an arguably generous spot on a J.T. Barrett fourth-down attempt in final overtime, on their way to likely clinching a playoff spot. Curtis Samuel scampered in from 15 yards out on the next play to extend Michigan's losing streak at the Horseshoe.
"I thought there were some outrageous calls, including the one that would have ended the game," Wolverines head coach Jim Harbaugh told reporters. "I was bitterly disappointed with the officiating."
Sour grapes aside, Ohio State's win busted the door open for Penn State, which subsequently took the hinges off rival Michigan State. The Nittany Lions put up 463 yards of total offense and even got a measure of revenge from last year's blowout loss to the Spartans by running up a 45-12 victory.
Trace McSorley, who set career highs with 376 yards and four touchdowns, was throwing deep into the fourth quarter. Penn State has reeled off eight straight wins since its 2-2 start, including one over Ohio State that will linger on the committee's mind.
"We were like we can still go one game at a time and still have that end goal of a championship and talk about it," center Brian Gaia told reporters. "That might have been one of the most important things this year: We talked about it, and every game it got closer and closer, and more realistic."
The Nittany Lions move on to play Wisconsin, which has an outside chance at making the playoff.
The Badgers won their sixth straight game Saturday against Minnesota. They trailed 17-7 going into the halftime break but picked off four Mitch Leidner passes and scored 21 fourth-quarter points on their way to a 31-17 comeback win.
"Tomorrow we'll push the reset button and get ready to play Penn State," coach Paul Chryst told reporters. "This team has done a great job of playing in the moment."
Outside the playoff picture, a few notable upsets sent teams flying backward. Louisville closed its season with a second straight loss, this time to rival Kentucky. The Cardinals have gone from the edge of the playoffs to nowhere near the New Year's Six, with Lamar Jackson possibly being in danger of losing the Heisman.
Nebraska ended its regular season with a trip to Iowa and a 40-10 loss. The Hawkeyes held Nebraska to 217 yards, winning their third straight game to finish 8-4. Two of those games came against ranked opponents, including handing Michigan its first loss.
Tennessee, Boise State and Houston also ended their respective seasons with losses to unranked opponents. The Boise State loss likely locks in Western Michigan as the non-Power Five team to wind up in a New Year's Six bowl.
As a result of the weekend's massive flux, six new teams are in the Top 25. Stanford moved all the way up to No. 17 after recording its fifth straight win, while Virginia Tech is No. 19 after clinching a spot in the ACC Championship Game. No. 20 Navy, No. 22 Iowa and Nos. 24 South Florida and Pittsburgh, who tied in total points, round out the new entries.
Follow Tyler Conway (@jtylerconway) on Twitter.