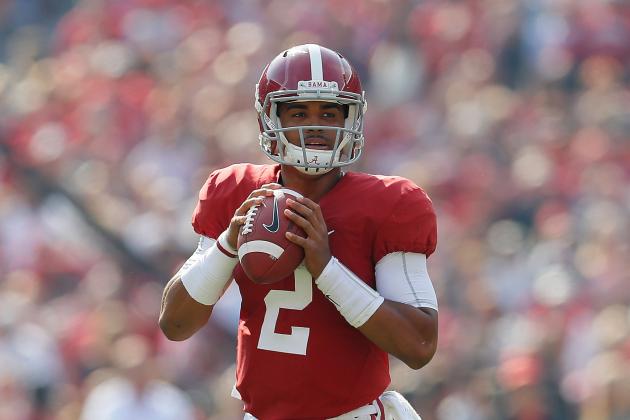 Kevin C. Cox/Getty Images
Mayhem enveloped Week 11 of the 2016 college football season, with the Clemson Tigers, Michigan Wolverines and Washington Huskies all falling in dramatic fashion during a thrilling Saturday slate.
And considering those teams ranked second, third and fourth, respectively, in last week's Amway Coaches Poll, the rankings are due a shakeup.
Entering Week 12, here's a rundown of the latest Amway Coaches Poll, as well as Bleacher Report's updated Top 25:
Analysis
The Alabama Crimson Tide are all alone at the top.
Not only is Nick Saban's squad still sitting pretty with an undefeated record (10-0), but its path to the College Football Playoff became crystal clear on Saturday.
Thanks to a 51-3 win over Mississippi State and Auburn's 13-7 loss to the Georgia Bulldogs, Alabama clinched the SEC West and can cruise through the rest of the regular season before the SEC Championship game rolls around, as Bleacher Report's Adam Kramer noted:
Alabama essentially has a clean, one-game buffer. It can pretty much just not attend a game of its choosing over these next few weeks.

— Adam Kramer (@KegsnEggs) November 13, 2016
But as far as CFP contenders go, Alabama was one of the few teams that thrived on Saturday.
The Michigan Wolverines fell at the last second against Iowa, as did the Clemson Tigers versus the Pittsburgh Panthers. The Washington Huskies—who entered the CFP rankings before Week 11 after a preliminary snub—also stumbled in a 26-13 loss to the USC Trojans.
While all three can still crack the final four, their paths were muddied.
That's especially true for the Wolverines, who have no margin for error since they're playing in the nation's toughest division.
"We just have to look in the mirror and look at the film and become better because of this," Michigan tight end Jake Butt said after the Wolverines fell 14-13 on a last-second field goal, per the Associated Press (via ESPN.com). "There's really no excuse, there's absolutely no excuse."
By virtue of Saturday's loss, Michigan has to close out its regular season with wins over the Indiana Hoosiers—who showed serious fight against Penn State—and Ohio State Buckeyes in order to snag a spot in the Big Ten title game.
Conversely, a loss along the way could create chaos in the Big Ten East and College Football Playoff, according to Eleven Warriors on Twitter:
It's going to be a wild two weeks. Here are your Big Ten East scenarios. https://t.co/c8cyV0JrM8pic.twitter.com/X7V7nzPlxa

— Eleven Warriors (@11W) November 13, 2016
Clemson's path is a bit more straightforward, and it has some quality wins to thank for that.
Yes, the Tigers lost to Pittsburgh in a heartbreaker at the final horn. However, wins over the Florida State Seminoles, Auburn Tigers and Louisville Cardinals should give them enough cushion to remain in the CFP picture moving forward.
And while the Cardinals would seem to have a shot to sneak in, they'll likely need a Clemson loss against Wake Forest or South Carolina over the regular season's final two weeks to make noise.
Louisville has squashed each of its last five opponents handily, but beating Duke, Virginia, Boston College, North Carolina State and Wake Forest isn't a particularly impressive run that's likely to resonate with the committee.
The Cardinals' lone standout win came over the Seminoles back on Sept. 17—which should give a team like Washington hope that it can avoid dropping down despite a somewhat patchy resume.
While the Huskies are 1-1 against Top 25 teams this season, they will have a chance to close the season strong with wins over the Arizona State Sun Devils and Washington State Cougars and stave off the pesky Cardinals.
If the Huskies can maintain one-loss status and emerge with a Pac-12 title, it will be hard to discount their playoff viability.
But, as Fox Sports' Stewart Mandel noted, the race for the final four spots is still wide open entering the home stretch of a thrilling campaign:
General rule of thumb: Any team that can still win the ACC, B1G, P12 or SEC champ with two or fewer losses is still in the playoff hunt.

— Stewart Mandel (@slmandel) November 13, 2016
With that in mind, it's time to buckle up for a Week 12 slate that has the potential to wreak more havoc on the polls and playoff picture.