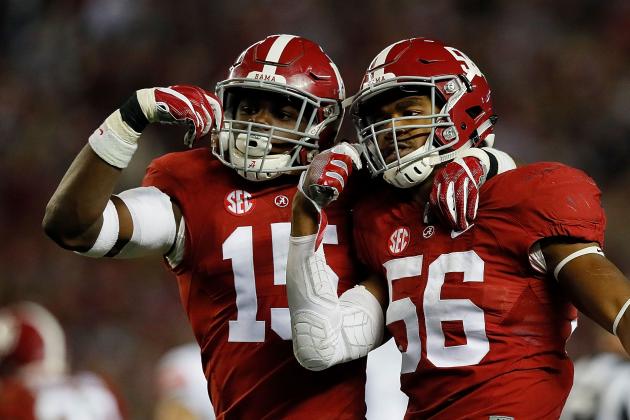 Kevin C. Cox/Getty Images
Ronnie Harrison and Tim Williams are two big reasons why Alabama didn't give up a touchdown in November.
TUSCALOOSA, Ala. — The number is up to 267 minutes and 54 seconds of game time.
That's how long it's been since an opponent has reached the end zone against the University of Alabama defense. It's a string that has lasted 36 days, dating back to Oct. 22, and four-plus games. Auburn was simply its latest victim on Saturday as the Crimson Tide completed a perfect regular season with the 30-12 victory at Bryant-Denny Stadium.
"We don't talk about that," senior linebacker Ryan Anderson said about the touchdown streak. "I didn't even know that."
While Alabama's offense played well in the second half, finishing with 501 yards of total offense against the No. 13 Tigers, the day—and really the season—belonged to the Crimson Tide defense.
Auburn managed just 182 total yards (116 passing, 66 rushing), and seven first downs, including just one during the first half when it was out-gained 263-31. Overall, the Tigers converted only two of 12 third-down opportunities and were dominated in time of possession, 40:29-19:31.
Two of Auburn's field goals followed interceptions in Alabama territory, and another was set up by Stephen Roberts' 58-yard punt return. The only points that could really be hung on the Crimson Tide defense was a Daniel Carlson field goal following John Franklin's 55-yard bomb to Eli Stove.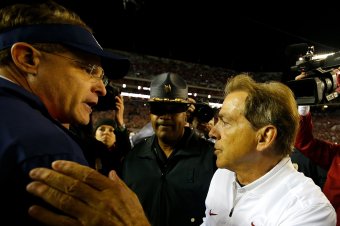 Kevin C. Cox/Getty Images
"We had some really, really challenging field-position situations in this game and our players responded really well to it," Alabama head coach Nick Saban said.
"I can't tell you about the scoring touchdown thing. I know our guys are very competitive, and they have a lot of pride, and they've played to a very high level, especially during the last three or four games."
Said junior linebacker Shaun Dion Hamilton: "When we don't give up any points, we're perfect."
Record-wise it is. At 12-0 (8-0 Southeastern Conference), No. 1 Alabama is the only undefeated team in a Power 5 league. It extended its overall winning streak to 24 games and against ranked opponents to 14.
Since Texas A&M's Christian Kirk caught Trevor Knight's 25-yard touchdown pass, Alabama's opponents (LSU, Mississippi State, Chattanooga and Auburn) averaged 65.8 rushing yards and 191.3 total yards in November. Combined, they were in the red zone just four times.
It's reminiscent of when Paul "Bear" Bryant once famously said of his team: "They play like it is a sin to give up a point" before the 1962 Sugar Bowl. That Crimson Tide team was riding a streak of five straight defensive shutouts when it defeated Arkansas 10-3 to notch the head coaches' first national championship.
Considering the way the game has changed, and become more offensive, this stretch has to be considered comparable.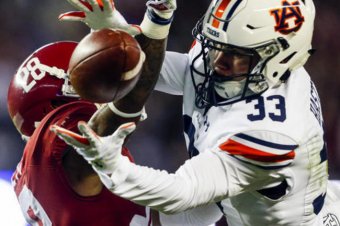 Butch Dill/Associated Press/Associated Press
Specific to this year, though, it stands alone. No other defense has shut down the opposition like the Crimson Tide or faced nearly as tough of competition.
It already had a huge lead nationally in three-and-outs (6.36 per game) and defensive touchdowns (nine), and was second in sacks (40). Eight opponents failed to reach double digits in points, and Alabama had only given up six red-zone touchdowns—the fewest of any team.
Coming in, Alabama was ranked first in rushing defense, second to Michigan in total defense and scoring defense, and ninth in passing efficiency defense.
With this performance it'll be moving into first in total and scoring defense, while the 101.4 opposing passer efficiency rating would be sixth using last week's totals.
Additionally, Alabama was facing its seventh ranked opponent on Saturday. Two-loss Michigan was playing its second, while giving up 330 total yards in its 30-27 double-overtime defeat at Ohio State.
"The consistency in performance, I think, is the most difficult thing for any team now, especially the college players, to be able to sustain that over a season," Saban said. "I'm really, really pleased and proud that our players have been able to do that. We've had some really difficult games against some really good teams."
Alabama's offense has also been impressive, but not as consistent. Hurts, the first true freshman to start for Alabama at quarterback in the Iron Bowl, passed for 286 yards, but had two interceptions and two fumbles (both recovered) in the first half. He's now had a turnover in seven straight games.
It was sophomore Bo Scarbrough and the running game that got the offense going in the third quarter, when Alabama pulled away.
Combined with the defense playing so well, it could afford to do things like go for it on 4th-and-4 at the Auburn 38. Offensive coordinator Lane Kiffin rolled Hurts to his right, and junior wide receiver ArDarius Stewart turned what should have been a sideline reception for a first down into a 38-yard touchdown.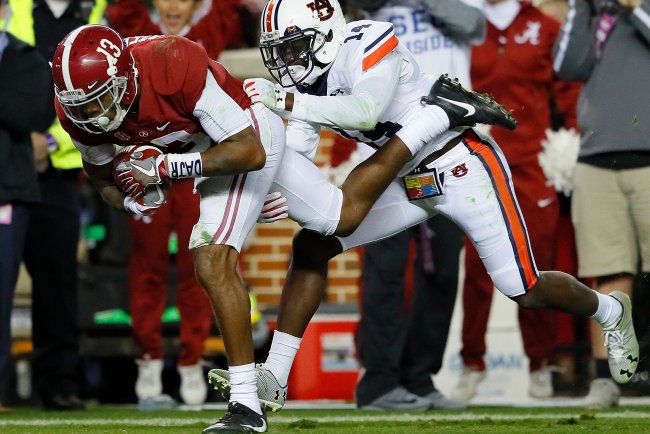 Kevin C. Cox/Getty Images
"It's kind of neck-and-neck," Stewart said about which he enjoyed more, his touchdown or his first career pass completion. "I'm just glad we got the win."
Although earlier this season the defense had another kind of touchdown streak going while scoring nine, the ongoing one has been without one of its best players: safety Eddie Jackson (leg fracture).
Alabama was down two more defensive backs against Auburn. Junior Tony Brown was called for targeting in the first half, while sophomore cornerback Marlon Humphrey was sidelined with an undisclosed injury in the second half ("We think he'll be ok," Saban said.)
With Brown out, the Crimson Tide had to reshuffle the secondary, moving sophomore Minkah Fitzpatrick back to a position he hadn't played in weeks, both redshirt freshman Deionte Thompson and junior Hootie Jones took more snaps at safety and junior Levi Wallace stepped in at cornerback.
"It just shows how hard we work, and our preparation," sophomore safety Ronnie Harrison said about Auburn being unable to exploit the reserves.
Nevertheless, Tigers quarterback Jeremy Johnson completed only four passes (he started last year's Iron Bowl and had 10). Kerryon Johnson was their leading rusher with 39 yards.
Alabama held Kamryn Pettway to a season-low 17 rushing yards. Pettway entered Saturday with an SEC-best 158.0 rushing yards per game in 2016

— ESPN Stats & Info (@ESPNStatsInfo) November 27, 2016
"Our goal was to try and put ourselves in third-down situations where it was six yards or less to go, and we just did not get that done," Auburn coach Gus Malzahn said. "We had the 20 [total] plays in the first half, and I think that three or four of those were negative plays. Alabama's defense is the best in the country on third down with seven plus yards to go. That was tough sledding to face."
What opponent will be the next to score a touchdown against Alabama?
What opponent will be the next to score a touchdown against Alabama?

Clemson

Florida

Ohio State

Washington

Other
Florida will be the next team to find out in the SEC Championship Game, when Alabama will be going for its third straight league title. A win would also lock up the No. 1 seeding for the College Football Playoff and a semifinal game in Atlanta.
It's a matchup that no opposing offense covets as Alabama still believes defense wins championships. Should it get three more wins, it'll be the first program since Bryant to notch back-to-back national titles under the same coach twice.
"I'll keep that in mind," Anderson said with a grin.
Quotes were obtained firsthand unless otherwise noted.
Christopher Walsh is a lead SEC college football writer. Follow Christopher on Twitter @WritingWalsh.