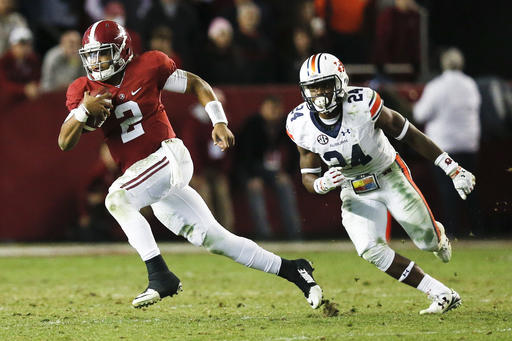 Brynn Anderson/Associated Press
Alabama finished its first undefeated regular season since 2009 with a 30-12 win over Auburn in the 81st edition of the Iron Bowl. The Crimson Tide racked up 501 yards of total offense and put the Tigers away in the second half to win their third consecutive game in the series. Alabama's turnovers contributed to a slow start, but a big second half from quarterback Jalen Hurts helped the hosts seal the victory.
Butch Dill/Associated Press
It was not a pretty start for Hurts and the Crimson Tide's passing attack, but they came together and got the job done on Saturday in Tuscaloosa. The freshman quarterback finished with 286 yards and two touchdowns on 27-of-36 passing. He connected with eight different receivers, but his favorite target was ArDarius Stewart. The junior wide receiver finished with a career-high 10 receptions for 127 yards and a touchdown. Damien Harris also added a touchdown catch, while Calvin Ridley and O.J. Howard combined for 89 yards on 10 receptions.
Hurts had some mistakes on the day, including two interceptions that set Auburn up for six of its 12 points. The offensive line put together a good performance, not allowing a sack and letting Auburn record just four quarterback hurries.
Grade: B+
Butch Dill/Associated Press
Alabama's running game stay consistent through the game on Saturday; the Tide got help from multiple rushers. Hurts finished with just 37 yards on 12 carries, but he was the only one to find the end zone on the ground. Bo Scarbrough was the Tide's leading rusher, despite having just two carries in the first half. The Tuscaloosa native finished with 90 yards on 17 carries. Damien Harris and Joshua Jacobs each put together solid performances, combining for 79 yards on 14 rushes.
The Crimson Tide showed a weakness with a lack of ball security in the first half. Alabama fumbled the ball four times in the first half but managed to recover it every time. As a team, the Tide only averaged 4.6 yards per carry, which is the third-worst outing of the season.
Grade: B
Butch Dill/Associated Press
Auburn's passing game has not been a threat this season, but the Tide knew that would be a key to their success on Saturday. The Tigers only threw the ball 19 times, completing seven passes for 116 yards. Most of that came on the only big play Auburn had, which was a 55-yard pass in the third quarter. Shaun Dion Hamilton got the the Crimson Tide's only takeaway in the night, intercepting a fourth-quarter pass inside his own 10-yard line. Five different players recorded a pass breakup for the home team.
Alabama's pass rush did not make a huge difference but did not get a lot of chances. Ryan Anderson was the only player to record a sack, but Reuben Foster had a big night rushing the quarterback. Foster recorded four quarterback hurries and played a big part on Anderson's sack in the third quarter. As a team, the Crimson Tide recorded seven hurries.
Grade: A
Butch Dill/Associated Press
Auburn's rushing attack came in averaging 297.8 yards per game, which ranked fifth nationally. The Tigers were held to just 66 yards on 26 carries, both of which were season lows. Auburn's 2.5 yards per carry was its second-lowest of the season but was still the fifth-highest average Alabama has allowed this season. Auburn had just two rushing plays that gained 10 yards or more, one of them being a quarterback scramble by John Franklin III.
The Crimson Tide recorded six tackles for a loss on running plays, led by Jonathan Allen who had two in his last game as a player in Tuscaloosa. Marlon Humphrey, Tim Williams and Ryan Anderson each added a tackle for a loss as well.
Grade: A
Brynn Anderson/Associated Press
The day started poorly for the Tide's special teams. JK Scott had a low 31-yard punt on the game's opening drive that allowed Stephen Roberts to return the kick 58 yards, setting up the Tigers' opening score. The day got better from there, though. Adam Griffith hit all three of his field-goal attempts, giving him a combined eight total made field goals in the last two meetings against Auburn. Alabama's kick returners averaged 21 yards per return.
Grade: B
Butch Dill/Associated Press
It may not have been as easy as hoped, but the Crimson Tide defeated another Top 25 team on Saturday, and the coaching staff is a big reason why. Alabama unexpectedly came out throwing in the first half, which was successful outside of the two interceptions. Coach Saban said in his postgame press conference that he did not get angry at the players at halftime but just told them to play with confidence. It was clear the players appreciated the message and put together a stronger performance in the second half.
Alabama used its running backs more than Hurts in the second half, which helped kill the clock. The Crimson Tide held the ball for 40 minutes and 29 seconds of the game on Saturday. If there's ever another game that the Crimson Tide hold the ball for 40 minutes or more, it is probably a safe bet they will win.
Grade: A+
Stats courtesy of ESPN.com.