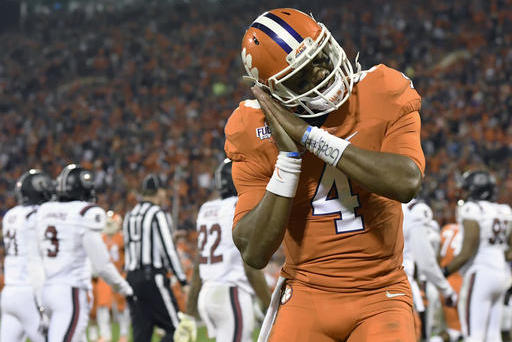 Richard Shiro/Associated Press
Clemson's road to the College Football Playoff officially runs through Orlando. The Tigers closed their regular season in fine fashion Saturday night, earning a 56-7 blowout victory over South Carolina.
Deshaun Watson perhaps put himself back in the Heisman conversation, throwing for 347 yards and having as many touchdowns (six) as incompletions. While South Carolina is a middling SEC team that barely scraped its way to bowl eligibility, it was a clear sign the Tigers' midseason offensive woes are a thing of the past.
Clemson has scored at least 35 points in each of its last five games; three of the last four contests have seen the Tigers give up 13 or fewer points. While the exception to that rule was their 43-42 loss to Pittsburgh, Clemson enters the ACC Championship Game with a ton of forward momentum.
"I've made a lot more mistakes than I want to. But that's for everybody, regardless of how much hype they have," Watson said, per David M. Hale of ESPN.com. "Personally, I don't really care about anybody else's opinions and expectations. I understand what I'm doing, and my teammates do, too."
| | | | |
| --- | --- | --- | --- |
| ate | Time (ET) | Venue | TV |
| Saturday, Dec. 3 | 8 p.m. | Camping World Stadium | ABC |
NCAA.com
Virginia Tech, meanwhile, closed its season with wins in five of its last six games to clinch its first nine-win season since 2011. The Hokies finished with a 52-10 victory over rival Virginia, rushing for 289 yards and three touchdowns as a team.
"To be honest, if we had gone to the ACC championship and lost to UVa, it would have been devastating," right guard Augie Conte told reporters. "It wouldn't have felt the same. When I heard that [UNC] lost and it gave us the Coastal title, I really didn't care. … The season's a failure if you don't beat UVa."
It's been a bit of a dream season for first-year coach Justin Fuente, who took over for the legendary Frank Beamer. Fuente has taken a roster full of players who could barely scrape bowl berths the last couple of seasons and molded them into an outfit that could at least put a scare into Clemson.
"It's always about the process, giving ourselves a best chance going into the season and then at the end looking back and saying, this is what we accomplished," Fuente told reporters. "I don't try and limit them by what I think they could be, you know. We just focus on each day, the process, continue to improve and do things the right way and try to teach off those teachable moments, either good or bad as we move forward."
Fuente will be faced with a Herculean task next weekend. These are the same Hokies who lost by 10 points to Georgia Tech and by 14 to Syracuse. Clemson defeated those two teams by a combined 73 points.
With Lamar Jackson faltering down the stretch, Watson could be playing for a chance to leave Clemson as a national champion and Heisman winner.
There isn't a category where Virginia Tech has an obvious advantage. The Tigers are roughly doubling the Hokies' season scoring margin, and they're better on both sides of the ball. They score more points, give up fewer, and it translates over to yardage and advanced stats.
Coming into this week, Football Outsiders' advanced metrics rated Clemson as the superior team on both sides of the ball. The Tigers score an adjusted 39.2 points per game and allow 15.0 points. Virginia Tech is scoring 30.6 points and allowing 20.9.
The margin between these two teams isn't such that it's impossible to see Va Tech pulling the upset. But it's enough of a chasm no one can objectively make that selection.
Score: Clemson 39, Virginia Tech 17