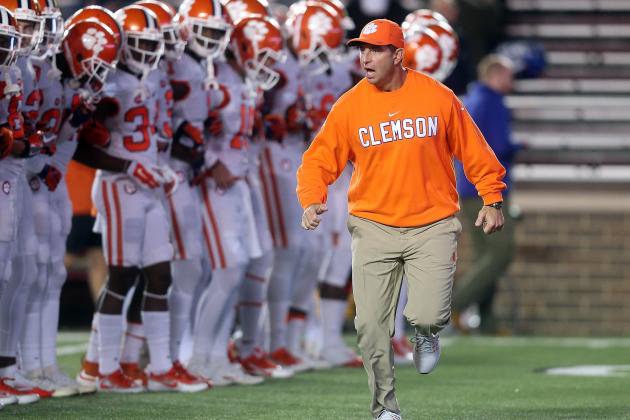 Jim Rogash/Getty Images
The No. 3 Clemson Tigers and No. 19 Virginia Tech Hokies will battle for the 2016 ACC Championship Game at Camping World Stadium in Orlando, Florida, on Saturday, Dec. 3.
Clemson (11-1, 7-1 ACC) is seeking its second straight conference title, and a victory should propel head coach Dabo Swinney's club to the College Football Playoff, too.
Justin Fuente arrived at Virginia Tech (9-3, 6-2) during the offseason, and the successor of legendary head coach Frank Beamer guided the Hokies to their first Coastal Division crown since 2011.
Per Odds Shark, Clemson opened as an 8.5-point favorite. Kickoff is scheduled for 8 p.m. ET, and ABC will televise the game.
Streeter Lecka/Getty Images
Avoid Turnovers
Deshaun Watson is a talented quarterback, but he's regularly made questionable decisions during big games this season.
Only four players have more interceptions than Watson, who has thrown nine picks in four outings against ranked opponents. Throughout the eight other games, he tossed just five.
Although Watson can overcome a bad mistake, Virginia Tech will likely make him pay for multiple turnovers.
Stop the Big Play
Sustaining possessions against Clemson isn't easy. However, the Tigers are far from impenetrable defensively.
In Clemson's three closest games—Louisville, Florida State and Pitt—the unit ceded 24 total gains of 20-plus yards. During the nine other contests, the Tigers allowed a mere 22.
Virginia Tech is average at creating explosive plays. Allowing the Hokies to become that type of offense would be a problem.
Lance King/Getty Images
Red-Zone Touchdowns
Both teams are capable of winning a shootout, so Virginia Tech must capitalize on its chances to put seven on the board while in the red zone.
That's been a struggle this season, though. The Hokies' 56.7 touchdown rate ranks 95th in the country.
Joey Slye is a decent kicker, and he might be a valuable asset in a late-game situation. But if Virginia Tech is relying on Slye for points, odds are Clemson is slowly pulling away on the scoreboard.
Win on 3rd Down
Clemson is the No. 7 offense nationally on third down, converting 51.3 percent of the time. Meanwhile, Virginia Tech's defense has surrendered a 26.8 rate, the fourth-lowest mark in the FBS.
Something's gotta give.
It's not rocket science that the more chances Watson and Co. have, the more likely Clemson will score. If the Hokies can regularly force punts, they'll inhibit the Tigers from establishing a dangerous offensive rhythm. Because when they get going, they're tough to stop.
Streeter Lecka/Getty Images
Mike Williams, Wide Receiver
South Carolina used multiple defensive calls in an effort to slow Mike Williams. The result, as Ben Breiner of the State noted, was not what head coach Will Muschamp hoped.
"He made some plays," Muschamp said after Williams' three-touchdown day. "He's a really good player. Give him credit. … We rolled up. We played zone. We did multiple things, obviously not very effective."
Virginia Tech defensive coordinator Bud Foster will likely try to disguise some coverages, but Watson won't be shy to target a mismatch or single coverage on Williams.
Christian Wilkins, Defensive End
While Carlos Watkins and Dexter Lawrence patrol the inside, Christian Wilkins is a standout at end.
The sophomore is a finalist for the Bronko Nagurski Trophy, which is the nation's top defensive player. He's collected 43 tackles with 12 stops for loss, 3.5 sacks and seven pass breakups.
Jonathan McLaughlin—a third-team All-ACC right tackle—will be tasked with stopping Wilkins as a rusher. But the Hokies must also be aware of Wilkins contributing in gadget plays on special teams and offense.
Justin Berl/Getty Images
Bucky Hodges, Tight End
One glaring weakness of Clemson's defense is guarding tight ends. Bucky Hodges is a hybrid, but he's a potential problem anyway.
Louisville's Cole Hikutini grabbed seven passes for 84 yards. NC State's Jaylen Samuels had eight receptions for 100 yards. Pittsburgh's Scott Orndoff secured nine catches for 128 yards and two touchdowns.
Hodges deserves being called a red-zone threat—six of his seven touchdowns have come inside the 20, per CFBStats.com—but Clemson cannot afford to let the junior be a big-play factor who sets up scoring chances.
Woody Baron, Defensive Tackle
"Woody, right now—I told him that in front of the group—he's playing as well as any defensive lineman we've had in my tenure as a coordinator," Foster said earlier this season, according to Ava Wallace of the Washington Post.
During a five-game stretch starting with Syracuse and ending against Georgia Tech, the senior racked up 13 tackles for loss with four sacks and four hurries. He has 17.5 TFL for the season.
The Hokies will need a consistent impact from Baron in the trenches to stop Wayne Gallman and Watson on designed runs, two important elements of Clemson's versatile offense.
Michael Shroyer/Getty Images
Clemson
According to Andy Bitter of the Roanoke Times, Swinney considered hiring Fuente as the offensive coordinator in 2011. Swinney eventually chose Chad Morris, but the Clemson head coach expected Virginia Tech to surge under Fuente's leadership.
"I knew when they hired him that it wouldn't take long for him to get them back to this point," Swinney said, per Bitter.
Virginia Tech
Per the Augusta Free Press, Fuente said he's impressed with Clemson, which sports a 5-1 record in one-possession games.
I have a tremendous amount of respect for [Swinney]. He's done a fantastic job down there. They have athletes all over the field on both sides of the football, and they play together. They've been in some close ballgames and found a way to win them, and obviously came darned close to winning the whole thing last year.
Tyler Smith/Getty Images
Turnovers—or lack thereof—will likely shape the outcome. Clemson's defense has shutdown potential, but Watson's inconsistent decision-making can create unfavorable situations for the unit.
When the Tigers lose the turnover battle, they're 4-1 with three one-possession wins. When even or positive, Clemson is 7-0 and boasts a 34.1-point average margin of victory.
Virginia Tech could bounce back from a slow start, but it'll need explosive plays to keep up. However, Swinney's club is experienced in clutch moments, and that will be valuable during a tight fourth quarter.
Clemson will stave off the Hokies to secure an ACC championship and a nod to the College Football Playoff.
Prediction: Clemson 38, Virginia Tech 30
---
All recruiting information via Scout. Stats from CFBStats.com or B/R research. Quotes obtained firsthand unless otherwise noted. Follow Bleacher Report CFB writer David Kenyon on Twitter @Kenyon19_BR.