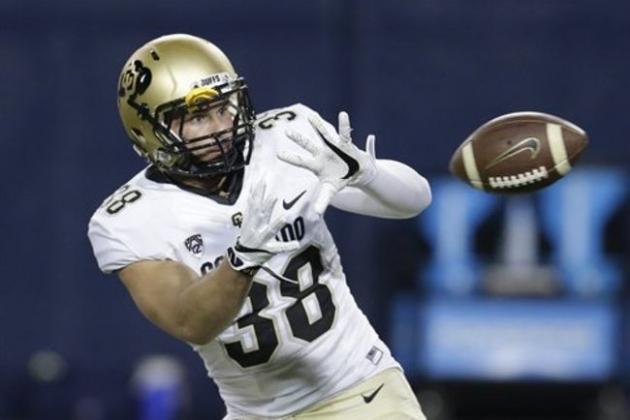 Associated Press
Colorado wide receiver Abdul Jaleel Awini was arrested and tight end Christopher Hill was cited early Sunday morning after being involved in a bar fight after the Buffaloes' 27-22 win over Utah.
According to court records obtained by Mitchell Byars of the Daily Camera (h/t Denver Post), Hill punched Awini after a verbal altercation. Police then found a substance that is believed to be cocaine when searching Awini on the scene.
Hill was cited with third-degree assault, while Awini was arrested on suspicion of drug possession.
The police report alleges Awini and Hill began fighting after a Boulder bar kicked out Awini for being too drunk. He accused Hill of being the reason for his removal; Hill then punched him in the face, knocking his teammate unconscious.
Buffaloes coach Mike MacIntyre said Awini has been suspended pending the outcome of the case. Hill will not play in Saturday's Pac-12 Championship Game against Washington.
Neither player was likely to have much of an impact on the outcome. Awini, a senior, is a transfer from Air Force who has attempted to play quarterback, linebacker and wide receiver during his Buffaloes career. He is yet to make a reception in 2016 and has mostly played special teams.
Hill, also a senior, had his lone reception this season go for a touchdown against Idaho State in Week 2.
Awini was previously charged with a DUI in August and had a 2015 assault charge that was later dropped.
Follow Tyler Conway (@jtylerconway) on Twitter.