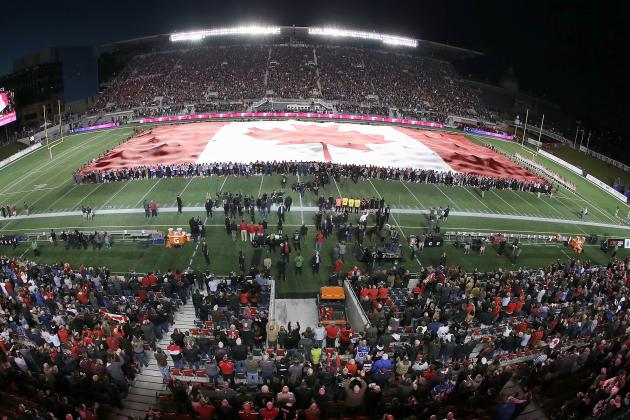 Jana Chytilova/Freestyle Photo/Getty Images
Ray Moon remembers when he realized how important football is to Grant McDonald.
The head coach at South Delta Secondary School, located in a coastline community of Metro Vancouver, British Columbia, Canada, witnessed his two-way standout assemble a contraption only the most devout football fanatic would embrace.
"He built this sled for himself, stacked it up with a bunch of weights, and then put on a homemade shoulder harness," Moon said. "It's 7:30 in the morning and he's dragging this thing the length of the field. Then he would go out the next day and do it again."
An 11th-grader at the time, McDonald understood he was already nearing now-or-never territory in his efforts to play American college football.
"I'm trying to get the best 12th-grade film I possibly can in order to show coaches in the States how much work I've put into this game," he said.
McDonald, a second-year captain at South Delta who stands 6'3″, 225 pounds, was arguably the most dominant player in British Columbia's top-tier high school league last season. He led BCSSFA Division AAA with 103 tackles, ranked second with 1,217 rushing yards, scored 16 touchdowns on the ground and added an interception in 11 games.
"He was like a man among boys in a lot of those games," Moon said.
Grant McDonald's 2015 Highlights
South Delta has defeated teams from the United States. It claimed a 2014 division title in the only Canadian province that plays by traditional American football rules, with McDonald scoring twice in the championship victory.
Still, an NCAA coach has never stepped foot on the school's campus to meet McDonald, though online videos and a few summer camps south of the border helped net him Division I scholarship offers from the University of Buffalo and University of Maine.
No Power Five program has contacted Moon about his premier playmaker. FCS interest extends to Weber State (Utah) and Eastern Washington.
"It's definitely frustrating to know you're working just as hard and playing just as well as somebody in the States who has a bunch of offers," he said. "When coaches can see firsthand, that makes a big difference."
McDonald is equipped with collegiate size, produces at a prolific level against the best competition in a high-population area and boasts football pedigree in the form of his father (former Canadian Football League draft selection Bruce McDonald) and older brother (University of Calgary receiver Jack McDonald).
"Our household is no different than a football household in Florida," Bruce said. "We are avid NCAA football fans and the Saturday games are a fixture in our home. Giving Grant an opportunity to play in the NCAA is definitely the next-level goal."
If Grant grew up in Florida, you wonder if college football fans would be more likely to recognize him as a 4-star recruit rather than a relative mystery man. Coveted by Canadian college football programs, he remains barely a blip on the radar of FBS coaching staffs.
"Unless you're an anomaly, there's a pretty remote chance of getting noticed up here," Bruce said. "That's the battle."
Despite efforts from supporters of football development within Canada, a significant expansion in the country's recruiting culture seems more iffy than impending at this point. Upon further exploration, the layers that create this largely untapped football landscape provide evidence of potential and pitfalls alike.
This became clear earlier this year when Bleacher Report joinedCanadian recruiting impresario Shomari Williams for a four-city tour with his Top Prospects camp series.
An impressive amount of athleticism and size was evident during events in Vancouver, Montreal, Hamilton and Toronto; so, too, was a startling lack of scholarship offers from American universities.
"College coaches need to put in the work to find them, but there are so many diamonds in the rough here," Williams said. "You can consistently find great Canadian athletes with a clean slate and mold them into whatever beast you want them to be. You just have to be willing to find them."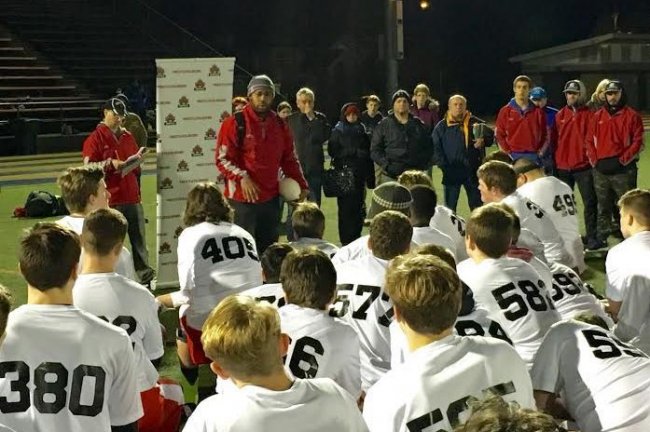 Credit: Tyler Donohue
Williams, an Ontario native, is a rare success story on the Canadian recruiting trail. He earned a scholarship to play along the defensive line at the University of Houston, competing for former Baylor head coach Art Briles and current Texas A&M head coach Kevin Sumlin. Then he was selected No. 1 overall in the 2010 Canadian Football League draft.
During his recruitment, Williams mailed game film to every Division I program, following each correspondence with a phone call to university football facilities.
"There weren't too many return calls," he said. "My goal was to at least get a 'no' because otherwise I wasn't satisfied."
A decade later, he's still figuratively tapping on the shoulders of college coaches, serving as an ambassador on behalf of more than 600 Canadian football players who attended his camps this year.
"We still have a lot of strides to make," Williams admitted.
Unknown Beyond the Border
Chuba Hubbard is among the most impressive high school athletes in North America.
A multi-sport stud at Bev Facey Community High School in Alberta, Hubbard looks the part of both future Olympian and possible NFL prospect. The 6'1″, 190-pound senior accumulated 3,213 rushing yards and 40 touchdowns last fall, months after finishing fourth overall in the 100-meter sprint (10.55 seconds) at the 2015 IAAF World Youth Championships in Cali, Colombia.
When Bruce McDonald mentioned anomalies, he was talking about athletic freaks like Hubbard.
Hubbard posted video-game statistics and asserted himself as one of the globe's fastest teenagers. He earned MVP honors after a 42-0 victory over Team USA in a January 2015 Under-15 International Bowl held at AT&T Stadium, home of the Dallas Cowboys.
It didn't matter.
Chuba Hubbard wins the International Bowl MVP for #TeamAlbertaU16pic.twitter.com/S0NKjUUw65

— Football Alberta (@FootballAlberta) February 1, 2015
Months after his sensational 11th-grade season ended, Hubbard still clamored for attention from NCAA teams.
"I can say no American coach had even heard of Chuba or knew what a Chuba was," he said.
Hubbard's gaudy athletic resume failed to produce a single NCAA football scholarship midway through February.
"College coaches aren't thinking they'll find the next Najee Harris or Derrick Henry in Canada," Hubbard added, alluding to the 2017 recruiting class' top-rated prospect and the 2015 Heisman Trophy winner, respectively.
His scintillating highlight film, introduced to B/R during a dinner with Williams, finally surfaced in various recruiting offices late last winter. Offers and adulation followed, with one Pac-12 recruiter calling Hubbard the fastest prospect he's ever scouted.
He received eight FBS offers during a 72-hour span in late February, setting the stage for a list that eventually swelled to more than 20 schools. Hubbard committed to Oklahoma State on May 8.
While his swift ascension should be celebrated by Canadian football enthusiasts, make no mistake, it's a monumental outlier. Even as Hubbard racked up scholarship offers, he didn't welcome a single college coach to his hometown through the spring.
Jamaal Westerman, who competed against Williams during his high school career in Ontario before earning all-conference honors at Rutgers University, understands why coaches may lack motivation to make international travel plans.
"It's difficult to come up to a country where you might try to see two or three guys when you can just go to New Jersey and see 25 players in two days," he said. "There's only so many hours in a day, and only so many recruiting days in a year."
Darrell Patterson, the assistant head coach at Rice University, acknowledges this sentiment. He also knows what a program stands to gain by dedicating resources toward an area others ignore.
"They say, 'Well there are 330 million people in the United States, we can go find one'. But when you find a young man who wants to be at your institution and truly appreciates the opportunity, you just get a little more out of him," Patterson said. "He's willing to do a little bit extra because we came all the way up there to get him."
A former CFL Grey Cup champion, Patterson forged his own football reputation at TCU, where he earned induction into the university's Hall of Fame following a dominant career at linebacker. He married a Canadian while playing in the CFL and his children were born in the country, helping him develop a stronger sense for an alternative football culture.
"I have great appreciation for the athletes up there," Patterson said. "I understand they don't always have the greatest facilities or opportunities, but that doesn't lessen their athletic ability and their desire to play."
In 2009, when there were approximately 75 total Canadian athletes in FBS settings, six of them suited up for Rice, according to the Houston Chronicle. More recently, in 2013, 35 Canadian natives competed in FBS bowl games, per CanadaFootballChat.com.
"When you bring a young man down from Canada, you have to be patient," Patterson said. "They don't have the luxury of learning from as many coaches with playing experience as they would growing up in Texas. You're often getting a raw athlete, and you better take some time to groom him."
That belief hasn't helped the likes of McDonald, despite the fact that he hails from a province that competes with the same field dimensions and offensive schemes you'd find in Texas. McDonald's coach, Moon, has even helped lead provincial all-star squads to victories over American counterparts in Dallas and Las Vegas.
But perceptions are difficult to change.
"We go down there and compete very well, but because we're across the border and there's a feeling that Canada is second-level football, they'll look at players who are outstanding—like a Grant McDonald—and discount them," Moon said.

Credit: McDonald family
Southbound or Bust?
McDonald is considered the ninth-best overall high school prospect and No. 1 linebacker in the country, according to CanadaFootballChat.com. Among the 12th-grade Canadian-born prospects featured in the top 10, only three play football in Canada.
Defensive end Luiji Vilain, safety Jonathan Sutherland and receiver Joshua Palmer—rated second, third and fifth, respectively—each attend American high schools. All three Ontario natives are pledged to a Power Five program.
"I want to play big-time college football and I want to play in the NFL," said Vilain, who is committed to Michigan. "Those experiences seemed more likely if I left Canada."
Vilain and Sutherland both attend Episcopal High School in Alexandria, Virginia. The school also produced 2016 Northwestern University signee Jesse Meyler, an offensive lineman who started his prep career as an Ontario Varsity Football League all-star.
Meyler spent his final three high school seasons embedded in an American college football recruiting scene that's never been more far-reaching, yet alternatively elicits feelings of exclusivity.
"There's always a stigma that Canadian football is just not good enough," Meyler said. "People don't think we have the talent and it's as though we actually have to come down here physically for a chance at attention."
That's exactly what Canada's elite young talent is doing in droves. Episcopal High School alone featured seven Canadians on its roster in 2015, according to Meyler.
"The coaches down here really don't want to see what you can do in Canada. They want to see you on their turf, playing their boys," he said.
#B1GCats offensive line coach @CoachCushing is smiling ear to ear because @JJMeyler is officially a 'Cat! pic.twitter.com/etHxhcRqdN

— Pat Fitzgerald (@coachfitz51) February 3, 2016
Meyler followed the footsteps of former OVFL lineman Wesley Annan, who left Ontario a year before Meyler and now plays at Stanford University. Annan attended Lake Forest Academy (Illinois), where 2016 Penn State signee Daniel Joseph jumped out to scouts upon his arrival from Canada.
Lake Forest head coach Robin Bowkett believes a Canadian recruit's collegiate odds improve exponentially following a transfer to schools like his.
"The opportunity for exposure is here," he said. "College coaches are in and out of my office, asking for lists of guys and contact info. They're able to see these players in workouts and camps. There is constant evaluation."
But these opportunities for evaluation can come at a cost.
First off, there's a potential financial burden involved.
"Because [McDonald] would go down as an international student, a lot of times the fees are like quadruple what they are for an American student," Moon said. "I think it would cost him about $12,000 each year for just school alone, not counting living expenses."
Additionally, relocation can rip athletes away from their roots before they're prepared.
"I was in contact with prep schools and it was a big consideration for a long time," McDonald said. "As much as I would've liked to go down to the States and catch a big offer, it was important to finish my career with the coaches and teammates I've been with so long."
Hubbard echoed that outlook, relieved the NCAA spotlight discovered him in Alberta.
"[American prep schools] probably crossed my mind a million times. I was thinking about how hard it was going to be to leave all my friends behind here. I'm glad I don't have to leave home now," he said.
Hubbard, of course, is an anomaly. For the vast majority of Canadian players with FBS aspirations, the writing is on the wall.
"The dream isn't that you're going to the NCAA from Canada," Meyer said. "The dream is that you're going to get set up with an American school like I was and earn an NCAA opportunity from there."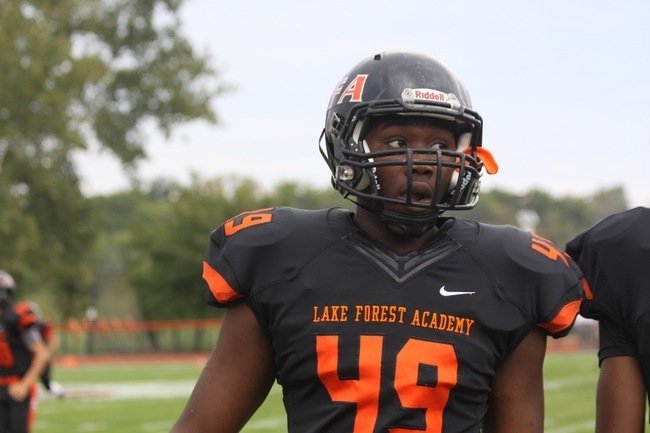 Credit: Scout.com
Bridging the Gap from Home
Westerman, a former New York Jets contributor who currently ranks among the CFL's most feared defenders, recalls arduous efforts he and his past generation of Canadian football hopefuls took to ensure they didn't go entirely unnoticed by American universities.
"Every day after school, a few buddies and I would make as many VHS tapes as possible, then go to the store and get the cheapest mailing package we could find," he said. "We would look up all the school addresses from every state, write those down and send them off. Then all you could do was hope a coach received it and would give a chance to a player from outside the country."
Whenever Westerman heard an American coach would be in the region for a camp or recruiting visit, he did his best to show up.
"If there's talent out there, somebody is going to find it. I wanted to give myself an opportunity so, in case someone did look at me, I was the guy they were looking for," Westerman said.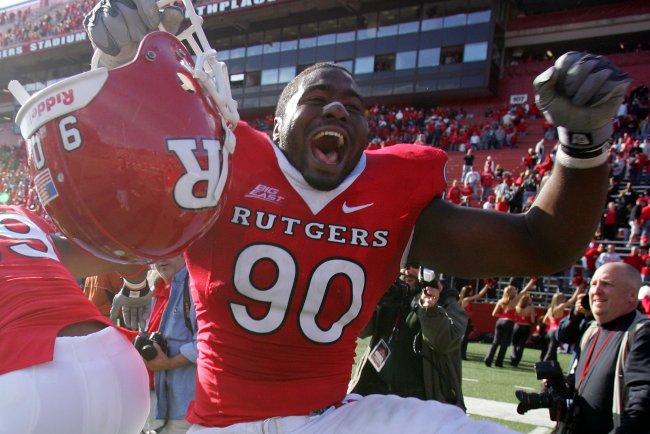 Jim McIsaac/Getty Images
The international recruiting landscape, along with everything that pertains to social communication, dramatically advanced during recent years. Several online resources now allow athletes anywhere to upload videos for anyone to access, helping the aforementioned Hubbard put himself on the map.
Even in the case of recruit highlights, however, there's an inherent bias.
"The average player around you in Canada doesn't have the experience since so many players don't start playing football until [freshman year]. Down here, they're playing Pop Warner at seven years old," Meyler said. "It's a fine line for coaches who watch Canadian highlights because of the competition, and at the end of the day they'd rather go with what they know."
Coach Patterson, who's assessed countless hours of Canadian tape during his collegiate tenure, implements a particular approach during such film studies.
"A lot of people always want to evaluate the competition, but you can only evaluate the athleticism of that one young man," he said. "It's not about who is he dominating, it's about how is he dominating."
According to scouts and coaches who discussed the issue with B/R, Canadian athletes benefit most when they make an effort to put their cleats on American turf, where the offseason camp circuit continues to expand.
"I think the really, really good ones – the Neville Gallimores of the world – don't need to go to the States. Those guys are freaks," Lake Forest's Bowkett said. "But if you're an average scholarship player, you have to attend certain things in the States like camps or combines and you need to start doing that by your sophomore or junior year."
Gallimore, a defensive tackle from upstart Canada Prep Academy (Ontario) who signed with Oklahoma in 2015, was indeed viewed as a rare specimen in the trenches. But even he may have dealt with difficulties attracting attention from American schools without a proactive approach.
"Neville attended several NCAA school camps, and they certainly helped him gain additional exposure and receive invitations to the popular summer camps such as Rivals Camp Series, The Opening, and even the Army All-American Game," said Canada Prep assistant coach and scouting director Riley Herechuk.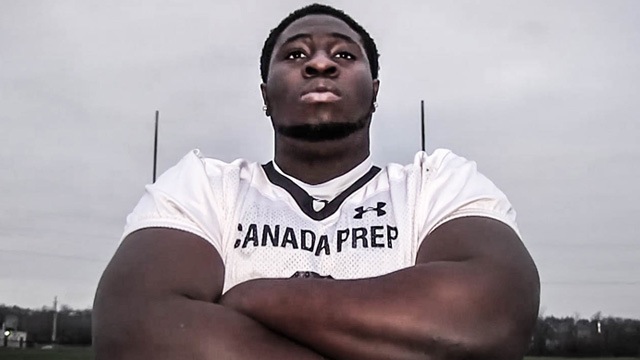 Credit: Scout.com
Canada Prep—run by former All-American University of California receiver Geoff McArthur—is trying to help its players build ties across the border, as it invests in year-round performance training and schedules games against some of the United States' top high school squads. Unfortunately, however, for large masses of public school student-athletes in Canada, there isn't a firm structure in place for early-and-often recruiting exposure.
"In America, this process is a way of life," Herechuk said. "You get into the recruiting game early, grind your butt off, get to as many camps as you can and earn offers. We're only just starting to turn that corner in Canada. It's evolving and I expect things to speed up."
According to Moon, there's more that stands in the way of young athletes' ambition than simply a lack of exposure. The economics aren't there. South Delta players, for example, must pay a $450 fee to participate and their coaches are volunteers.
"We heard that down in the States, some guys get paid to coach high school teams, and we're thinking 'Wow, that would be sweet'," Moon said. "We're able to get some community sponsorship to help, but because we have to buy our own jerseys, pay for our own field paint, pay for buses, pay for refs and everything else you can think of, the money goes quick."
Not one of South Delta's dozen coaches are employed by the school, per Moon. And this is a program that topped all others in British Columbia's most contentious division two years ago.
On the contrary, more than 30 high school coaches in the Fort Worth, Texas, area are set to earn at least $100,000 in 2016, according to the Star-Telegram.
"It's a whole different world," Meyler said. "Down here, you can see everyone focused on getting players on the recruiting radar. Back home, we don't really have that. There's no one putting it in your face so a lot of players don't grasp what's going on with recruiting until their senior year when it's too late. In America, you find out who the best player is in your ninth-grade class and try to be better than him."
Not Just a Myth Anymore
Whether you approach Canada's long-term impact on college football recruiting with an optimistic or pessimistic viewpoint, one truth emerges—an abundance of unidentified talent resides surprisingly close to NCAA campuses.
South Delta High School is approximately two hours north of Seattle. Brampton, Ontario, where Williams and Westerman awaited opportunities, is less than 100 miles away from Buffalo.
The most meaningful separation is found in fundamental disparity and communal dedication.
"Technique and training is much further advanced in America, and if Canada wants to catch up in the eyes of college coaches there needs to be a greater emphasis on offseason development across the country," Williams said. "You need to learn how to run a 40-yard dash, how to backpedal, how to watch film and do all the little things that add up. We must invest in the sport if true development is going to happen here."
Former Houston DL & #1 CFL draft pick @ShoWill33 preparing Quebec's prospects for 40-yard dash. Solid OL group here. pic.twitter.com/ig3XrSI0yl

— Tyler Donohue (@TDsTake) February 14, 2016
Meyler took a similar stance, citing how hard it can be for Canadians to earn respect in America's most-celebrated sport.
"The stigma is Canadian football players don't know what they're doing," he said. "We need to change that opinion in order to show we do have ballers who can come in and compete with the best of them. If we can raise the level of play back home, we wouldn't have to send our best across the border."
Prospects like him, Hubbard, Vilain and Gallimore provide proof of what is possible, taking the torch from an era that saw Westerman and Williams rise up alongside far fewer Canadian contemporaries.
McDonald, too, is on his way toward creating a narrative young Canadian players can emulate. He just wishes these stories were more widespread.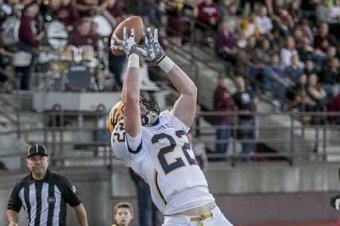 Credit: McDonald family
"Coaches do take chances on some kids up here in Canada—like [Notre Dame freshman and fellow British Columbia product] Chase Claypool and Chuba Hubbard—but unfortunately that's very rare," he said. "They're great athletes, but there are a lot of guys like them up here who won't get a chance."
Maybe McDonald's next helmet-rattling hit will be the highlight that convinces a coach to call, or even become the first to visit South Delta.
"Sometimes it's like nothing is going to stop Grant from getting to the ball. He's always in pursuit," Moon said.
Always in pursuit.
It's a trait that leads McDonald onto the field for those morning sessions with his homemade sled, a trait that draws him toward a familiar game in a foreign land.
Tyler Donohue is a Bleacher Report National Recruiting Analyst. All quotes and observations obtained firsthand unless otherwise noted.
Follow Tyler via Twitter: @TDsTake.