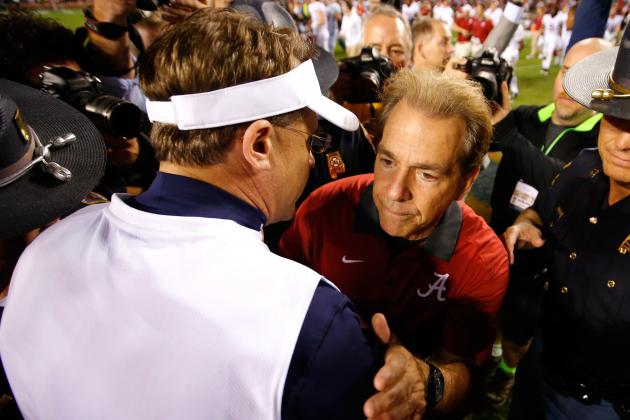 Kevin C. Cox/Getty Images
The top-ranked Alabama Crimson Tide will host the No. 15 Auburn Tigers for the 2016 edition of the Iron Bowl on Nov. 26.
Auburn (8-3, 5-2 SEC) had a chance to make the rivalry clash a winner-take-all matchup, but a loss to Georgia two weeks ago ended those hopes. Still, the Tigers will be looking to upend Alabama for the first time since 2013.
No matter the result, Alabama (11-0, 7-0) will head to the SEC Championship Game with a chance to earn a spot in the College Football Playoff. However, the Tide have a chance to finish the regular season as the lone undefeated power-conference team.
Kickoff is scheduled for 3:30 p.m. ET and will be televised on CBS. Per Odds Shark, Alabama opened as a 20-point favorite.
Butch Dill/Getty Images
Keep the Drive Alive
Although Auburn has explosive potential, Alabama doesn't give up many big plays. Only San Diego State and Washington have ceded fewer runs of 20-plus yards, while only San Diego State and BYU have surrendered fewer runs of 30-plus this season.
Sustaining drives means picking up the hard yards on third down. In eight wins, the Tigers have converted 52.7 percent. During three losses, though, they're moving the chains at a meager 23.9 rate.
Auburn must take advantage of all favorable third-down situations. Otherwise, it could be a long day for the offense.
Win the Turnover Battle
Owning a positive turnover margin isn't guaranteed to result in a victory. However, just one team since 2007 has beaten the Crimson Tide with a negative clip.
Yes, 2013 Auburn is the exception, but that's an indisputable outlier. Each of Alabama's six victories in the series under Saban have included a positive mark for the Tide.
While the Tigers need to protect the football, creating a high-probability scoring chance is just as important.
Kevin C. Cox/Getty Images
Hit the Deep Shots
The old football cliche is "run to set up the pass." In today's era, you can throw to set up the run, but only if the defense actually has to respect downfield throws. Otherwise, the opposing coaching staff will happily load the box and dare a quarterback to attempt a deep shot.
Jalen Hurts is pretty darn good at it, though.
Despite ranking 90th in the country with just 85 passes that gained 10-plus yards, the Crimson Tide are fifth with 15 completions of 40 yards or more. If Alabama can stretch Auburn's defense, the running game is more likely to succeed.
Force Auburn to Throw
No matter if Sean White or Jeremy Johnson is under center, the Tigers would prefer to run the ball. Alabama's main task is rather direct: Don't let that happen.
Auburn has some promising young talent on the outside, but its No. 1 receiver—senior Tony Stevens—has managed just 29 catches all year. They're not prepared to carry the offense.
Whether it's the product of an ineffective rushing attack or third-and-long situations, a high-volume passing offense from the Tigers heavily favors the Tide.
Joe Robbins/Getty Images
Whoever Starts at QB and RB
White or Johnson? Kamryn Pettway or Kerryon Johnson? We don't know. And even if Gus Malzahn does, he's not sharing.
"We're hopeful," Malzahn said of Auburn's injured players, according to Justin Ferguson of SEC Country. "We won't really know much until after Tuesday's practice, maybe Wednesday's, too."
Maybe all four will play. Perhaps White (shoulder) and Pettway (leg). Either way, the point remains the same regardless of which players start: Auburn's backfield will be under immense pressure to consistently produce against an elite college defense.
Montravius Adams, Defensive Tackle
One potential complication to Alabama running the ball is Montravius Adams. The 6'4″, 309-pounder is a space-eating backfield-wrecker.
He's collected 8.5 tackles for loss with 4.5 sacks, providing a valuable interior complement to star edge-rusher Carl Lawson.
Adams might not make a huge impact on the box score, but his disruptive ability is a key to stopping Hurts and Damien Harris.
Kevin C. Cox/Getty Images
Jalen Hurts, Quarterback
While the freshman has repeatedly performed well against top competition, part of that success is due to Lane Kiffin's play-calling. Most of Hurts' passes are quick-hitting, low-risk throws.
The dual-threat quarterback has steadily shown he's capable of more, but the Tide won't rely on Hurts' arm. Rather, they're looking for him be efficient as a passer, provide a boost on the ground and to avoid turnovers in bad spots.
Through 11 games, he's always accomplished at least two of those three objectives. Do it again, and 12-0 will be the reward.
Reuben Foster, Linebacker
Behind a deep, imposing group of defensive linemen is Reuben Foster, one of the nation's most fearless hitters.
The Butkus Award finalist leads Alabama with 75 tackles this season, but Foster—who is from Auburn—isn't simply a standout player. He's the emotional leader of the defense, too.
"He's a huge leader," safety Ronnie Harrison said, per Tony Tsoukalas of the Anniston Star. "He's always talking to us. He brings the energy every day to practice. He's like the biggest leader on the team."
Kevin C. Cox/Getty Images
Auburn
According to Ferguson, Malzahn said on the Tiger Talk radio show he's looking forward to his seventh Iron Bowl experience.
"You' re talking about two of the best defenses in college football and two of the best teams in our league. It's the Iron Bowl on top of that. It''s a big one. … I'll be ready to go. There's no doubt about that."
Alabama
Bleacher Report's Christopher Walsh notes Saban wasn't pleased with Alabama's performance in the first half against Chattanooga, but he was still satisfied with the result.
"Look, I'm proud of our team," Saban said. "Our team's won 11 games this season so far, had great competitive character, had to play some really tough games in some really tough places and came through when they needed to.
"I like the competitive character of this team. Maybe we weren't perfect, but we still won 31-3."
Kevin C. Cox/Getty Images
Although defense should keep Auburn in the game, a banged-up backfield and below-average production from receivers is a terrible combination for a road trip to Tuscaloosa.
The Tigers could still win without a masterful offensive performance. However, it would include a couple of takeaways and limiting the Tide to field goals, particularly on drives that reach the red zone.
But we're not expecting a collapse from Alabama, despite the possibility of a slow start from the offense.
Foster and a dominant run defense will propel the Crimson Tide until Hurts settles in. They'll put the final touch on a 12-0 regular season while dropping Auburn to 8-4.
Prediction: Alabama 27, Auburn 13
---
All recruiting information via Scout. Stats from cfbstats.com or B/R research. Quotes obtained firsthand unless otherwise noted. Follow Bleacher Report CFB Writer David Kenyon on Twitter @Kenyon19_BR.