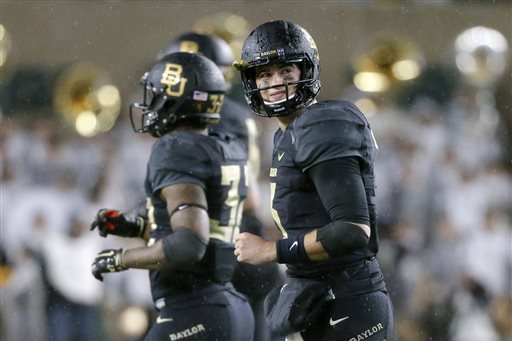 Tony Gutierrez/Associated Press
Jarrett Stidham should make a big impact for Auburn in 2017.
Sometimes the best players in college football don't always take the field. More than any other major college sport, football utilizes redshirts as key tools for roster management. Perhaps players are transferring from one program to another. Maybe there are veteran players ahead of them, and coaches feel it's smarter to save their eligibility for another year. Or sometimes they're injured and need the year to recover.
Any way you look at it, redshirts are important, and there are a number of players who didn't take the field in 2016 who will impact college football next year and for years to come. Here's a look at 10 of the best players who took redshirt seasons this fall.
George Bridges/Associated Press
Kyle Allen found an excellent landing spot in Houston.
Kyle Allen is looking for a second chance, and he has found an excellent landing spot in Houston. Allen was highly regarded when he signed with Texas A&M in 2014, and he quickly made an impact, displacing Kenny Hill, serving as the Aggies' starting quarterback and throwing for 1,322 yards with 16 touchdowns and seven interceptions.
As a sophomore, he was even better, throwing for 2,210 yards with 17 touchdowns and seven picks and completing 56.5 percent of his passes. But like fellow A&M passer Kyler Murray, Allen decided he'd be better off away from College Station and transferred at the end of the 2015 regular season. He wound up at Houston, learning behind dual-threat quarterback Greg Ward Jr.
Head coach Tom Herman departed for Texas, but the Cougars promoted offensive coordinator Major Applewhite to head coach, which should make Allen's transition as the starter in a high-powered offense smooth next fall.
Credit: Scout.com
Ben Davis should be ready to make a big impact on Alabama's defense next fall.
Under Nick Saban's watch, Alabama has become the nation's gold standard. The Crimson Tide have made the College Football Playoff in each of its three seasons and will gun for the program's fifth national title in Saban's decade at the helm later this month.
And there are few better ways to explain it than showing that the Tide can afford to redshirt players like linebacker Ben Davis and not lose a step. The son of former Alabama starting linebacker Wayne Davis, Ben made fans happy when he picked the Tide over LSU, among others, last February. He was the nation's No. 11 overall player per Scout.com and a 5-star prospect.
He is 6'4″, 234 pounds with excellent power and speed. But after injuring his ankle during preseason practice, Alabama decided to redshirt him while rolling out stars like Reuben Foster and Tim Williams, among others, ahead of him.
"It took a minute to heal," Davis said of his ankle, per AL.com's Michael Casagrande. "It was best for me and I had to learn the playbook too so it was good for me to get a year for me under my belt, learn everything about the game and Coach (Nick) Saban's defense and everything and get ready to make a run at A-Day."
When Davis takes the field next fall, he should make an immediate impact for the Crimson Tide and be a year stronger and smarter as well.
L.G. Patterson/Associated Press
Will Grier is looking for a fresh start at West Virginia.
For about six weeks last fall, Will Grier had it all together. The 6'1″, 212-pound pocket passer claimed Florida's starting quarterback role and was excellent, winning all six of his starts. He threw for 1,204 yards with 10 touchdowns and three interceptions and appeared to have a promising future in the Gators offense.
But it all came to a stunning halt when he failed an NCAA-mandated drug test for performance-enhancing substances and received a one-year suspension. Grier subsequently decided to transfer from Florida and wound up at West Virginia. He sat out this season but has huge upside working in Dana Holgorsen's pass-first, fast-paced scheme.
Grier is in line to be the Mountaineers' starter following Skyler Howard's graduation, and he figures to put up big numbers in Morgantown. His future was interrupted, but it is bright.
Credit: Scout.com
Dwayne Haskins could be Ohio State's next great quarterback.
Ohio State and head coach Urban Meyer achieved a remarkable feat this fall. Despite returning only six starters from a roster that lost 12 players to the NFL draft, Meyer led a young, talented team to the College Football Playoff, finishing 11-1, with the only loss coming to Penn State on a blocked field goal returned for a touchdown.
The Buckeyes will face off against Clemson in the Fiesta Bowl, but one of the class of 2016's most talented players will watch from the sideline as a redshirt. Quarterback Dwayne Haskins is an excellent dual-threat passer, but after losing the battle to become J.T. Barrett's backup, he redshirted behind Barrett and Joe Burrow.
Haskins has plenty of potential and projects as Ohio State's quarterback of the future. When Barrett's career ends via graduation or departure for the NFL, expect his profile to rise significantly.
Credit: Scout.com
Tommy Kraemer is a major building block for Notre Dame's offensive line.
When Tommy Kraemer signed with Notre Dame, it was a huge get for the Fighting Irish. Kraemer was one of the nation's top offensive line prospects in the 2016 class, standing 6'4″, 315 pounds with good footwork and a great frame to grow with.
But the Irish were set at the tackle spots with the likes of veterans Mike McGlinchey and Alex Bars, meaning Kraemer had time to develop this fall and wasn't needed to play immediately. So he got a year to develop and improve. Look for him to battle for playing time in spring practice and make himself a big part of Notre Dame's offensive future.
Joe Sargent/Getty Images
Michal Menet redshirted but has a bright future on Penn State's offensive line.
Penn State had a season to remember in 2016. In James Franklin's third season, the Nittany Lions went 11-2 and made a surprising run to the Big Ten title, notching a 38-31 comeback win over Wisconsin and narrowly missing the College Football Playoff.
The Lions' future is bright, and Michal Menet will be a big part of it. Menet stands 6'4″, 296 pounds and is a talented guard prospect. He wasn't needed this fall, so Lions coaches opted to give him a year to develop and improve on the scout team. Menet should make a powerful offense even better while blocking and paving the way for Trace McSorley and Saquon Barkley next fall.
Eric Christian Smith/Getty Images
Kyler Murray walked away from Texas A&M but found a new home in Oklahoma.
Everything was set for Kyler Murray to have a special career at Texas A&M. The son of a former Aggies quarterback, Murray was an A&M legacy and a talented dual-threat passer himself. But he never quite clicked in College Station. Murray battled for the starting role with Kyle Allen but wound up serving mostly in a backup role in 2015, throwing for 686 yards with five touchdowns against seven interceptions.
Following the end of the regular season, Murray felt a fresh start was best, and he transferred to Oklahoma. This fall, he sat and watched behind Heisman Trophy finalist Baker Mayfield, and with Mayfield returning next fall, he'll likely serve as his backup. However, he is the Sooners' next great quarterback, and with a little maturity, he will likely make big things happen once he gets on the field in Lincoln Riley's Air Raid offense.
Sue Ogrocki/Associated Press
Jarrett Stidham should be an excellent fit in Auburn's offense.
When Jarrett Stidham announced his commitment to Auburn on Saturday, Tigers fans were excited—and with good reason. Stidham was perhaps the best ready-made quarterback recruit on the market and an excellent fit for Gus Malzahn's system.
The Tigers struggled to find consistent play under center this fall, but Stidham can change that. He had an excellent start to his career at Baylor, passing for 1,265 yards with 12 touchdowns against two interceptions before a broken ankle ended his freshman season.
But following the scandal that led to the departures of head coach Art Briles, university president Kenneth Starr and athletic director Ian McCaw, Stidham opted to transfer elsewhere. He spent this fall at McLennan (Texas) Community College but did not play football, preserving a season of eligibility.
He'll join a crowded quarterback situation on the Plains with Sean White and John Franklin III, but he should be an immediate favorite to gain significant playing time. Stidham is a talented pocket passer with deep-ball skills who should make Auburn fans happy.
Credit: Scout.com
Tyler Vaughns is ready to make his mark on USC's offense.
USC was one of the nation's most improved teams over the course of the 2016 season. The Trojans began the regular season 1-3 but ended it on an eight-game winning streak and made the Rose Bowl, where they'll face off against Penn State.
The elevation of quarterback Sam Darnold into the starting role played a huge factor in the Trojans' rise. Darnold was able to connect with a deep, talented group of receivers, led by JuJu Smith-Schuster and Darreus Rogers. It was so deep, in fact, that USC was able to use a redshirt on Tyler Vaughns.
At 6'2″, 180 pounds, Vaughns has a good mix of size and speed. And with another year of seasoning, he should be ready to make a more significant contribution to a potent offense in 2017.
Jonathan Daniel/Getty Images
Brandon Wimbush profiles as Notre Dame's quarterback of the future.
Notre Dame suffered through a tumultuous 2016 season. The Fighting Irish began the season in the Top 10 nationally and finished 4-8, creating serious heat under head coach Brian Kelly's seat. But despite all of the issues, the Fighting Irish have one of the nation's deepest quarterback depth charts.
DeShone Kizer and Malik Zaire battled from the spring into September for the starting role, and when Kizer claimed the spot, it led to Zaire's declaration that he'd transfer away from Notre Dame. But even if Kizer leaves for the NFL, Kelly shouldn't panic about his quarterback.
He was able to redshirt sophomore quarterback Brandon Wimbush and save a season of his eligibility. Wimbush stands 6'1″, 225 pounds and is a talented dual-threat passer with excellent speed and a great arm. As a freshman, he completed two of five passes for 17 yards while serving as the third-team quarterback. Depending on Kizer's status, Wimbush is in position to potentially start and make an impact next fall.