Dec 13, 2017 at 7:56p ET
Mark Schlereth and Jason McIntyre join Jason Whitlock and Colin Cowherd to discuss whether Nick Foles can lead the Eagles to a deep playoff run.
Show Transcript
Hide Transcript
– He did have that crazy 27 touchdown 2 interception season back in 2013. I absolutely love the mentality. Let it rip. You have to be aggressive. You have to be confident. I think Philadelphia may have, you know, the New England Patriots when they had Garoppolo and Jacoby Brissett had the best backup quarterback situation in football. But I think Philadelphia has an ideal situation.
Nick Foles has performed at a high level in this league before. He's got nothing to lose. No one's expectations for him are that great. So yes, go out there and let it rip. That's what Carson Wentz was doing. That's what this offense is built to. Do and just let the chips fall where they may. I still like Philadelphia as a team that can not only make the Super Bowl, but win the Super Bowl if Nick Foles does what he's done in previous.
– Mark understand this. As a player, you've got all the confidence in the world. So of course that's what he's going to say. You think about it, too, what does he really have to do? He just has to be Nick Foles. He doesn't have to do anything special. You have a great running game now. Jay Ajayi came. That I think takes so much pressure off of Nick Foles trying to do each and everything, every possession, to try to fit balls in tight pockets.
I don't think that has to happen, because right now with this Philadelphia team, we look at the last three games– the Giants, Raiders, Cowboys– all winnable games for this team. So just play within the system. Play who you are. But you can't be Carson Wentz. You can be Nick Foles, and when you're Nick Foles and you're pretty good in that system, you've proven that you can win football games.
– Foles is plenty good to lead this football team, because they've got a smart coaching staff. And I'll just go back to when they lost Jason Peters. They're playing the Denver Broncos. Jason Peters, did they line up and just say, hey back-up tackle. You've just got to go out there and you got a win. No man, it was zone read stuff, it was three-step drops, it was bubble screens. They basically game-planned to take the pressure off a young guy who came in there to replace an NFL, in my mind, legend. And Jason Peters, the guy is a freak show. I believe he went to the University of Narnia, because that dude is just unreal.
So I believe in this coaching staff. The other thing is, you know, where did Nick Foles fall? Where did he struggle? And you always say this, like no disrespect intended, but then you're going to disrespect somebody? Jeff Fisher. You look at Jeff Fisher. Case Keenum couldn't play. He's playing pretty well right now. You look at Jeff Fisher and say, hey, Jared Goff's a bust. Well, Jared Goff is playing really good football right now.
Nick Foles goes out there and he goes from 27 touchdowns, as you mentioned, 2 interceptions to this guy couldn't play dead in a Western. Like what's real? And I think it's the fact that Nick Foles actually can play. He went into an untenable situation, in at that time at St. Louis with the Rams, and they just couldn't win there because of that offense and that style of football. So this is an opportunity for a guy to kind of rekindle his career. I think Nick Foles is plenty good enough to lead this team, and lead this team deep.
– That's a convincing argument. You almost swayed me. Guys, here's the area where I do believe it's going to be a problem for Cement Shoes Nick Foles. Carson Wentz was a magician in the pocket. I mean for 6-5 he was, can I say deceptive for a white quarterback, deceptive speed? I mean, this guy escaped like Russell Wilson, tied with Russell Wilson for 3 carries over 20 yards a season. That bailed out Philly a lot.
Foles doesn't have that dimension in the pocket. And I believe he's going to face a lot of blitzes. I don't know if he's going to able to handle it. The receivers don't get separation the way they need to. Maybe Aguilar can in the slot. But I do believe he's going to be blitzed heavily by the Raiders, a lot by the Cowboys, and I am not as sold as you that they can win the Super Bowl.
– I think you make a good point. But I think Mark kind of blew your point up early by saying they have a different game plan for Nick Foles than Carson Wentz. They're well aware of what you said. Wentz made plays with his legs, Nick Foles can't. We're going to come out with an offense that works for Nick Foles. Again, I think Frank Wright's on that coaching staff–
– John DeFilippo, the quarterback coach, I went to college with.
– — on that coaching staff. They have, again, they survived losing their left tackle, was a critical important position, a guy that's a Hall of Famer. So I think you make a good point, but if the coaching staff does its job, they won't be asking Nick Foles and make any plays with his legs. They're going to make him– they get the ball out in 2.7, under 3 seconds.
– Did it surprise you guys at all, after the 27 touchdown 2 interception season, what does Chip Kelly do? Everybody's seen him in the league. Oh, we got to sell high, let's get rid of Nick Foles, I was a little surprised when that happened. But then you look deeper inside the numbers, and you're like, jeez, he exceeded expectations for one season, filling in his Chip Kelly's quarterback. And after that he hasn't really done much.
– Well, that's Chip Kelly.
– Yeah.
More Speak for Yourself Videos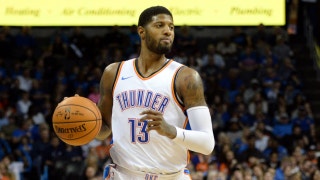 Jason Whitlock explains why Paul George isn't as good as we thought
1 hr ago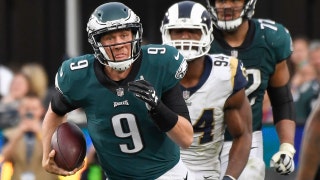 Mark Schlereth: "I think Nick Foles is plenty good enough to lead this team and lead this team deep"
5 hours ago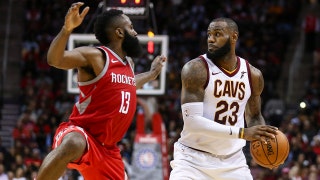 Colin Cowherd: LeBron James joining the Houston Rockets is a real possibility
23 hours ago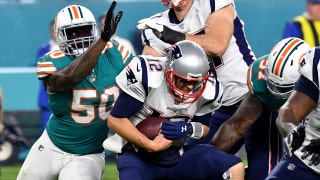 Jason Whitlock: Patriots should not be favored to win the Super Bowl
23 hours ago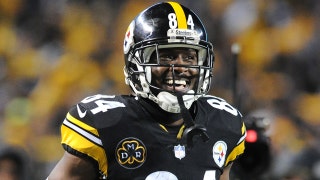 Jason Whitlock explains why Antonio Brown should be in the MVP conversation
2 days ago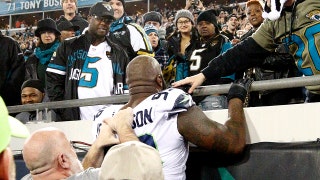 Michael Vick: Seahawks altercation with fans in Jacksonville 'doesn't reflect on the coach'
2 days ago
More Speak for Yourself Videos
»