Oct 12, 2017 at 1:29p ET
Cris Carter thinks it is unfair to compare Carson Wentz to Cam Newton because of Newton's superior physical ability.
Show Transcript
Hide Transcript
– Well, right now I'd rather have Cam Newton, because if the pocket breaks down, he has more athletic ability. If you're telling me I have to win one game, all right? I can't just say I want a pocket passer. I want a pocket passer who can be the best athlete on the field. So if it's one game, yes I want Cam Newton. It's not a fair comparison to Cam Newton, to a person who's accomplished as much as he had, to a guy who hadn't accomplished anything.
– Take it for the season, not one game. For the rest– they're both 4 and 1.
– It's style for a team. It's not a good comparison. Most people would probably say Cam Newton. But it's really not fair to compare him, what kind of system are you going to play? How are you going to be able to move the ball? Cam Newton has accomplished too much.
Carson Wentz hasn't accomplished anything. So what are we comparing? Like Cam has taken his team to a Super Bowl. Carson Wentz has not been to the playoffs.
– So maybe, maybe I'm tripping here. I– just from giving, hearing how you've talked, relatively speaking highly of Carson Wentz, and your questions about Cam, and about his consistency.
– As a passer.
– Right, as a passer, which is a huge part of quarterback play. It seemed to me, I assumed, or maybe I assumed wrong, that you are more bullish. That you are higher on Carson Wentz.
– No, you misread.
– OK.
– Cam has the potential. Cam is a lot like Dez Bryant. The only reason why I get upset at Dez is because he has the potential for the sky to be the limit. He should be able to run every route and the route tree. He should be great off a bump and run. He had great success as a younger player. And as you get to your prime, I expected him to even be better.
That's what I expect from Cam. It's not as if I don't like Cam. Don't think Cam can play. But I've got different measurements for different players. Based on Cam's ability, I think he should be one of the top five quarterbacks in the league. And when he doesn't play that way, I'm going to criticize him. So it's not as if I don't like Cam. Ca has showed me what he can do. Now I want consistency.
More First Things First Videos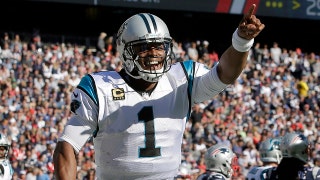 Cris Carter explains why Carson Wentz is 'not a fair comparison' to Cam Newton
15 mins ago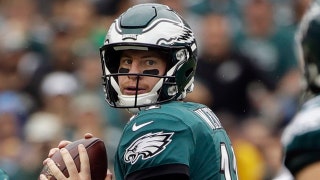 Nick Wright says a stronger offensive line has allowed Carson Wentz to succeed in 2017
15 mins ago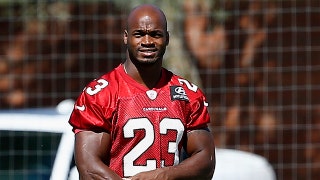 Cris Carter: Peterson would be a 1,000 yard rusher in Dallas
15 mins ago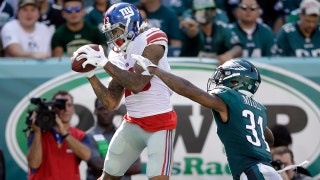 Nick Wright questions the Giants' decision to give Odell Beckham Jr a huge contract extension
15 mins ago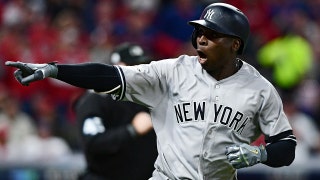 Nick Wright explains how the Yankees took advantage of the flawed MLB Playoff structure
15 mins ago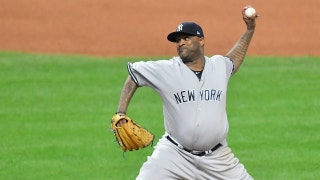 Nick Swisher gives his expectations for CC Sabathia in Game 5 of the ALDS
15 mins ago
More First Things First Videos
»