Dec 13, 2017 at 8:30p ET
Cowherd breaks down the top 4 College Football Bowl match ups to watch.
Show Transcript
Hide Transcript
– Here are the four games that I strongly like and have a feeling about in college football.
Penn State is minus two against Washington. First of all, Chris Peterson in the bowl games at Washington has a losing record. James Franklin is in a recruiting war with Urban Meyer, and he's in a recruiting war with Jim Harbaugh. And the Wisconsin staff and Notre Dame staffs are also going after Penn State players. This is a meaningful game for them. And Washington is only getting two points.
Remember, Penn State has a top 10 offense and a top 10 defense. And they've done that against a really good defensive conference, Ohio State's defense, Michigan's defense, Mark D'Antoni– Dantonio, the Michigan State coach. Wisconsin's defense is a top 5 defense in the country.
I think Penn State's the significantly better team. I've got nothing against Washington, but the way to beat Washington is real clear. When you have an elite offensive or defensive line, Washington's offense slows down considerably. We have seen this in recent years when Washington has faced Alabama, when they faced USC, when they have faced elite front.
Penn State's going to win this game by, to me, a touchdown. I like the Nittany Lions in this game against Washington.
The other game I really like, Wisconsin minus 6 and 1/2 against Miami. I don't think people realize how well-coached Wisconsin is. And they go and play these warm weather teams in bowls, and these teams against like LSU and USC and Miami. And these are real games for them.
For their branding, they have that northern sort of self-esteem thing. They will be much more entrenched in this game than Miami will. Wisconsin has won three straight bowl games, and against good teams.
And you've got to remember their defense is not just good in the conference. It's first yards a game. It's second yards per rush. It's third points a game. It is second yards per player– third, actually.
This is a real defense, OK? Not a ton of NFL guys, but the coaching staff's all in for bowl games. You're not going to get a roster full of guys looking ahead. These are not guys that are going to get drafted. These are guys where bowl games matter. It will be a signature television event for Wisconsin players.
Miami, it's the Orange Bowl. This is a game for them. This is a huge game for Wisconsin. I think their defense will handcuff a very limited Miami quarterback. I like Wisconsin handily in this football game.
The other game that I think is really interesting is Michigan-South Carolina. I can't believe the spread's 7 and 1/2. These are two incredibly mediocre offenses.
South Carolina, it, nationally, is– if you look at their offensive rankings nationally, points a game they're 98. Yards a game, 109. Rushing yards a game, 107. They're in the 80's, 90's, or 100's. They're not going to score a lot against Michigan's defense.
But Michigan's offense, it's no better. They struggle on simple stuff. I mean, I've watched Michigan play six or seven times this year. They're just not blowing anybody out.
And South Carolina, this year had losses, but two of their three losses were very competitive games against decent teams. No way I'm giving up 7 and 1/2 points in this game. This is a 26-23 game either way. 7 and 1/2 points is way too many to give up. So I take South Carolina in the points.
The other game that jumps out to me is Auburn's minus 9 and 1/2 against UCF. So UCF is Scott Frost, right? Scott Frost is going to Nebraska, right? Where do you think his focus is?
Scott Frost isn't just going to Nebraska. He's probably taking a handful of coaches. Where do you think their priorities lie?
This team scored a million points against garbage. By the way, if you look at Auburn's losses, one possession at Clemson. Clemson could be the best team in college football.
They beat Alabama. They clobbered Georgia the first time they played them. Auburn's schedule at the end of the year was way too difficult, but don't kid yourself. If you give Auburn time with that defensive front, they're going to suffocate a central Florida team that's got a coaching staff looking and recruiting right now for another program who played awful teams and piled on against inferior competition.
I think Auburn– I really believe this. I think if they didn't have a schedule at the end of the year that was Georgia, Bama, Georgia, and they could have separated those games by a month, I think they could have played for the national championship. I like Auburn in this game comfortably.
So in review, Penn State by a touchdown over Washington. I'll take Wisconsin to beat Miami handily. No way I'm giving South Carolina 7 and 1/2 points. I'll take the Gamecocks. And I think Auburn, very focused, ticked off, embarrassed in their last game against Georgia. Auburn comes back strong and handles UCF.
More The Herd With Colin Cowherd Videos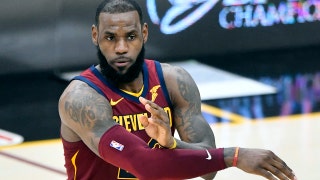 LeBron James sent Kevin Durant and James Harden a message last night, Colin unveils what it was
3 hours ago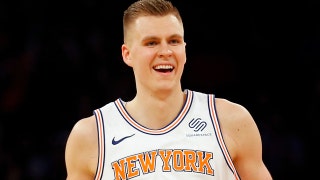 Behind LeBron & Kevin Durant, Colin explains why he would start his franchise with Kristaps Porzingis
4 hours ago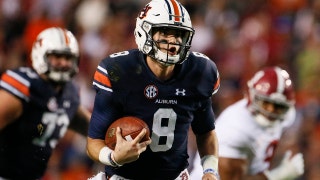 Colin Cowherd reveals the top College Football Bowl games to watch
4 hours ago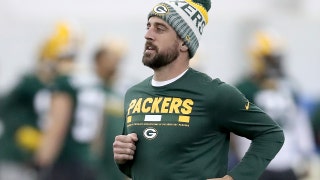 Colin Cowherd reveals what Aaron Rodgers' return to the gridiron means for fans and the NFL alike
8 hours ago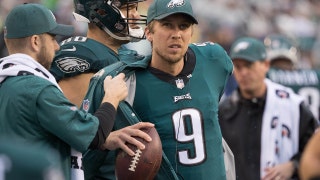 After researching, Colin explains his shift in thinking the Eagles can make the Super Bowl with Nick Foles
9 hours ago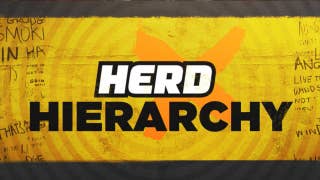 Herd Hierarchy: Colin's Top 10 NFL teams after 2017-18 Week 14
1 day ago
More The Herd With Colin Cowherd Videos
»