Jan 19, 2018 at 12:26p ET
Colin Cowherd offers up his opinion on Tom Brady and the New England Patriots ahead of their matchup with the Jacksonville Jaguars in the AFC Championship.
Show Transcript
Hide Transcript
– I like sports. I read a lot about sports. I played sports. I'm into sports, and I've been doing it long enough where generally I can figure out answers. You know, I can figure stuff out.
Then there's stuff like, I'm like, I don't– that's puzzling. I don't really understand that. I am hearing that there are a lot of people rooting against New England this morning. The line is seven and 1/2, moving down to seven because Tom Brady's hand's questionable. I don't think it's a big deal.
The only problem Brady's going to have with that grip is when he grabs the Lombardi Trophy. He won't quite have the strength as he had before the injury. But let me ask you something. When you wake up Monday morning, you want Jacksonville in the Super Bowl?
I want you to think about that because a lot of times in life you do things, then you regret them. Jacksonville against Nick Foles. Two weeks of talk, that's– that's turning you on. Do you also go and watch the worst movie available at the theater?
Do you go to the restaurant and order filet mignon, or do you say, do you guys have an e coli burger? I'd like the salmonella. Really, you're rooting for Jacksonville.
Monday morning, you're going to wake up, and you've got Jacksonville. The biggest sporting event in America, a party, you'll have friends over. It's– for a lot of people, they're not even sports fans, and that's a huge, huge day.
And you want Jacksonville in that game, not the best coach ever, not the best quarterback ever, not the reigning dynasty ever. I hear this, too. Tom Brady, Colin, is boring. Oh, really, touchdown passes are boring to you.
Brady to Gronk efficiency, running backs who never fumble, really smart coaching, that's boring to you. You know what I consider boring? Inefficiency, I find it tedious.
You know, you go to get a coffee in the morning, and it takes 15 minutes because the lady behind the counter's gabbing, oh, my god, oh, my god. And you're like, could you just take my order? I came in. I'm on my way to work. Can we get this process done?
I like efficiency. You like inefficiency, OK. And I don't find touchdowns boring, inefficiency boring, and excellence boring. I find Blake Bortles' 59% completion rate boring. That means barely more than a coin flip when he lets go of the ball, somebody will catch it.
24th in completion percentage, 16 in touchdowns. That's less efficient. You want to watch incompletions, riveting. I'm going to go Brady-Gronk. Best tight end I've ever seen, maybe best quarterback I've ever seen.
Absolutely smartest coach, don't make mistakes, outthink you at every turn. That's a turn-on for me. Seven times this year, Blake Bortles played in a football game and threw for 160 yards or less.
Can you imagine that Super Bowl against that Viking defense in Minnesota? You want to watch Blake Bortles, who is inefficient at home, against that Vikings' defense in Minnesota? That's going to be a hell of a party at your house.
People say a lot of things. I understand that. I love bookstores. We had them. You didn't go.
Amazon's where you order books and have for a decade. I hate the Yankees. Ratings go up every time they're on.
Remember George Mason? This always happens in the Final Four. Everybody's like, uh, Duke stinks. I hate Calipari.
George Mason gets to the Final Four. They did once. You know what happened? Ratings plummeted. Nobody watched.
But you go to Twitter. You retweet, "I love Sacksonville" because I understand it. There's always somebody that wants to, you know, like the cool thing. You want to say something contrary because it makes it– it's like conspiracy theories.
I got something nobody else has. You see that all the time. Ringo Starr was my favorite Beatle. I preferred Yoko. Yeah.
Really it wasn't Michael Jackson. I was into Tito. There's always going to be that guy. Retweet Sacksonville, but ask yourself.
You watched anything on Netflix this week? Taken Uber? Ordered anything on Amazon? Stopped off at Starbucks to get a coffee?
You know why you did all four of those? You like efficiency. Jacksonville isn't. New England is.
You don't know it, but you're turned on by the Patriots. You can root against them in the Super Bowl. You can absolutely root against them against Minnesota or Philadelphia. I get that. You want them to be in the Super Bowl, OK.
You want them in there because you don't want to be hosting that party and like six people don't show up because Blake Bortles is facing Nick Foles. Dude, parties are better when cooler people are at parties. Number 12 on your screen, you want him as part of your party.
I was sitting there this morning thinking about this, and I'm like, can you– if Jacksonville makes the Super Bowl, if you put it up there next to the NFL Super Bowl logo, it doesn't even look right. It looks like a cereal mascot. It's like that's– that's– that's the team in the Super Bowl? OK, it's like a Pixar film.
More The Herd With Colin Cowherd Videos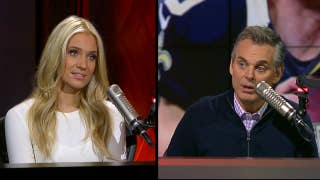 Colin fires back at his harshest twitter critics
Just now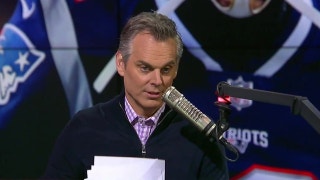 Colin Cowherd has questions about why NFL fans would want to see Blake Bortles instead of Tom Brady in the Super Bowl
15 mins ago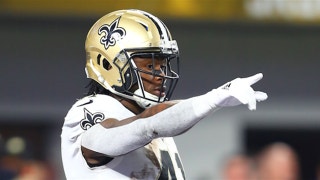 Alvin Kamara reveals what he told Marcus Williams after last week's loss in Minnesota
3 hours ago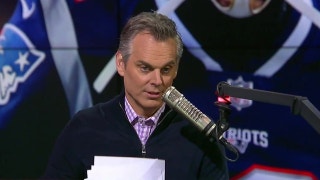 Colin Cowherd has questions about why NFL fans would want to see Blake Bortles instead of Tom Brady in the Super Bowl
4 hours ago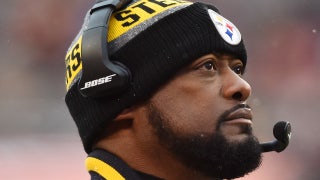 Colin Cowherd reveals why he thinks the Pittsburgh Steelers will be fine
1 day ago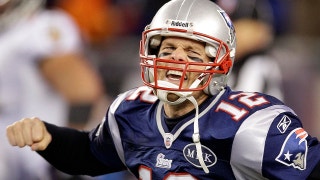 Colin Cowherd outlines 8 reasons why the Patriots' path to the AFC Championship Game has been difficult
1 day ago
More The Herd With Colin Cowherd Videos
»